WEEK ENDING JUNE 3, 2005
Religious Freedom Coalition
June 3, 2005 1:09PM EST
LEGISLATIVE UPDATE - WEEK ENDING JUNE 3, 2005
HOUSE AND SENATE RETURN FROM RECESS JUNE 6th!
THE STATE DEPARTMENT
HUMAN TRAFFICKING (SLAVERY)
Today, RFC Legislative Director Peggy Birchfield is participating in the release of the fifth annual Department of State Trafficking in Persons Report by Secretary of State Condoleezza Rice. Secretary Rice, along with Ambassador John Miller, the Secretary's Senior Advisor on Trafficking in Persons, will brief the media and Non-Governmental Organizations on the contents of the 150-country report. This year's focus will be on forced labor trafficking. The report's findings are a continued effort to increase global awareness and to encourage all countries to act to stop all forms of human trafficking, which is the second largest criminal industry in the world, after drug dealing. Liberal organizations do not favor trafficking laws because they see prostitution as a "right," believing that women should be allowed to sell their bodies. This is also the prevailing belief in much of Europe, yet it is Third World nations that supply the girls and boys and young women who have been sold into sexual and forced labor slavery. This administration has taken a leadership role in the world, with our State Department, Justice Department, and Department of Health and Human Services actively involved to prosecute traffickers and to help victims.
Earlier this week, the Religious Freedom Coalition participated in a planning and strategy meeting sponsored by the Administration to develop a stronger program to combat human trafficking, which is a form of modern day slavery. Approximately 800,000 to 900,000 victims are annually trafficked across international borders world wide. Victims include homeless and runaway children, children "sold" to traffickers by their parents, as well as young women who mistakenly believe they are being taken to another country to work at a legitimate job. Between 18,000 and 20,000 of those victims are trafficked into the United States and half of those are usually children. Victims are subjected to forced prostitution, sexual exploitation and/or forced labor. Look Beneath the Surface a new project of Rescuing and Restoring Victims of Human Trafficking will be initiated in 2005 to focus on reaching those likely to encounter trafficked victims. New and better methods of detecting, reassuring and rescuing these victims will be developed A year and a half ago, as part of the effort to help identify and assist victims of human trafficking in the United States, the U.S. Department of Health and Human services launched The Campaign to Rescue and Restore Victims of Human Trafficking." This program has been very successful in building a network of concerned non-governmental organizations (NGO's) that are committed to identifying victims of trafficking, rescuing them and assisting them to rebuild their lives. The campaign has identified and assisted more than 717 victims of trafficking in the last year. Better yet, this project has now disseminated more than 700,000 informational packets aimed at raising awareness about trafficking, identifying potential victims and offering resources to help them. More than 450 NGOs have worked as coalition partners to help in this project.
The Religious Freedom Coalition worked very hard to get the Trafficking Victims Protection Act of 2000 passed, making Human Trafficking a Federal crime. Prior to 2000, no law existed to protect victims of trafficking or to prosecute their traffickers. The Trafficking Victims Protection Reauthorization Act of 2003 provided the tools to combat trafficking in persons both worldwide and domestically. HHS has developed materials, videos, hotline numbers and educational training in many languages, and new ways are constantly being developed to enhance this program. Establishing a full community response system to help find and discover and recognize these victims will be the main focus of the Look Beneath the Surface campaign in 2005.
If you think you know of someone who is a victim of human trafficking, please call the special toll-free Trafficking Information and Referral Hotline at 1-888-3737-888.
INTERNATIONAL
OUR ALLIES
Jordan is a moderate Islamic nation which supports our war on terror --the White House and the mainstream media will look you straight in the eye and tell you that. In fact, claim the media, Jordan is so moderate that the nation is friendly toward Israel. I have some TV clips from popular soap operas that are produced in Jordan and shown all over the Arab speaking world that I would ask you to view. After watching these grossly anti-Semitic clips showing Jews as pigs you may wonder what the difference is between a "moderate" and an "extremist" Islamic state. Click here to view video clips. The organization that taped and translated the clips, MEMRI, has additional materials you may be interested in.
MORE ON OUR ALLIES
On June 1st a full page story appeared in the Washington Times about Sandy Mitchell, a British citizen who was arrested and tortured by Saudi Arabian police. A hospital worker, Mitchell was accused along with his wife and infant son of furnishing a bomb to terrorists which killed another Brit. The stories of the beatings he endured along with a British doctor are horrifying. Please click here for the full story of Sandy Mitchell's torture and forced confession. In mid May the Saudis ordered jail sentences of between six and nine years to several Saudi "reformers." While the "reformers" hate America and Jews, they want free elections in the Saudi Kingdom. They are now in jail. Click here for full story. Within the last few weeks at least 100 foreign workers who are Christians have been arrested in Saudi Arabia for praying in private, the Boston News reports. Click here for full story.
BODY COUNT
In the last week, Islamists have set off bombs killing hundreds of civilians in several nations including Indonesia, Pakistan, Afghanistan and Iraq. Meanwhile Oprah is telling her book club fans that Islam and terror are not related and that Mohammed Atta, who was one of the 19 hijack murderers of 9-11, is a nice guy who is misunderstood. She wants us to have compassion for Atta and his family; however there seems to be no mention from her about compassion for his victims. Last September, when Islamic terrorists massacred school children in Beslan, Russia, Oprah refused to have the word "Islam" or Muslim used on her show. Instead she referred to the murderers as "Mountainese terrorists," which I presume means terrorists from the mountains, with no specific religion or cause. Click here for full story. Elsewhere in the United States the "moderate" Islamic group CAIR (Council on Islamic American Relations) started giving away free copies of the Koran as a publicity stunt after the now infamous Newsweek story about a Koran being "mishandled" by the US military. The edition of the Koran CAIR is giving away has been banned from some schools in the United States because commentary contained in it is violently anti-Semitic. Click here for full story.
ISRAEL AND JIHAD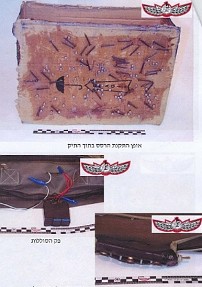 Now that a "moderate" is running the Palestinian Authority, the violence in Israel has ended-- or at least that is the line from the mainstream media and the White House. President Bush is so impressed with the new leadership that he has pledged another $50 million to the Palestinian Authority. MEANWHILE: three suicide bombing runs have been stopped by the Israeli Defense Force in the last week. At left is a photo of a bomb in a suitcase that was to have been detonated in Jerusalem on Thursday. Islamic Jihad had planned on a double suicide bombing, but the perpetrators were caught before they could strap on their bombs. Click here or on bomb picture for the full story in the Jerusalem Post .
REFLECTIONS ON ARIEL SHARON
Thinking back to my meeting with Prime Minister Ariel Sharon last week, his comment that "Treaties are between leaders, not peoples" has been haunting me. It does not matter what treaties Israel or the United States have with Islamic nations if the schools and the media continue to teach hatred of America, Israel and the Jews. The video clips from MEMRI above will make the hair on the back of your head stand up. Islamic media, even in "moderate" nations continue to accuse the CIA and American Jews of the 9-11 Jihad attack against New York and Virginia. (Yes, the Pentagon is in Virginia, not Washington, DC) Furthermore, "moderate" Islamic groups in the United States continue to defend Jihad and even proclaim their goal as establishing Sharia or Islamic law in this nation. The treaties and agreements we have with Islamic nations such as Saudi Arabia, Jordan and Egypt are worthless and our sale of advanced military hardware to them is reminiscent of the sales of arms to Japan prior to WW II.
OLIVE OIL SOAP ON HAND - FOR NOW!
Please help Christians under Palestinian Authority control by buying handmade olive oil soap made in Samaria. The funds from the sale of the soap is sent to the families of men who are under death warrants from the PA and HAMAS. The soap is not made in a factory, it is made in the homes of the families who will benefit from its sale. This is wonderful soap that I use at home and is now just $3.95 per bar! To learn more about this handmade olive oil soap click here or on the image.

HELP NEEDED

We really need help this month with funding for our projects both on Capitol Hill and internationally. Please consider at least a small gift to the Religious Freedom Coalition this week. A secure donation link is located at: http://www.rfcnet.org/donate.html.

CHECK CLOSEOUT ITEMS AT OUR INTERNET STORE

William J. Murray, Chairman

Religious Freedom Coalition, P.O. Box 77511, Washington, DC 20013. Phone: (202) 543-0300

Please address all comments and questions to support

TO SUBSCRIBE OR BE REMOVED CLICK HERE

For fast removal from our lists reply to this message with only the word REMOVE in the subject line.

This publication is a service of the Religious Freedom Coalition (RFC). Links to political and other sites are for informational purposes and do not constitute endorsement. No statement is intended to assist or defeat any candidate running for public office.

Religious Freedom Coalition * Copyright - 2005


- Week Ending November 1, 2002
- Week Ending October 25, 2002
- Week Ending November 8, 2002
- Week Ending October 18, 2002
- Week Ending November 15, 2002
- Week Ending November 22nd
- June 2002 Newsletter
- Week Ending November 29th
- Week Ending December 6, 2002
- Week Ending December 13, 2002
- Week Ending December 20th, 2002
- Week Ending December 27, 2002
- Week Ending January 17, 2003
- Week Ending January 10, 2003
- Week Ending January 24th
- Week Ending January 31st
- Week Ending February 7, 2003
- Week Ending February 14, 2003
- Week Ending February 21, 2003
- Week Ending February 28, 2003
- Week Ending March 7th
- Week Ending March 14, 2003
- Week Ending March 21, 2003
- Week Ending March 28, 2003
- Week Ending April 4, 2003
- Week Ending April 11, 2003
- Week Ending April 18, 2003
- Week Ending April 25, 2003
- Week Ending May 2, 2003
- Week Ending May 9, 2003
- Week Ending May 16, 2003
- Week Ending May 23, 2003
- Week Ending May 30, 2003 - Washington, D.C.
- Week Ending June 6, 2003 - Washington, D.C.
- Week Ending June 13, 2003
- Week Ending June 20, 2003
- June, 2003 Newsletter
- Week Ending June 27, 2003
- Week Ending July 4, 2003
- Week Ending July 11, 2003
- Week Ending July 18, 2003
- Week Ending July 25, 2003
- Week Ending August 1, 2003
- Week Ending August 8, 2003
- Week Ending August 15, 2003
- Week Ending August 22, 2003
- Week Ending August 29, 2003
- Week Ending September 5, 2003
- Week Ending September 12, 2003
- Week Ending September 19, 2003
- Week Ending September 26, 2003
- WEEK ENDING OCTOBER 3, 2003
- Week Ending October 10, 2003
- Week Ending October 17, 2003
- Week Ending October 24, 2003
- Week Ending October 31, 2003
- Week Ending November 7, 2003
- Week Ending November 14, 2003
- Week Ending November 21, 2003
- Week Ending November 28, 2003
- Week Ending December 5, 2003
- Week Ending December 12, 2003
- Week Ending December 19, 2003
- Week Ending December 26, 2003
- Week Ending January 2, 2004
- Week Ending January 9, 2004
- Week Ending January 16, 2004
- Week Ending January 23, 2004
- Week Ending January 30, 2004
- Weekend Ending February 6, 2004
- Week Ending February 13, 2004
- Week Ending Feburary 20, 2004
- Week Ending February 27, 2004
- Week Ending March 5, 2004
- Week Ending March 12, 2004
- WEEK ENDING MARCH 19, 2004
- Week Ending March 26, 2004
- Week Ending April 2, 2004
- Week Ending April 9, 2004
- Week Ending April 16, 2004
- WEEK ENDING APRIL 23, 2004
- Week Ending April 30, 2004
- Week Ending May 7, 2004
- Religious Freedom Quarterly ... April - June 2004
- Week Ending May 14, 2004
- Week Ending May 21, 2004
- Week Ending May 28, 2004
- Week Ending June 4, 2004
- Week Ending June 11, 2004
- Week Ending June 18, 2004
- Week Ending June 25, 2004
- Chairman's Reports - May 26th and June 16th
- Week Ending July 2, 2004
- Week Ending July 9, 2004
- Week Ending July 16, 2004
- Week Ending July 23, 2004
- Week Ending July 30, 2004
- Week Ending August 6, 2004
- Week Ending August 13, 2004
- Week Ending August 20, 2004
- Week Ending September 3, 2004
- Week Ending September 10, 2004
- Week Ending September 17, 2004
- Week Ending September 24, 2004
- Week Ending October 1, 2004
- Week Ending October 8, 2004
- Week Ending October 15, 2004
- Week Ending October 22, 2004
- Week Ending October 29, 2004
- Week Ending November 5, 2004
- Week Ending November 12, 2004
- Week Ending November 19, 2004
- Week Ending November 26, 2004
- Week Ending December 3, 2004
- Week Ending December 10, 2004
- Week Ending December 17, 2004
- Week Ending December 24, 2004
- Week Ending January 7, 2005
- Week Ending January 14, 2005
- Chairman's Report For January 12, 2005
- Week Ending January 21, 2005
- Week Ending January 26, 2005
- Week Ending February 4, 2005
- Week Ending February 11, 2005
- Week Ending February 18, 2005
- Chairman's Report for February 23, 2005
- Week Ending February 25, 2005
- Week Ending March 4, 2005
- Week Ending March 11, 2005
- Week Ending March 18, 2005
- Chairman's Report for March 16, 2005
- Week Ending March 25, 2005
- Week Ending April 1, 2005
- Week Ending April 8, 2005
- Week Ending April 15, 2005
- Week Ending April 22, 2005
- Chairman's Report For April 27, 2005
- Week Ending April 29, 2005
- Week Ending May 6, 2005
- Week Ending May 13, 2005
- Week Ending May 20, 2005
- SPECIAL MIDWEEK UPDATE
- WEEK ENDING MAY 27, 2005
- WEEK ENDING JUNE 10, 2005
- WEEK ENDING JUNE 17, 2005
- WEEK ENDING JUNE 24, 2005
- WEEK ENDING JULY 1, 2005
- Week Ending July 8, 2005
- Chairman's Report for June 29, 2005
- Chairman's Report for June 10, 2005
- Week Ending July 15, 2005
- Week Ending July 22, 2005
- Chairman's Report for July 20, 2005
- Week Ending July 29, 2005
- Week Ending August 5, 2005
- Chairman's Report For August 10, 2005
- Week Ending August 12, 2005
- Week Ending August 19, 2005
- Week Ending August 26, 2005
- Week Ending September 2, 2005
- Week Ending September 9, 2005
- Week Ending September 16, 2005
- Week Ending September 23, 2005
- Week Ending September 30, 2005
- WEEK ENDING OCTOBER 07, 2005
- Week Ending October 14, 2005
- Chairman's Report for September 21, 2005
- Week Ending October 21, 2005
- Chairman's Report for October 14, 2005
- Week Ending October 28, 2005
- Week Ending November 4, 2005
- Week Ending November 11, 2005
- Week Ending November 18, 2005
- Week Ending November 25, 2005
- Chairman's Report for November 23, 2005
- Week Ending December 2, 2005
- Week Ending December 9, 2005
- Chairman's Report for December 17, 2005
- Week Ending December 16, 2005 - Washington, DC
- Week Ending December 23, 2005
- Week Ending December 30, 2005
- Week Ending January 6. 2006
- Week Ending January 13, 2006
- Week Ending January 20, 2006
- Week Ending January 27, 2006
- Week Ending February 3, 2006
- Week Ending February 10, 2006
- Week Ending February 17, 2006 - Washington, DC
- Week Ending February 24, 2006 - Washington, DC
- Week Ending March 3, 2006 - Washington, DC
- Week Ending March 10, 2006 - From Washington, DC
- Week Ending March 17, 2006 - From Washington, DC
- Week Ending March 24, 2006 - From Washington, DC
- Week Ending March 31, 2006 - From Washington, DC
- Week Ending April 7, 2006 - From Washington, DC
- Week Ending April 14, 2006 - From Washington, DC
- Week Ending April 21, 2006 - From Washington, DC
- Week Ending April 28, 2006
- Week Ending May 5, 2006 - From Washington, DC
- Week Ending May 12, 2006 - From Washington, DC
- Week Ending May 19, 2006 - From Washington, DC
- Week Ending May 26, 2006
- Week Ending June 2, 2006 - From Washington, DC
- Chairman's Report for June 1, 2006
- Week Ending June 9, 2006
- Week Ending June 16, 2006
- Week Ending June 24, 2006 - From Washington, DC
- Chairman's Report for June 23, 2006
- Week Ending June 30, 2006 - From Washington, DC
- Week Ending July 7, 2006
- Week Ending July 14, 2006 - From Washington, DC
- Week Ending July 21, 2006 - From Washington, DC
- Week Ending July 28, 2006 - From Washington, DC
- Week Ending August 4, 2006 - From Washington, DC
- Week Ending August 11, 2006- From Washington D.C.
- Week Ending August 18, 2006 - From Washington, DC
- Week Ending August 25, 2006 - From Washington, DC
- Week Ending September 1, 2006 - Washington, DC
- Week Ending September 8, 2006 - Washington, DC
- Week Ending September 15, 2006 - Washington, DC
- Week Ending September 22, 2006 - Washington, DC
- Week Ending September 29, 2006 - Washington, DC
- Week Ending October 6, 2006 - Washington, DC
- Weeking Ending October 13, 2006
- Week Ending October 20, 2006 - Washington, DC
- Week Ending October 27, 2006
- Week Ending November 3, 2006 - Washington, DC
- Week Ending November 10, 2006
- Week Ending November 17, 2006
- Week Ending November 24, 2006 - Washington, DC
- Week Ending December 1, 2006
- Week Ending December 15, 2006 - Washington, DC
- Week Ending December 8, 2006 - Washington, DC
- Week Ending December 22, 2006
- Week Ending December 28, 2006 - Washington, DC
- Week Ending January 5, 2006 - Washington, DC
- Week Ending January 12, 2007 - Washington, DC
- Week Ending January 19, 2007
- Week Ending January 26, 2007 - Washington, DC
- Week Ending February 2, 2007
- Week Ending February 9, 2007
- Week Ending February, 16, 2007 - Washington, DC
- Week Ending February 23, 2007 - Washington, DC
- Week Ending March 2, 2007 - Washington, DC
- Week Ending March 9, 2007 - Washington, DC
- Week Ending March 16, 2007 - Washington, DC
- Week Ending March 23, 2007- Washington, DC
- Week Ending March 30, 2007 - Washington, DC
- Week Ending April 6, 2007 - Washington, DC
- Week Ending April 13, 2007
- Week Ending April 20, 2007 - Washington, DC
-