Week Ending October 28, 2005
RFC
October 28, 2005 1:07PM EST
LEGISLATIVE UPDATE - WEEK ENDING OCTOBER 28, 2005
HOUSE IN SESSION / SENATE IN SESSION
THE PRESIDENT
SHE'S GONE
Harriet Miers is no longer an issue for the talking heads on the network news shows; she's gone. Yesterday Harriet Miers announced the withdrawal of her name from consideration as an Associate Justice of the Supreme Court. This came the same day as Concerned Women for America announced it would not back her confirmation. CWA is the largest conservative women's group in the United States. Earlier this week I had confidential conversations with conservative Senators who told me there was virtually no chance she would be confirmed. CWA pointed to speeches Miers had given to feminist organizations that brought into question her conservative credentials. Most of those in the conservative movement whom I have spoken with were more concerned about her intellectual credentials. Congressmen stick a plastic card into a voting machine and vote yes or no on a bill and walk back out of the chamber. When a Justice votes on a case before the Court it's different -- he or she must back up that vote with a bullet proof written decision. In some cases the writings of a Justice must withstand scrutiny for hundreds of years. (Unless the Lord returns soon.) Harriet Miers had difficulty even answering the written questions put before her by the Senate Judiciary Committee. In private one Senator told me, "Ms. Miers is a smart lady, but she is not equal to this post."
THE DAMAGE
Meanwhile the damage done to the Bush White House by the nomination of Harriet Miers is almost beyond measure. The conservative movement had just come away from a great victory with John Roberts. Liberal organizations and Democrat politicians had just been blown away by conservative organizations' sheer will in the campaign to confirm Roberts. Conservatives were on a roll and ready to do battle and place a second strong conservative onto the Court, when we were presented with Harriet Miers. As the conservative coalition crumbled over the nomination, Senate liberals got a breather that may allow them to now stop a true conservative appointment. The Miers nomination also reopened a number of unhealed wounds left on conservative groups by the Bush Administration immigration, education and spending policies -- not to mention its constant championing of Islam as a "religion of peace." Last week when President Bush visited California for a fund raising event Governor Schwarzenegger snubbed the event, which is remarkable seeing that he was the keynote speaker at the Republican Convention which re-nominated George W. Bush for President just last year.
THE CONGRESS
SPECTER HAS NO CONSCIENCE
Judiciary Committee Chairman Senator Arlen Specter (R-PA) apparently believes medical professionals should be forced to commit acts against their faith and conscience. He introduced an Amendment which has passed the full Appropriations Committee and which guts the language from the Hyde - Weldon Conscience Protection Amendment we fought so hard to add to the Labor/HHS appropriations in past years. The Hyde-Weldon Amendment prevented federal funding of most abortions and it protected individual doctors, nurses, hospitals and health plans from being forced to participate in abortions. Under Senator Specter's new language, a doctor who did not want to conduct an abortion would be forced to refer a patient to someone who did. As of today 85% of hospitals refuse to conduct abortions because they know how unpopular the procedure is with their doctors, nurses and other staff. Under Senator Specter's provisions virtually all hospitals could be forced to conduct abortions except the few operated by churches "with a history" of being against the procedure. Basically Specter wants to force most doctors and hospitals in America to perform abortions. If you live in Pennsylvania please tell Senator Specter what you think of his amendment to Labor/HHS. The House has passed the Hyde-Weldon version of the Conscience Protection Amendment to Labor/HHS and one version or the other will come out of the Conference Committee. It is important the House version wins and the Senate version authored by Senator Specter is dropped. Please contact your congressman and urge him to inform the House Leadership that you want the Hyde-Weldon Conscience Protection Amendment to stay in place. NOTE: No legislation has ever been proposed giving the consumer a conscience clause. Consumers are forced to buy medical insurance that covers contraception, abortion, drug addiction, alcoholism, etc. because of decisions by their employers or local governments. Not only should medical professional not be forced to act against their conscience, neither should consumers be made to pay for practices which are against their beliefs.
THE BIG BAD OIL COMPANIES
Majority Leader Bill Frist (R-TN), who is actively seeking the presidency, has called for hearings on oil company profits. Exxon has become a particular target of Frist and of talk show host Bill O'Reilly, because that company made a profit of $9.9 billion last quarter. REALITY: If Exxon rebated ALL of its profits at the pump to consumers the price of gas would go down less than a dime a gallon. State and federal taxes on the other hand, average around 40 cents per gallon. (Click for chart) What happens if Congress imposes a "windfall tax" on oil companies such as Exxon? Exxon and other oil company stocks are referred to as "widow's stocks" because of their stability and earnings. Exxon is a core investment for retired folks even if they don't know it, since virtually all retirement funds and large mutual funds own the stock. Already Exxon stock has moved down in the market by 10% just on the threat of government action. Taking 50% of their profits away would reduce the value of the stock by 50%. Instead of trading at near $60 a share it could drop to the $30 or $35 range, destroying the retirement hopes and dreams of many elderly people. If the money is kept by Exxon a large portion will go to exploration, research and development. If the government takes that profit in a "windfall" tax, it will be handed out by Senators to their own pet projects such as the infamous "bridge to nowhere" in Alaska. There is worse: What is being proposed in our Congress to control the oil companies in the United States is exactly what Ceasar Chavez does in Venezuela and Vladimar Putin does in Russia. If this proposal is enacted, it will wreck havoc on the stock markets and destroy retirement funds making the elderly even more reliant on the federal government. A message to FOX's Bill O'Reilly: Taking away grandma's dividend check from Exxon has no real effect on the price of gas at the pump, but it will have a real effect on grandma's ability to buy food. Conoco-Phillips has prepared one the best sets of charts and materials explaining the current situation with gasoline prices. One particularly good chart points out that coffee costs an average of $10 per gallon and spring water over $8 per gallon. Click here to view chart.
PLEDGE PROTECTION ACT
As previously reported a new lawsuit by atheist Michael Newdow once again threatens removal of "under God" in the Pledge to our flag. Just this past week I met with Congressman Todd Akin (R-MO) who heads the effort to pass legislation to protect the Pledge of Allegiance as it stands. We are hoping that hearings will be held on his Pledge Protection Act shortly after the Christmas adjournment. The Religious Freedom Coalition has begun a major petition drive to assist Congressman Akin in obtaining support for his legislation in Congress. Next week the Religious Freedom Coalition will begin mailing tens of thousands of petitions across the United States asking for signatures. Sometime next week the petition should also be online.
OTHER ISSUES
UN Attempt to take over the Internet - Senate leadership has taken this up as a major issue. See last week's update.
Illegals - Senators Cornyn and Kyl have introduced a major immigration reform package that would force current illegals to leave the United States and reapply for a guest worker permit.
New refinery construction - Liberal Republican Senator Chafee (R-RI) joined Democrats to block legislation that would encourage new refinery construction in the USA (Democrats do not want the price of gas to go down before the next presidential election.)
Imminent domain - The House will attempt to pass legislation next week to stop courts from seizing property from private parties for the purpose of giving it to other private parties.
Unborn Pain Awareness Act - Hearings begin next week on this legislation that would require notification to pregnant women that the fetus they want to abort may feel pain during the procedure.
INTERNATIONAL
RFC HOSTS JEWISH SETTLEMENT MAYOR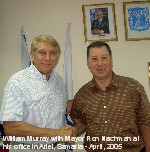 Ron Nachman is the mayor of Ariel, the largest Jewish settlement in Samaria, and he will be the guest of the Religious Freedom Coalition in Washington, DC the week of November 14, 2005. Ariel has a population of more than 20,000, plus some 10,000 students at the University of Judea and Samaria which is also located there. (Click here for recent report on RFC missions to Ariel.) Ron Nachman is a friend of the evangelical community in Israel and has allowed us to operate freely from Ariel in our outreach and missions to the Arab community. The evangelical Christian community has been a benefactor to the city of Ariel and there is a strong belief that Samaria can never be separated from Israel. The mayor is an expert on terrorism, the "separation wall" and the Palestinian Authority, having served in the Israeli parliament. Numerous events have been arranged for Mayor Nachman including private meetings with Senators and congressmen. Some public events are planned including a large reception on Friday evening, November 17, 2005. Details of events will be posted at our internet site. If you are interested in attending the Friday evening reception, contact us at events@rfcnet.org
IRAN CALLS FOR DESTRUCTION OF ISRAEL
The new president of Iran, a man who was personally involved in the kidnapping of American diplomats in the 1970's, has called for the total destruction of Israel. Iranian President Mahmoud Ahmadinejad on Friday rejected widespread condemnation the remarks he made last Wednesday, calling for action to "wipe Israel off the map". Ahmadinejad's bravado is a direct result of European appeasement toward Iran's nuclear weapons program. Europe's permissive attitude toward Iran allowed him to call for the complete destruction of the Jewish state at a conference titled The World Without Zionism. In the Arab world the stories were run about this anti-Semetic conference with no negative comments at all. In the Western World Prime Minister Tony Blair led the charge against these outrageous comments and hinted that there could be military action against Iran. (See London Times story). Tony Blair appears to be the only European leader who actually understands that we are already involved in World War III and that no amount of appeasement toward radical Islamic states will stop the bloodshed.
LIKE THE UPDATES? READ THE CHAIRMAN'S REPORTS - CLICK HERE
SUPPORT US IN OUR INNOVATIVE NEW FUNDRAISING PROGRAM
We are now offering a Health and Medical Discount program. Digital and Video Phone Service. Local Phone and Long Distance. Mobile Phones & Prepaid Wireless. Direct TV & Dish Network, and Filtered High Speed Internet. All products you need and use on a daily basis. Visit our new Linx2Funds Fundraising Web site at www.SupportRFC.org. Any purchases made from this site will help provide much needed funds for the on-going work of the Religious Freedom Coalition.
HELP GET THE TRUTH IN YOUR LIBRARY!
My good friend Janet Folger has a national daily radio show which I have appeared on many times. Her new book, The Criminalization of Christianity , is an absolute must read because it addresses the very issue of stripping God from public view in America. With a new court battle raging over the words "under God" in the Pledge to our flag this book needs to be read by all. The Criminalization of Christianity is probably NOT in your local library and it needs to be there. I have drastically reduced the price to urge you to buy it, read it and then DONATE IT to your local library. Buy a second copy and try to get it into your high school library as well. There are ways to fight back, and this is one of them! Click here or on image for more information.

We have two Internet stores: Find one of a kind items at our private online store and thousands of Christian books, CD's and DVD's at our affiliate store!

Recommend the RFC update to someone! In 2005 we are praying to top the 100,000 subscribers mark and you can help. If this e-mail has been forwarded to you, please subscribe at http://www.rfcnet.org/subscribe.asp

William J. Murray, Chairman

Religious Freedom Coalition , PO Box 77511, Washington, DC 20013 - (202) 543-0300

Please address all comments and questions to support@rfcnet.org

TO SUBSCRIBE OR BE REMOVED CLICK HERE

This publication is a service of the Religious Freedom Coalition (RFC). Links to political and other sites are for informational purposes and do not constitute endorsement. No statement is intended to assist or defeat any candidate running for public office.

Religious Freedom Coalition * Copyright - 2005


- Week Ending November 1, 2002
- Week Ending October 25, 2002
- Week Ending November 8, 2002
- October 2002 Newsletter
- Week Ending October 18, 2002
- Week Ending November 15, 2002
- Week Ending November 22nd
- Week Ending November 29th
- Week Ending December 6, 2002
- Week Ending December 13, 2002
- Week Ending December 20th, 2002
- Week Ending December 27, 2002
- Week Ending January 17, 2003
- Week Ending January 10, 2003
- Week Ending January 24th
- Week Ending January 31st
- Week Ending February 7, 2003
- Week Ending February 14, 2003
- Week Ending February 21, 2003
- Week Ending February 28, 2003
- Week Ending March 7th
- Week Ending March 14, 2003
- Week Ending March 21, 2003
- Week Ending March 28, 2003
- Week Ending April 4, 2003
- Week Ending April 11, 2003
- Week Ending April 18, 2003
- Week Ending April 25, 2003
- Week Ending May 2, 2003
- Week Ending May 9, 2003
- Week Ending May 16, 2003
- Week Ending May 23, 2003
- Week Ending May 30, 2003 - Washington, D.C.
- Week Ending June 6, 2003 - Washington, D.C.
- Week Ending June 13, 2003
- Week Ending June 20, 2003
- Week Ending June 27, 2003
- Week Ending July 4, 2003
- Week Ending July 11, 2003
- Week Ending July 18, 2003
- Week Ending July 25, 2003
- Week Ending August 1, 2003
- Week Ending August 8, 2003
- Week Ending August 15, 2003
- Week Ending August 22, 2003
- Week Ending August 29, 2003
- Week Ending September 5, 2003
- Week Ending September 12, 2003
- Week Ending September 19, 2003
- Week Ending September 26, 2003
- WEEK ENDING OCTOBER 3, 2003
- October Newsletter
- Week Ending October 10, 2003
- Week Ending October 17, 2003
- Week Ending October 24, 2003
- Week Ending October 31, 2003
- Week Ending November 7, 2003
- Week Ending November 14, 2003
- Week Ending November 21, 2003
- Week Ending November 28, 2003
- Week Ending December 5, 2003
- Week Ending December 12, 2003
- Week Ending December 19, 2003
- Week Ending December 26, 2003
- Week Ending January 2, 2004
- Week Ending January 9, 2004
- Week Ending January 16, 2004
- Week Ending January 23, 2004
- Week Ending January 30, 2004
- Weekend Ending February 6, 2004
- Week Ending February 13, 2004
- Week Ending Feburary 20, 2004
- Week Ending February 27, 2004
- Week Ending March 5, 2004
- Week Ending March 12, 2004
- WEEK ENDING MARCH 19, 2004
- Week Ending March 26, 2004
- Week Ending April 2, 2004
- Week Ending April 9, 2004
- Week Ending April 16, 2004
- WEEK ENDING APRIL 23, 2004
- Week Ending April 30, 2004
- Week Ending May 7, 2004
- Week Ending May 14, 2004
- Week Ending May 21, 2004
- Week Ending May 28, 2004
- Week Ending June 4, 2004
- Week Ending June 11, 2004
- Week Ending June 18, 2004
- Week Ending June 25, 2004
- Week Ending July 2, 2004
- Week Ending July 9, 2004
- Week Ending July 16, 2004
- Week Ending July 23, 2004
- Week Ending July 30, 2004
- Week Ending August 6, 2004
- Week Ending August 13, 2004
- Week Ending August 20, 2004
- Week Ending September 3, 2004
- Week Ending September 10, 2004
- Week Ending September 17, 2004
- Week Ending September 24, 2004
- Week Ending October 1, 2004
- Week Ending October 8, 2004
- Week Ending October 15, 2004
- Week Ending October 22, 2004
- Chairman's Report for October 20, 2004
- Week Ending October 29, 2004
- Week Ending November 5, 2004
- Week Ending November 12, 2004
- Week Ending November 19, 2004
- Week Ending November 26, 2004
- Week Ending December 3, 2004
- Week Ending December 10, 2004
- Week Ending December 17, 2004
- Week Ending December 24, 2004
- Week Ending January 7, 2005
- Week Ending January 14, 2005
- Chairman's Report For January 12, 2005
- Week Ending January 21, 2005
- Week Ending January 26, 2005
- Week Ending February 4, 2005
- Week Ending February 11, 2005
- Week Ending February 18, 2005
- Chairman's Report for February 23, 2005
- Week Ending February 25, 2005
- Week Ending March 4, 2005
- Week Ending March 11, 2005
- Week Ending March 18, 2005
- Chairman's Report for March 16, 2005
- Week Ending March 25, 2005
- Week Ending April 1, 2005
- Week Ending April 8, 2005
- Week Ending April 15, 2005
- Week Ending April 22, 2005
- Chairman's Report For April 27, 2005
- Week Ending April 29, 2005
- Week Ending May 6, 2005
- Week Ending May 13, 2005
- Week Ending May 20, 2005
- SPECIAL MIDWEEK UPDATE
- WEEK ENDING MAY 27, 2005
- WEEK ENDING JUNE 3, 2005
- WEEK ENDING JUNE 10, 2005
- WEEK ENDING JUNE 17, 2005
- WEEK ENDING JUNE 24, 2005
- WEEK ENDING JULY 1, 2005
- Week Ending July 8, 2005
- Chairman's Report for June 29, 2005
- Chairman's Report for June 10, 2005
- Week Ending July 15, 2005
- Week Ending July 22, 2005
- Chairman's Report for July 20, 2005
- Week Ending July 29, 2005
- Week Ending August 5, 2005
- Chairman's Report For August 10, 2005
- Week Ending August 12, 2005
- Week Ending August 19, 2005
- Week Ending August 26, 2005
- Week Ending September 2, 2005
- Week Ending September 9, 2005
- Week Ending September 16, 2005
- Week Ending September 23, 2005
- Week Ending September 30, 2005
- WEEK ENDING OCTOBER 07, 2005
- Week Ending October 14, 2005
- Chairman's Report for September 21, 2005
- Week Ending October 21, 2005
- Chairman's Report for October 14, 2005
- Week Ending November 4, 2005
- Week Ending November 11, 2005
- Week Ending November 18, 2005
- Week Ending November 25, 2005
- Chairman's Report for November 23, 2005
- Week Ending December 2, 2005
- Week Ending December 9, 2005
- Chairman's Report for December 17, 2005
- Week Ending December 16, 2005 - Washington, DC
- Week Ending December 23, 2005
- Week Ending December 30, 2005
- Week Ending January 6. 2006
- Week Ending January 13, 2006
- Week Ending January 20, 2006
- Week Ending January 27, 2006
- Week Ending February 3, 2006
- Week Ending February 10, 2006
- Week Ending February 17, 2006 - Washington, DC
- Week Ending February 24, 2006 - Washington, DC
- Week Ending March 3, 2006 - Washington, DC
- Week Ending March 10, 2006 - From Washington, DC
- Week Ending March 17, 2006 - From Washington, DC
- Week Ending March 24, 2006 - From Washington, DC
- Week Ending March 31, 2006 - From Washington, DC
- Week Ending April 7, 2006 - From Washington, DC
- Week Ending April 14, 2006 - From Washington, DC
- Week Ending April 21, 2006 - From Washington, DC
- Week Ending April 28, 2006
- Week Ending May 5, 2006 - From Washington, DC
- Week Ending May 12, 2006 - From Washington, DC
- Week Ending May 19, 2006 - From Washington, DC
- Week Ending May 26, 2006
- Week Ending June 2, 2006 - From Washington, DC
- Week Ending June 9, 2006
- Week Ending June 16, 2006
- Week Ending June 24, 2006 - From Washington, DC
- Week Ending June 30, 2006 - From Washington, DC
- Week Ending July 7, 2006
- Week Ending July 14, 2006 - From Washington, DC
- Week Ending July 21, 2006 - From Washington, DC
- Week Ending July 28, 2006 - From Washington, DC
- Week Ending August 4, 2006 - From Washington, DC
- Week Ending August 11, 2006- From Washington D.C.
- Week Ending August 18, 2006 - From Washington, DC
- Week Ending August 25, 2006 - From Washington, DC
- Week Ending September 1, 2006 - Washington, DC
- Week Ending September 8, 2006 - Washington, DC
- Week Ending September 15, 2006 - Washington, DC
- Week Ending September 22, 2006 - Washington, DC
- Week Ending September 29, 2006 - Washington, DC
- Week Ending October 6, 2006 - Washington, DC
- Chairman's Report for October 3, 2006
- Weeking Ending October 13, 2006
- Week Ending October 20, 2006 - Washington, DC
- Week Ending October 27, 2006
- Week Ending November 3, 2006 - Washington, DC
- Week Ending November 10, 2006
- Week Ending November 17, 2006
- Week Ending November 24, 2006 - Washington, DC
- Week Ending December 1, 2006
- Week Ending December 15, 2006 - Washington, DC
- Week Ending December 8, 2006 - Washington, DC
- Week Ending December 22, 2006
- Week Ending December 28, 2006 - Washington, DC
- Week Ending January 5, 2006 - Washington, DC
- Week Ending January 12, 2007 - Washington, DC
- Week Ending January 19, 2007
- Week Ending January 26, 2007 - Washington, DC
- Week Ending February 2, 2007
- Week Ending February 9, 2007
- Week Ending February, 16, 2007 - Washington, DC
- Week Ending February 23, 2007 - Washington, DC
- Week Ending March 2, 2007 - Washington, DC
- Week Ending March 9, 2007 - Washington, DC
- Week Ending March 16, 2007 - Washington, DC
- Week Ending March 23, 2007- Washington, DC
- Week Ending March 30, 2007 - Washington, DC
- Week Ending April 6, 2007 - Washington, DC
- Week Ending April 13, 2007
- Week Ending April 20, 2007 - Washington, DC
- Week Ending April 27, 2007 - Washington, DC
- Week Ending May 18, 2007
-