Week Ending December 2, 2005
Religious Freedom Coalition
December 2, 2005 12:16PM EST
LEGISLATIVE UPDATE - WEEK ENDING DECEMBER 2, 2005
HOUSE IN RECESS / SENATE IN RECESS
THE PRESIDENCY
IMMIGRATION
Let's say you own a small 10 acre farm and someone puts up a shack in the corner of it. When you call the local authorities they tell you that the best way to deal with the problem is to give the squatter a deed to one acre of your property so that he is not there illegally any more. If you do this, of course, more squatters will put up more shacks until there is no room for your own house. Keeping that in mind what follows is the President's logic to deal with illegals in the nation: If we give the millions of illegals who are already here legal status it will stop others from coming to the United States illegally. (My wife suggested that President Bush deed a couple acres of his ranch to Cindy Sheehan as a token to show us all how his immigration policy will work.) This is followed by the logic of: If we send them all home, who will cook the burgers at McDonalds? Try this: There are millions of Polish, Romanians, Hungarians, Russians and others from former Soviet block nations desperately trying to enter the United States legally, many of whom would be more than happy to flip burgers at McDonalds to have the chance to become Americans. But this Administration and big business do not really want legal immigration to the United States. They want illegals who will work for less their entire lives and pay into the Social Security system without taking any of the money back out. Business interests, backed by the Wall Street Journal, prefer illegals because they bring down the entire wage scale. No matter what job you have you earn less because there are 10 million illegals working in the USA. (Click here for Congressman Hostettler's Illegals Hurt Americans ) There is a very simple solution to illegal immigration: Hand out guest worker visas at our embassies overseas. As legal workers enter the system over a period of years they will overwhelm the illegals who will be forced to return to Mexico and get work permits themselves. The concept is too simple for either the Administration or the Congress to comprehend.
CHRISTMAS AT THE WHITE HOUSE
I received my annual "Holiday card" from the White House yesterday, "With best wishes for a holiday season of hope and happiness, 2005." Besides the greeting the card contained the seal of the Presidency and a quote from Psalm 28:7. You will be happy to know that First Lady Laura Bush informed the press on Wednesday that the White House had decorated Christmas trees and had no intention of calling them Holiday trees. The White House trees this year are decorated in fresh flowers including roses. There are two trees with a beautiful Nativity scene standing between them. The entire theme chosen by Mrs. Bush this year is centered around fresh flowers. (Click here for White House "Holiday" site) Read the large Christmas section at the bottom of this page!
THE HOUSE (In recess until Dec. 6, 2005)
THE ATHEIST LAWSUIT AND THE PLEDGE
The Religious Freedom Coalition has been mailing tens of thousands of petitions each month seeking signatures in support of the Pledge Protection Act of 2005. This is our response to atheist Michael Newdow, who sued to remove "under God" from the Pledge. The only way to stop the constant harassment lawsuits by Newdow, the ACLU and other God haters is for Congress to remove religious _expression lawsuits from judicial review-- just as Rep. Todd Akin is attempting to do with the proposed Pledge Protection Act. We are working with Congressman Akin's office to pass the Pledge Protection Act by collecting signatures on petitions to present to other members of Congress. To view or print out copies of our petition click here. NEW: Click here for our "Under God" Christmas ornament!
THE HOUSE HOLIDAY TREE
In the late 1990's the Republican controlled House changed the name of the Christmas Tree on the grounds of the Capitol to the Holiday Tree. The same Republican controlled Congress has now decided that the Holiday Tree is actually a Christmas tree. While the Republicans can't seem to stick to one name the Democrats are very sure it is a Holiday Tree. I have not seen it yet, but if there are any Christian symbols on the tree I will be surprised. (Click here for Washington Times story)
THE SENATE (In recess until December 6, 2005)
THE BORDER AND ILLEGALS
As soon as President George W. Bush gave his immigration speeches in Texas and Arizona this week Senate Majority Leader Bill Frist announced that he was going to present to the Senate in February a plan to protect our borders. Frist, who is planning to run for President in 2008 said, "Having personally witnessed the challenges of maintaining safe and secure borders, I know that we must act swiftly to confront the challenges along America's porous borders. That's why the Senate will make strengthening our nation's front-line defenses a top priority in the second session of the 109th Congress, and I plan on bringing up border security reform legislation as a primary legislative item in February." Click here for Frist statement.
THE NEXT SESSION
I have received the schedule for the second session of the 109th Congress from Majority Leader Bill Frist. When Congress goes into recess for the Christmas break (he still calls it that) it will not reconvene until January 18, 2006. Recess breaks will be February 20-24, March 20-24, April 10-21, May 29- June 2, July 3-7, August 7 - September 4 and a final adjournment before the election on October 6, 2006.
THE ALITO NOMINATION
As I have mentioned in previous updates there are now enough Democrat Senators favoring Alito that there is little chance that a filibuster led by Senators Ted Kennedy and Joe Biden would succeed. That has not stopped the left from mounting a multi-million dollar campaign including television ads to target Democrat Senators who may vote for Alito. Because of the Christmas recess I do not expect the hearings until the week of January 8th with the most likely dates being the 9th, 10th and 11th. As stated before I expect some last minute dirty tricks on Alito, perhaps even trying to tie him to the Mafia because of his Italian heritage. (Click here for interesting AP/ABC story on far left and Alito)
Please help us with our various projects on Capitol Hill and in the Holy Land. Donate today!
INTERNATIONAL
RFC AND THE STATE DEPARTMENT

RFC's Executive Director, Peggy Birchfield, attended the Department of State's Swearing-In ceremony for Barry F. Lowenkron as Assistant Secretary of State for Democracy, Human Rights and Labor. The ceremony was held in the Benjamin Franklin Room of the State Department. Secretary of State Condoleezza Rice who swore in the Assistant Secretary spoke of his commitment and loyalty to the issues that reflect the founding principles of our American society. Rice spoke of her past work experiences with Mr. Lowenkron, and stated that she felt he would be an asset to NGO's such as the Religious Freedom Coalition in working for democracy and human rights worldwide. We at RFC look forward to working with Assistant Secretary Lowenkron on the international issues of religious freedom.
WORLD CONGRESS OF FAMILIES
On Friday, RFC's Executive Director, Peggy Birchfield participated in the World Congress of Families IV Planning Committee Meeting in Washington DC. The meeting was an opportunity for RFC and other pro-life, pro-family NGO leaders to plan joint strategies on opportunities to inform, educate and to strengthen the natural family. Ongoing challenges include the sexual revolution, government policies which promote family dissolution as well as entertainment which is anti-family and which promotes the normalization of homosexuality. Delegates and NGO's from various countries gathered to discuss a productive global pro-family event. The RFC plans to participate in the planned major conference in Warsaw, Poland in 2007.
CHRISTMAS
MORE HOLIDAY TREES
I normally buy all my woodshop supplies and tools at Lowe's. For decades Lowe's has had Christmas sales and sold real Christmas trees. This year Lowe's decided to sell Holiday trees and this irritated me enough that I sent them a complaint. I pointed out that their sign advertised Holiday Trees in English and then in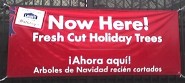 Spanish on the same sign advertised Christmas trees. (Click here to view sign) Apparently illegal aliens can buy "Christmas trees" but those of us who are English speaking citizens are to buy Holiday trees. To their credit Lowe's sort of apologized and promised that in 2006 they would go back to calling them Christmas trees. (Click here for Lowe's response) By the way, I am tired of jumping through hoops to do my "Holiday" shopping. I received an ad in the mail for a set of ratchet wrenches from Sears. When I got to the store I was informed that I could buy them only at certain times of the day. I left, tossing the ad in the trash. I refuse to order my life according to the whim of some slow brained advertising executive deciding when I should be at the mall.
EARLY CHRISTMAS FOR PASTOR AKE GREEN
After years of being hounded by Swedish prosecutors for saying homosexuality is a sin, elderly pastor Ake Green has been acquitted of "hate crimes" by the Supreme Court in Sweden. (Click here for his sermon.) This could be a major turning point against "hate crimes" intended to silence Christians throughout the Western World. Green was relieved by the verdict saying, "This means we can continue to speak the way we have, and therefore it feels very good that they have ruled in a way that there should not be infringement in our way of preaching." There are still serious challenges against the right of Christians to speak the truth as taught by the Word of God in Europe and in Canada. In the United States men such as Senator Ted Kennedy want to pass the same kinds of "hate crimes" laws that were meant to silence Ake Green in Sweden.
JEWS FOR CHRISTMAS
On Thursday of this week I attended a press conference held by Jews Against Anti-Christian Defamation. The group, headed by Don Feder, believes Christians should not be forced to surrender their identity in the United States. During the press conference he and other Jewish leaders including Rabbi Daniel Lapin spoke out against the secular war on Christmas being waged by corporate America and the media. I believe the media was a bit stunned that a group of Jewish leaders held a news conference to say that the word Christmas did not offend them. Corporate America may be backing away from replacing Christmas with the word "Holiday" as seen in the e-mail I received from Lowe's (above). The reaction against the secularists this year is more than they expected. Those who don't want to buy at stores that refuse to use the word Christmas can always shop at the Internet stores run by Christian organizations such as ours. (Click here for our press release on the censorship of Christmas.)
CUSTOM MADE RFC CHRISTMAS ORNAMENT!
Each year the Religious Freedom Coalition offers an expanded selection of items at our Internet store, many of them related to our work. This year we are offering a custom made Religious Freedom Coalition Christmas ornament featuring "under God" 3 dimensionally imposed over the American flag. This is a beautiful 3" high ornament that can be purchased nowhere else! The ornament symbolizes our work to protect the words "under God" in the Pledge to our flag. We also have an "under God" men's neck tie. A beautiful new item we are offering is the crystal nativity plaque made in
Germany (see picture above). Because of our work in the Holy Land, and our defense of the public display of the Ten Commandments in the United States, we are offering the Ten Commandments etched in Jerusalem stone. Proceeds from sales at our Internet store assist us in our work both in the United States and internationally. AND: My autobiography, My Life Without God, which has sold hundreds of thousands of copies, is once again available at the RFC Internet store. Our store is located at www.rfcstore.com.
NATIVITY SETS STILL AVAILABLE!
These Nativity sets were made for us in Bethlehem by Christian artisans using real Jerusalem stone. Click here or on the image for more details on these beautiful Nativities. We have less than 40 of these handmade Nativity sets on hand and we cannot get any more before Christmas. Please order soon for Christmas delivery. There are also handmade crosses available.
OLIVE OIL SOAP AVAILABLE ONCE AGAIN
For several years the Religious Freedom Coalition has offered 100% olive oil soap handmade by Christian families in Samaria. The men of these families are converts from Islam and have been accused of being "collaborators" with Israel. As a result they have death warrants against them and cannot
return to their villages. We have great difficulty in getting soap out of Palestinian controlled areas and into Israel so we can ship it to our Virginia facility and for this reason we must often remove it from our Internet store. Please order a few bars of Peace Soap to help these persecuted Christians. The funds go to them and their families, not to us. Your church can also offer the soap for sale and send the proceeds to the Religious Freedom Coalition. The soap is available to individuals for just $3.95 per bar! To learn more about this handmade olive oil soap click here or on the image.

Please help with our various projects on Capitol Hill and in the Holy Land. Make your year end donation today!

Recommend the RFC update to someone! In 2005 we are praying to top the 100,000 subscribers mark and you can help. If this e-mail has been forwarded to you, please subscribe at http://www.rfcnet.org/subscribe.asp

William J. Murray, Chairman

Religious Freedom Coalition , PO Box 77511, Washington, DC 20013 - (202) 543-0300

Please address all comments and questions to support@rfcnet.org

TO SUBSCRIBE OR BE REMOVED CLICK HERE

This publication is a service of the Religious Freedom Coalition (RFC). Links to political and other sites are for informational purposes and do not constitute endorsement. No statement is intended to assist or defeat any candidate running for public office.

Religious Freedom Coalition * Copyright - 2005

Recommend the RFC update to someone! In 2005 we are praying to top the 100,000 subscribers mark and you can help. If this e-mail has been forwarded to you, please subscribe at http://www.rfcnet.org/subscribe.asp

William J. Murray, Chairman

Religious Freedom Coalition , PO Box 77511, Washington, DC 20013 - (202) 543-0300

Please address all comments and questions to support@rfcnet.org

TO SUBSCRIBE OR BE REMOVED CLICK HERE

This publication is a service of the Religious Freedom Coalition (RFC). Links to political and other sites are for informational purposes and do not constitute endorsement. No statement is intended to assist or defeat any candidate running for public office.

Religious Freedom Coalition * Copyright - 2005


- Week Ending November 1, 2002
- Week Ending October 25, 2002
- Week Ending November 8, 2002
- Week Ending October 18, 2002
- Week Ending November 15, 2002
- Week Ending November 22nd
- Week Ending November 29th
- December 2002 Newsletter
- Week Ending December 6, 2002
- Week Ending December 13, 2002
- Week Ending December 20th, 2002
- Week Ending December 27, 2002
- Week Ending January 17, 2003
- Week Ending January 10, 2003
- Week Ending January 24th
- Week Ending January 31st
- Week Ending February 7, 2003
- Week Ending February 14, 2003
- Week Ending February 21, 2003
- Week Ending February 28, 2003
- Week Ending March 7th
- Week Ending March 14, 2003
- Week Ending March 21, 2003
- Week Ending March 28, 2003
- Week Ending April 4, 2003
- Week Ending April 11, 2003
- Week Ending April 18, 2003
- Week Ending April 25, 2003
- Week Ending May 2, 2003
- Week Ending May 9, 2003
- Week Ending May 16, 2003
- Week Ending May 23, 2003
- Week Ending May 30, 2003 - Washington, D.C.
- Week Ending June 6, 2003 - Washington, D.C.
- Week Ending June 13, 2003
- Week Ending June 20, 2003
- Week Ending June 27, 2003
- Week Ending July 4, 2003
- Week Ending July 11, 2003
- Week Ending July 18, 2003
- Week Ending July 25, 2003
- Week Ending August 1, 2003
- Week Ending August 8, 2003
- Week Ending August 15, 2003
- Week Ending August 22, 2003
- Week Ending August 29, 2003
- Week Ending September 5, 2003
- Week Ending September 12, 2003
- Week Ending September 19, 2003
- Week Ending September 26, 2003
- WEEK ENDING OCTOBER 3, 2003
- Week Ending October 10, 2003
- Week Ending October 17, 2003
- Week Ending October 24, 2003
- Week Ending October 31, 2003
- Week Ending November 7, 2003
- Week Ending November 14, 2003
- Week Ending November 21, 2003
- Week Ending November 28, 2003
- December, 2003 Newsletter
- Week Ending December 5, 2003
- Week Ending December 12, 2003
- Week Ending December 19, 2003
- Week Ending December 26, 2003
- Week Ending January 2, 2004
- Week Ending January 9, 2004
- Week Ending January 16, 2004
- Week Ending January 23, 2004
- Week Ending January 30, 2004
- Weekend Ending February 6, 2004
- Week Ending February 13, 2004
- Week Ending Feburary 20, 2004
- Week Ending February 27, 2004
- Week Ending March 5, 2004
- Week Ending March 12, 2004
- WEEK ENDING MARCH 19, 2004
- Week Ending March 26, 2004
- Week Ending April 2, 2004
- Week Ending April 9, 2004
- Week Ending April 16, 2004
- WEEK ENDING APRIL 23, 2004
- Week Ending April 30, 2004
- Week Ending May 7, 2004
- Week Ending May 14, 2004
- Week Ending May 21, 2004
- Week Ending May 28, 2004
- Week Ending June 4, 2004
- Week Ending June 11, 2004
- Week Ending June 18, 2004
- Week Ending June 25, 2004
- Week Ending July 2, 2004
- Week Ending July 9, 2004
- Week Ending July 16, 2004
- Week Ending July 23, 2004
- Week Ending July 30, 2004
- Week Ending August 6, 2004
- Week Ending August 13, 2004
- Week Ending August 20, 2004
- Week Ending September 3, 2004
- Week Ending September 10, 2004
- Week Ending September 17, 2004
- Week Ending September 24, 2004
- Week Ending October 1, 2004
- Week Ending October 8, 2004
- Week Ending October 15, 2004
- Week Ending October 22, 2004
- Week Ending October 29, 2004
- Week Ending November 5, 2004
- Week Ending November 12, 2004
- Week Ending November 19, 2004
- Week Ending November 26, 2004
- Week Ending December 3, 2004
- Week Ending December 10, 2004
- Week Ending December 17, 2004
- Week Ending December 24, 2004
- Chairman's Report for December 16, 2004
- Week Ending January 7, 2005
- Week Ending January 14, 2005
- Chairman's Report For January 12, 2005
- Week Ending January 21, 2005
- Week Ending January 26, 2005
- Week Ending February 4, 2005
- Week Ending February 11, 2005
- Week Ending February 18, 2005
- Chairman's Report for February 23, 2005
- Week Ending February 25, 2005
- Week Ending March 4, 2005
- Week Ending March 11, 2005
- Week Ending March 18, 2005
- Chairman's Report for March 16, 2005
- Week Ending March 25, 2005
- Week Ending April 1, 2005
- Week Ending April 8, 2005
- Week Ending April 15, 2005
- Week Ending April 22, 2005
- Chairman's Report For April 27, 2005
- Week Ending April 29, 2005
- Week Ending May 6, 2005
- Week Ending May 13, 2005
- Week Ending May 20, 2005
- SPECIAL MIDWEEK UPDATE
- WEEK ENDING MAY 27, 2005
- WEEK ENDING JUNE 3, 2005
- WEEK ENDING JUNE 10, 2005
- WEEK ENDING JUNE 17, 2005
- WEEK ENDING JUNE 24, 2005
- WEEK ENDING JULY 1, 2005
- Week Ending July 8, 2005
- Chairman's Report for June 29, 2005
- Chairman's Report for June 10, 2005
- Week Ending July 15, 2005
- Week Ending July 22, 2005
- Chairman's Report for July 20, 2005
- Week Ending July 29, 2005
- Week Ending August 5, 2005
- Chairman's Report For August 10, 2005
- Week Ending August 12, 2005
- Week Ending August 19, 2005
- Week Ending August 26, 2005
- Week Ending September 2, 2005
- Week Ending September 9, 2005
- Week Ending September 16, 2005
- Week Ending September 23, 2005
- Week Ending September 30, 2005
- WEEK ENDING OCTOBER 07, 2005
- Week Ending October 14, 2005
- Chairman's Report for September 21, 2005
- Week Ending October 21, 2005
- Chairman's Report for October 14, 2005
- Week Ending October 28, 2005
- Week Ending November 4, 2005
- Week Ending November 11, 2005
- Week Ending November 18, 2005
- Week Ending November 25, 2005
- Chairman's Report for November 23, 2005
- Week Ending December 9, 2005
- Chairman's Report for December 17, 2005
- Week Ending December 16, 2005 - Washington, DC
- Week Ending December 23, 2005
- Week Ending December 30, 2005
- Week Ending January 6. 2006
- Week Ending January 13, 2006
- Week Ending January 20, 2006
- Week Ending January 27, 2006
- Week Ending February 3, 2006
- Week Ending February 10, 2006
- Week Ending February 17, 2006 - Washington, DC
- Week Ending February 24, 2006 - Washington, DC
- Week Ending March 3, 2006 - Washington, DC
- Week Ending March 10, 2006 - From Washington, DC
- Week Ending March 17, 2006 - From Washington, DC
- Week Ending March 24, 2006 - From Washington, DC
- Week Ending March 31, 2006 - From Washington, DC
- Week Ending April 7, 2006 - From Washington, DC
- Week Ending April 14, 2006 - From Washington, DC
- Week Ending April 21, 2006 - From Washington, DC
- Week Ending April 28, 2006
- Week Ending May 5, 2006 - From Washington, DC
- Week Ending May 12, 2006 - From Washington, DC
- Week Ending May 19, 2006 - From Washington, DC
- Week Ending May 26, 2006
- Week Ending June 2, 2006 - From Washington, DC
- Week Ending June 9, 2006
- Week Ending June 16, 2006
- Week Ending June 24, 2006 - From Washington, DC
- Week Ending June 30, 2006 - From Washington, DC
- Week Ending July 7, 2006
- Week Ending July 14, 2006 - From Washington, DC
- Week Ending July 21, 2006 - From Washington, DC
- Week Ending July 28, 2006 - From Washington, DC
- Week Ending August 4, 2006 - From Washington, DC
- Week Ending August 11, 2006- From Washington D.C.
- Week Ending August 18, 2006 - From Washington, DC
- Week Ending August 25, 2006 - From Washington, DC
- Week Ending September 1, 2006 - Washington, DC
- Week Ending September 8, 2006 - Washington, DC
- Week Ending September 15, 2006 - Washington, DC
- Week Ending September 22, 2006 - Washington, DC
- Week Ending September 29, 2006 - Washington, DC
- Week Ending October 6, 2006 - Washington, DC
- Weeking Ending October 13, 2006
- Week Ending October 20, 2006 - Washington, DC
- Week Ending October 27, 2006
- Week Ending November 3, 2006 - Washington, DC
- Week Ending November 10, 2006
- Week Ending November 17, 2006
- Week Ending November 24, 2006 - Washington, DC
- Week Ending December 1, 2006
- Week Ending December 15, 2006 - Washington, DC
- Week Ending December 8, 2006 - Washington, DC
- Chairman's Report for December 18, 2006
- Week Ending December 22, 2006
- Week Ending December 28, 2006 - Washington, DC
- Week Ending January 5, 2006 - Washington, DC
- Week Ending January 12, 2007 - Washington, DC
- Week Ending January 19, 2007
- Week Ending January 26, 2007 - Washington, DC
- Week Ending February 2, 2007
- Week Ending February 9, 2007
- Week Ending February, 16, 2007 - Washington, DC
- Week Ending February 23, 2007 - Washington, DC
- Week Ending March 2, 2007 - Washington, DC
- Week Ending March 9, 2007 - Washington, DC
- Week Ending March 16, 2007 - Washington, DC
- Week Ending March 23, 2007- Washington, DC
- Week Ending March 30, 2007 - Washington, DC
- Week Ending April 6, 2007 - Washington, DC
- Week Ending April 13, 2007
- Week Ending April 20, 2007 - Washington, DC
- Week Ending April 27, 2007 - Washington, DC
- Week Ending May 18, 2007
-