Week Ending September 16, 2005
Religious Freedom Coalition
September 16, 2005 12:51PM EST
LEGISLATIVE UPDATE - WEEK ENDING SEPTEMBER 16, 2005
HOUSE IN SESSON / SENATE IN SESSION
THE CONGRESS
"UNDER GOD" AND THE PLEDGE
U.S. District Court Judge Lawrence Karlton (Carter appointee) has declared the Pledge of Allegiance to be unconstitutional. He declared that the words "under God" violate a child's right to be "free from coercive requirement to affirm God." This "right" does not appear in our Constitution or in any law passed by Congress. On Wednesday I e-mailed a special update to subscribers about this anti-God decision that highlighted two solutions: the Pledge Protection Act offered by Congressman Todd Akin (R-MO) and the Religious Freedom Amendment offered by Congressman Ernest Istook (R-OK). The entire conservative community is so locked into the John Roberts confirmation that the Religious Freedom Coalition appears to be the only major group promoting legislation to protect the religious traditions of the Founders of this nation. In the update I urged supporters to send a contribution to help us promote the work. Of the over 60,000 subscribers to this update two people sent a total of $125. One person bought a men's tie from us with the words "under God" on it for less than $20. Last week I mentioned in the update that the ultra liberal group Moveon.org received $79 million in one year from just five men including hedge fund operator George Soros. We just can't compete against that kind of money. Please consider helping the Religious Freedom Coalition with its legislative work this month! We honestly need some Christian businessmen to help out with more than $25 or $50 bucks. Please click here to help .
Late last night the Senate passed by unanimous consent a resolution condemning a decision by a U.S. District Court which ruled that the Pledge of Allegiance was unconstitutional because it contains the words "under God." The resolution was introduced by Senator Jim Talent (R-MO).
THE ROBERTS NOMINATION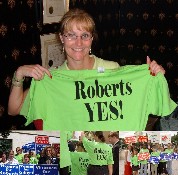 RFC played a leadership role in this week's confirmation hearings of Judge John Roberts who has been nominated to become the next Chief Justice of the U.S. Supreme Court. Peggy Birchfield, Executive Director of RFC, was out early each morning this week coordinating with other organizations at rallies, press conferences, media interviews and a volunteer staging area. Monday started early as Peggy helped coordinate a group of pro-life women to pray and push baby strollers at 7:00am in front of the Supreme Court to symbolize the children who were aborted due to the Roe vs. Wade decision in 1973. During the stroller march several of the pro-abortion protesters hit our volunteers with signs and pushed them. As usual the reporters only covered the pro-abortion side of this event.
Our Kick-off rally was held in the Upper Senate Park to show support of Judge John Roberts—the pro-Roberts "green team" showed up in green t-shirts with stickers and buttons and water bottles with Roberts YES! on the side. RFC is responsible for the stickers, buttons, and green "Roberts YES!" t-shirts worn by all our volunteers and staff. Peggy attended the Senate hearings during the afternoon session during which Senator Brownback (R-KS) and Senator Coburn (R-OK) gave their opening statements. Peggy also helped coordinate volunteers to line the hallways as Judge Roberts approached the hearing room and when he exited.
As Judge Roberts was leaving he stopped and shook hands with our volunteers and commented on the "green" t-shirts that they wore. Volunteers were scheduled from all over the nation to participate in Prayer Walks, Prayer vigils, letter deliveries, rallies and pro-Roberts events. During the week of events, Peggy Birchfield, Executive Director also participated with 40 women from various NGO organizations including women attorneys in a "Women for Roberts" press conference. "The women at NOW and the women at NARAL do not speak for us," stated Kay Daly, MC of the event. Loud cheers and clapping came from the distinguished women, many among them wearing green t-shirts with Roberts YES! The press conference highlighted support for the president's nominee, Judge John Roberts.
On Wednesday, I made a statement at the "Americans for Roberts" press conference highlighting Religious Liberties/ Civil Liberties Day and Peggy Birchfield participated in the "Voice of Support" press conference with House Members. The "green team" once again showed up with t-shirts, buttons and signs in support of the House members who gave their support of the nominee. Congressman Trent Franks (R-AZ) who is also chairman of the Value Voters Public Affairs team, stated, "Although the House has no vote in the decision they wanted their voices to be made known". Congressman Franks was responsible for pulling the members together to let the Senate know they want a fair vote given to Roberts.
The week ended with the hearings behind closed doors and the volunteers out on the streets continuing to express their support. The final rally promoted constitutionalist nominees to the federal courts. The press conference featured victims of judicial activism in order to convey the importance of constitutional judges. One of our speakers was Sandy Banning, the mother of atheist Michael Newdow's daughter. Sandy spoke of the Pledge of Allegiance case in which her ex-partner Newdow sued to have the Pledge ruled unconstitutional.
THE PRESIDENT
THE PRESIDENT AND NEW ORLEANS
President George W. Bush has made so many trips to the Gulf Coast since hurricane Katrina that I have lost count. The area affected by the storm was greater in area than the entire United Kingdom and everyone in America, particularly Democrats, are just shocked that everything cannot be brought back to normal in a matter of days. Last night he addressed the nation and set forth a conservative agenda to rebuild the area that included enterprise zones and job training. He mentioned "generational" poverty caused by racism. The "generational" poverty in New Orleans was actually caused by the welfare system created by Lyndon Johnson's "Great Society" and his "war on poverty." About half the population of New Orleans was living on government handouts that were controlled by a black mayor, a black city council and enforced by a black police chief. The entire structure of New Orleans was one of corruption and vote buying using the welfare system. Pouring more money into the black community in New Orleans will not help and I believe the President is aware of this. He would like to restore black home ownership to levels at least as high as when Lyndon Johnson decided to help "them poor black folks." It was Lyndon Johnson's racism and his belief that blacks were not capable of making a living for themselves that created a welfare system that discouraged marriage and home ownership in the black community. The best fix for New Orleans is the enterprise zones and minority job creation programs the President proposes; however, I doubt the Congress will go along. Senators Ted Kennedy and Hillary Clinton will filibuster until the programs are once again turned into welfare programs that do more harm than good to the black community.
INTERNATIONAL
FOX NEWS TO BE BOUGHT OFF BY ISLAMISTS?
As soon as I learned the ominous news that Saudi Prince Alwaleed bin Talal has become the fourth-largest voting shareholder in News Corp., the parent company of Fox News, I called for a Congressional investigation. There are at least two problems with ownership of a major American broadcasting company by a foreign enemy national:
First: FOX News reporting may become compromised if Saudi ownership is significant. The prince has already said he may buy even more shares. When Middle Eastern governments such as Saudi Arabia became the biggest advertisers on CNN International, their reporting became slanted against Israel to the point of being anti-Semitic, and news stories began to strongly favor the Islamic world view. We don't want that to happen to FOX News.
Second: The prince owns an Arabic broadcasting company called Rotana, which operates several TV stations in the Middle East. Rotana has a huge library of Arabic movies and music. Arabic produced movies and TV programs contain vicious anti-Semitism and anti-American views. Nothing can be broadcast in Saudi Arabia without it first being approved by the Wahabbi religious police. As part of the investment deal the Prince has, his company Rotana will be allowed to broadcast directly into the US market on DirectTV which is also a subsidiary of News Corp. Fanatical Islamic propaganda will come straight into American homes, perhaps creating more home grown terrorists.
Congress should be as just as alarmed by this Saudi-FOX deal as they were when a company owned by the Chinese government attempted to buy American offshore oil assets.
OLIVE OIL SOAP AVAILABLE AT YOUR CHURCH?
For several years the Religious Freedom Coalition has offered 100% olive oil soap handmade by Christian families in Samaria. The men of these families are converts from Islam and have been accused of being "collaborators" with Israel. As a result they have death warrants against them and cannot return to their villages. Please order a few bars of Peace Soap to help these persecuted Christians. Your church can also offer the soap for sale and send the proceeds to the Religious Freedom Coalition. The soap is available to individuals for just $3.95 per bar! To learn more about this handmade olive oil soap click here or on the image.
HELP GET THE TRUTH IN YOUR LIBRARY!

My good friend Janet Folger has a national daily radio show which I have appeared on many times. Her new book, The Criminalization of Christianity , is an absolute must read because it addresses the very issue of stripping God from public view in America. The lead story in our update about "under God" in the pledge is one of the areas she touches upon. This book is probably NOT in your local library and it needs to be there. I have drastically reduced the price to urge you to buy it, read it and then DONATE IT to your local library. Buy a second copy and try to get it into your high school library as well. There are ways to fight back, and this is one of them! Click here or on image for more information.

PLEASE TELL SOMEONE ABOUT THESE UPDATES

Recommend the RFC update to someone! In 2005 we are praying to top the 100,000 subscribers mark and you can help. If this e-mail has been forwarded to you, please subscribe at http://www.rfcnet.org/subscribe.asp AND FINALLY: Click here to help with the work of the Religious Freedom Coalition.

William J. Murray, Chairman

Religious Freedom Coalition , PO Box 77511, Washington, DC 20013 - (202) 543-0300

Please address all comments and questions to support@rfcnet.org

This publication is a service of the Religious Freedom Coalition (RFC). Links to political and other sites are for informational purposes and do not constitute endorsement. No statement is intended to assist or defeat any candidate running for public office.

Religious Freedom Coalition * Copyright - 2005


- Week Ending November 1, 2002
- Week Ending October 25, 2002
- Week Ending November 8, 2002
- Week Ending October 18, 2002
- Week Ending November 15, 2002
- Week Ending November 22nd
- September 2002 Newsletter
- Week Ending November 29th
- Remembering September 11th
- Week Ending December 6, 2002
- Week Ending December 13, 2002
- Week Ending December 20th, 2002
- Week Ending December 27, 2002
- Week Ending January 17, 2003
- Week Ending January 10, 2003
- Week Ending January 24th
- Week Ending January 31st
- Week Ending February 7, 2003
- Week Ending February 14, 2003
- Week Ending February 21, 2003
- Week Ending February 28, 2003
- Week Ending March 7th
- Week Ending March 14, 2003
- Week Ending March 21, 2003
- Week Ending March 28, 2003
- Week Ending April 4, 2003
- Week Ending April 11, 2003
- Week Ending April 18, 2003
- Week Ending April 25, 2003
- Week Ending May 2, 2003
- Week Ending May 9, 2003
- Week Ending May 16, 2003
- Week Ending May 23, 2003
- Week Ending May 30, 2003 - Washington, D.C.
- Week Ending June 6, 2003 - Washington, D.C.
- Week Ending June 13, 2003
- Week Ending June 20, 2003
- Week Ending June 27, 2003
- Week Ending July 4, 2003
- Week Ending July 11, 2003
- Week Ending July 18, 2003
- Week Ending July 25, 2003
- Week Ending August 1, 2003
- Week Ending August 8, 2003
- Week Ending August 15, 2003
- Week Ending August 22, 2003
- Week Ending August 29, 2003
- September Newsletter
- Week Ending September 5, 2003
- Week Ending September 12, 2003
- Week Ending September 19, 2003
- Week Ending September 26, 2003
- WEEK ENDING OCTOBER 3, 2003
- Week Ending October 10, 2003
- Week Ending October 17, 2003
- Week Ending October 24, 2003
- Week Ending October 31, 2003
- Week Ending November 7, 2003
- Week Ending November 14, 2003
- Week Ending November 21, 2003
- Week Ending November 28, 2003
- Week Ending December 5, 2003
- Week Ending December 12, 2003
- Week Ending December 19, 2003
- Week Ending December 26, 2003
- Week Ending January 2, 2004
- Week Ending January 9, 2004
- Week Ending January 16, 2004
- Week Ending January 23, 2004
- Week Ending January 30, 2004
- Weekend Ending February 6, 2004
- Week Ending February 13, 2004
- Week Ending Feburary 20, 2004
- Week Ending February 27, 2004
- Week Ending March 5, 2004
- Week Ending March 12, 2004
- WEEK ENDING MARCH 19, 2004
- Week Ending March 26, 2004
- Week Ending April 2, 2004
- Week Ending April 9, 2004
- Week Ending April 16, 2004
- WEEK ENDING APRIL 23, 2004
- Week Ending April 30, 2004
- Week Ending May 7, 2004
- Week Ending May 14, 2004
- Week Ending May 21, 2004
- Week Ending May 28, 2004
- Week Ending June 4, 2004
- Week Ending June 11, 2004
- Week Ending June 18, 2004
- Week Ending June 25, 2004
- Week Ending July 2, 2004
- Week Ending July 9, 2004
- Week Ending July 16, 2004
- Week Ending July 23, 2004
- Week Ending July 30, 2004
- Week Ending August 6, 2004
- Week Ending August 13, 2004
- Week Ending August 20, 2004
- Week Ending September 3, 2004
- Week Ending September 10, 2004
- Chairman's Report for September 8, 2004 Available
- Week Ending September 17, 2004
- Week Ending September 24, 2004
- Week Ending October 1, 2004
- Week Ending October 8, 2004
- Week Ending October 15, 2004
- Week Ending October 22, 2004
- Week Ending October 29, 2004
- Week Ending November 5, 2004
- Week Ending November 12, 2004
- Week Ending November 19, 2004
- Week Ending November 26, 2004
- Week Ending December 3, 2004
- Week Ending December 10, 2004
- Week Ending December 17, 2004
- Week Ending December 24, 2004
- Week Ending January 7, 2005
- Week Ending January 14, 2005
- Chairman's Report For January 12, 2005
- Week Ending January 21, 2005
- Week Ending January 26, 2005
- Week Ending February 4, 2005
- Week Ending February 11, 2005
- Week Ending February 18, 2005
- Chairman's Report for February 23, 2005
- Week Ending February 25, 2005
- Week Ending March 4, 2005
- Week Ending March 11, 2005
- Week Ending March 18, 2005
- Chairman's Report for March 16, 2005
- Week Ending March 25, 2005
- Week Ending April 1, 2005
- Week Ending April 8, 2005
- Week Ending April 15, 2005
- Week Ending April 22, 2005
- Chairman's Report For April 27, 2005
- Week Ending April 29, 2005
- Week Ending May 6, 2005
- Week Ending May 13, 2005
- Week Ending May 20, 2005
- SPECIAL MIDWEEK UPDATE
- WEEK ENDING MAY 27, 2005
- WEEK ENDING JUNE 3, 2005
- WEEK ENDING JUNE 10, 2005
- WEEK ENDING JUNE 17, 2005
- WEEK ENDING JUNE 24, 2005
- WEEK ENDING JULY 1, 2005
- Week Ending July 8, 2005
- Chairman's Report for June 29, 2005
- Chairman's Report for June 10, 2005
- Week Ending July 15, 2005
- Week Ending July 22, 2005
- Chairman's Report for July 20, 2005
- Week Ending July 29, 2005
- Week Ending August 5, 2005
- Chairman's Report For August 10, 2005
- Week Ending August 12, 2005
- Week Ending August 19, 2005
- Week Ending August 26, 2005
- Week Ending September 2, 2005
- Week Ending September 9, 2005
- Week Ending September 23, 2005
- Week Ending September 30, 2005
- WEEK ENDING OCTOBER 07, 2005
- Week Ending October 14, 2005
- Chairman's Report for September 21, 2005
- Week Ending October 21, 2005
- Chairman's Report for October 14, 2005
- Week Ending October 28, 2005
- Week Ending November 4, 2005
- Week Ending November 11, 2005
- Week Ending November 18, 2005
- Week Ending November 25, 2005
- Chairman's Report for November 23, 2005
- Week Ending December 2, 2005
- Week Ending December 9, 2005
- Chairman's Report for December 17, 2005
- Week Ending December 16, 2005 - Washington, DC
- Week Ending December 23, 2005
- Week Ending December 30, 2005
- Week Ending January 6. 2006
- Week Ending January 13, 2006
- Week Ending January 20, 2006
- Week Ending January 27, 2006
- Week Ending February 3, 2006
- Week Ending February 10, 2006
- Week Ending February 17, 2006 - Washington, DC
- Week Ending February 24, 2006 - Washington, DC
- Week Ending March 3, 2006 - Washington, DC
- Week Ending March 10, 2006 - From Washington, DC
- Week Ending March 17, 2006 - From Washington, DC
- Week Ending March 24, 2006 - From Washington, DC
- Week Ending March 31, 2006 - From Washington, DC
- Week Ending April 7, 2006 - From Washington, DC
- Week Ending April 14, 2006 - From Washington, DC
- Week Ending April 21, 2006 - From Washington, DC
- Week Ending April 28, 2006
- Week Ending May 5, 2006 - From Washington, DC
- Week Ending May 12, 2006 - From Washington, DC
- Week Ending May 19, 2006 - From Washington, DC
- Week Ending May 26, 2006
- Week Ending June 2, 2006 - From Washington, DC
- Week Ending June 9, 2006
- Week Ending June 16, 2006
- Week Ending June 24, 2006 - From Washington, DC
- Week Ending June 30, 2006 - From Washington, DC
- Week Ending July 7, 2006
- Week Ending July 14, 2006 - From Washington, DC
- Week Ending July 21, 2006 - From Washington, DC
- Week Ending July 28, 2006 - From Washington, DC
- Week Ending August 4, 2006 - From Washington, DC
- Week Ending August 11, 2006- From Washington D.C.
- Week Ending August 18, 2006 - From Washington, DC
- Week Ending August 25, 2006 - From Washington, DC
- Week Ending September 1, 2006 - Washington, DC
- Week Ending September 8, 2006 - Washington, DC
- Week Ending September 15, 2006 - Washington, DC
- Chairman's Report for September 14, 2006
- Week Ending September 22, 2006 - Washington, DC
- Week Ending September 29, 2006 - Washington, DC
- Week Ending October 6, 2006 - Washington, DC
- Weeking Ending October 13, 2006
- Week Ending October 20, 2006 - Washington, DC
- Week Ending October 27, 2006
- Week Ending November 3, 2006 - Washington, DC
- Week Ending November 10, 2006
- Week Ending November 17, 2006
- Week Ending November 24, 2006 - Washington, DC
- Week Ending December 1, 2006
- Week Ending December 15, 2006 - Washington, DC
- Week Ending December 8, 2006 - Washington, DC
- Week Ending December 22, 2006
- Week Ending December 28, 2006 - Washington, DC
- Week Ending January 5, 2006 - Washington, DC
- Week Ending January 12, 2007 - Washington, DC
- Week Ending January 19, 2007
- Week Ending January 26, 2007 - Washington, DC
- Week Ending February 2, 2007
- Week Ending February 9, 2007
- Week Ending February, 16, 2007 - Washington, DC
- Week Ending February 23, 2007 - Washington, DC
- Week Ending March 2, 2007 - Washington, DC
- Week Ending March 9, 2007 - Washington, DC
- Week Ending March 16, 2007 - Washington, DC
- Week Ending March 23, 2007- Washington, DC
- Week Ending March 30, 2007 - Washington, DC
- Week Ending April 6, 2007 - Washington, DC
- Week Ending April 13, 2007
- Week Ending April 20, 2007 - Washington, DC
- Week Ending April 27, 2007 - Washington, DC
-