Week Ending November 18, 2005
Religious Freedom Coalition
November 18, 2005 3:31PM EST
LEGISLATIVE UPDATE - WEEK ENDING NOVEMBER 18, 2005
HOUSE IN RECESS NEXT WEEK / SENATE IN RECESS NEXT WEEK
THE COURT
LEFT WING PLOTS AGAINST JUDGE ALITO?
Last week I stated that Judge Samuel A. Alito would probably be confirmed to the Supreme Court without much of a fight. At a recent meeting I was reminded that the same thing was said about Justice Clarence Thomas who had the same conservative record as Judge Alito. Then along came a liar, Anita Hill, who unjustly accused Justice Thomas of sexual harassment because she was a liberal activist willing to make numerous false statements about him to stop his confirmation. As a result of her lies, Thomas almost failed in his confirmation, and he of course has proved to be one of our greatest justices. The left has no morals and there is no telling what they will do to stop Alito. It is my understanding that the coalition to stop the confirmation of Alito now has more than $50 million in the bank. That much money can buy a lot of things, even more liars.
NEW ATHEIST LAWSUIT
Atheist Michael Newdow, who sued to remove "under God" from the Pledge, is again taking advantage of America's freedoms and our legal system, by filing yet another destructive and expensive lawsuit. This time he has announced he will sue to have "In God We Trust" removed from our money. Some loony 9th Circuit judge will probably agree with him that after being legal for two hundred years or so, this phrase is suddenly unconstitutional. I taped an interview on this subject with Fox News which will air several times today and tomorrow. The only way to stop these constant harassment lawsuits is for Congress to remove religious _expression lawsuits from judicial review-- just as Rep. Todd Akin is attempting to do with the proposed Pledge Protection Act. It is not the place of a few un-elected radical judges to legislate religious intolerance from the bench.
JUDGE RULES AGAINST NEW YORK BOARD OF EDUCATION
The New York Board of Education, which allows school facilities to be rented by just about any kind of group you can imagine, singled out churches for special discrimination by refusing to rent space on weekends for services. The Bronx Household of Faith church has been fighting the school board in a ten year legal battle. This week, federal District Court Judge Loretta Preska ruled in favor of the church, saying she found the school board's position "...astonishing in light of the Supreme Court's clear holding in Good News Club." She was referring to a 2001 case in which a school's denial of access to an after-hours Bible club was ruled unconstitutional. In both the Good News case and the Bronx church case good decisions were reached, but only after long legal battles. The fact remains that it was the Supreme Court's twisted interpretation of the Establishment Clause back in the 1960's which has led to this constant wrangling in which people of faith have to fight for every single small right that they have.
THE SENATE
MARRIAGE AMENDMENT CLEARS ONE HURDLE, MISSES ANOTHER
As I reported last week, the Senate Judiciary Subcommittee on the Constitution approved a constitutional amendment on the definition of marriage as a union of one man and one woman. However, this week, in the full Judiciary Committee one Democrat requested a one-week "hold over" to delay the Committee vote. Since today is the last day before the Senate recess, no committee vote can be held until January 2006 when the Senate returns. The measure, which would prevent activist judges from changing the traditional definition of marriage, has overwhelming support from the vast majority of the American people. Earlier this month Texas became the 19th state to pass, by a healthy 70% majority, a constitutional amendment defining marriage. At least four more states plan to put marriage amendments up for a vote in their states next year.
SENATOR SPECTER'S ASSAULT ON CONSCIENCE
Should health care professionals, hospitals and health care plans be penalized by state and local governments because they refuse to perform abortions for reasons of conscience? No they should not, said the House as they passed the Hyde-Weldon Conscience Protection provision. When this measure went to the Senate, RINO Senator Arlen Specter (R-PA) who seems to hate any and all restrictions on abortion, took away all these conscience protections in the Senate version. After a tough battle in the joint committee, the House version has won, so that health care entities cannot be coerced into helping perform, pay for, or refer for abortions.
POLITICS MORE IMPORTANT THAN HUMAN LIVES
In May, the House passed the Stem Cell Therapeutic and Research Act (the cord blood bill) to help establish a national network of tissue typing and storage banks to make available umbilical cord blood and bone marrow transplants to patients who need them. These are proven life saving therapies for at least 65 diseases including leukemia and other cancers, sickle cell, several types of anemia and immunodeficiency diseases. There is also exciting research showing non-embryonic stem cells can one day regenerate corneas as well as damaged heart muscle and liver tissue. The Senate Health, Education, Labor and Pensions Committee unanimously approved the Senate version of the cord blood bill, but now some Senate Democrats are holding the bill hostage even while patients die who could have been helped. These Senators want the bill to be tied to the unacceptable Embryonic Stem Cell Research bill. Not only is it wrong to ask religious Americans to pay for research on embryos which have been deliberately killed, but the large amount of private embryonic stem cell research has so far not found even one disease that is actually helped by embryonic cells. This despite all the hype and exaggerated promises by liberal politicians and Hollywood celebrities.
THE HOUSE
ADDICTION TO PORK HARD TO OVERCOME
Congress is loath to touch sacred cows like Medicaid, food stamps, and student loan subsidies, but conservatives this week insisted it had to be done. By a razor thin margin of 217-215, the House voted for a budget-cutting bill that would curb rapidly growing benefit programs and cut almost $50 billion from the deficit over the next five years. The Democrats have remained united against cutting a drastic rise in spending, but Republicans are divided. Many of the "Main Street" Republicans who are backed by left wing nut George Soros voted against reducing the growth in federal spending. House leaders will now have to iron out a compromise with the Senate, which has recently passed its own much more modest version of the budget cutting bill. (Click here for FOX story)
INTERNATIONAL
RFC HOSTS MAYOR RON NACHMAN OF ARIEL, SAMARIA
The Religious Freedom Coalition arranged numerous meetings with congressmen, Senators and various NGO's for Mayor Ron Nachman of Ariel, Samaria. During those meetings Mayor Nachman pled the case for the Biblical right of the Jews to their homeland. He also argued that Judea and Samaria are vital to the security of Israel because they provide a buffer for the tiny nation against hostile neighbors. The 1947 border placed upon Israel before it was attacked by its Arab neighbors was at its narrowest just 9 miles. The mayor pointed out that the United States is the only country that refuses to have an embassy in Jerusalem (actually the Congress made a law to move it to Jerusalem but neither President Clinton nor President George W. Bush has complied). According to much historical evidence, including the writings of 19th Century visitors like President Theodore Roosevelt and novelist Samuel Clemens (Mark Twain), much of Israel was uninhabited wasteland before the early 20th Century. Jews like Mayor Nachman's forebears began to return and settle the land, buying it for cash. Certainly there was nothing even thirty years ago on the barren hillside where the thriving city of Ariel now stands. Mayor Nachman was the driving force behind the building of the city, aided by his wife Dorith, whose parents were both Holocaust survivors.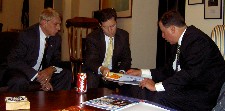 Among the many briefings we arranged for Mayor Nachman to give was one at the Israeli Embassy where he spoke to more than 40 Christian groups. The Mayor was welcomed at the offices of several congressmen including Trent Franks (R-AZ), Jo Ann Davis (R-VA) and Todd Akin (R-MO). We even had the opportunity to stop by the offices of a true friend of Israel and the city of Ariel, Congressman Tom DeLay (R-TX). Meetings were also arranged with several Senators including Senator Sam Brownback (R-KS) and Norm Coleman (R-WI). In virtually every meeting the congressmen and Senators were surprised by information that was given to them about State Department conduct in the region. There were several more formal events including a breakfast in the Capitol Building on Thursday morning sponsored by the Capitol Exchange Club. On Thursday evening the Religious Freedom Coalition was the host of a reception at the Capitol Hill Club at which many supporters of Israel, included congressmen, came to hear Mayor Nachman speak. Not only the individual events, but the overall three days were extremely successful in making many on Capitol Hill more aware of the existence of Ariel and its precarious position in Samaria surrounded by Islamic hostility and State Department arrogance.
Since we did not finish with our scheduled activities with Mayor Nachman until late Friday afternoon, this is not a complete report of our week. We plan to post a more complete report of the Mayor's visit at a later time.
Please help us with our various projects on Capitol Hill and in the Holy Land. Donate today!
BETHLEHEM IS NOT IN ISRAEL!
THE FACTS: under the Oslo Peace Accords, the agreement forced down the throat of Israel by then President Bill Clinton, the first city to be handed over to Yassar Arafat was Bethlehem. Christians immediately began to flee and now they number less than 20%. During my time in Bethlehem I never saw a Christian
woman on the street. Every woman wears a Muslim veil or scarf and it is now unsafe for a Christian woman to be on the street without a male escort. My full report on current conditions in Bethlehem and our projects there is now complete and available online ( Click here to read ) There are several photos in the report showing some of the children who were helped to afford Christian school tuition and other expenses. Although school has already begun, we can still get more funds to Christian children for school supplies, books, uniforms etc. You can help with an outright gift or you can help by purchasing one of the Jerusalem stone Nativity sets made by Christian families in Bethlehem. These Nativity sets were made for the purpose of assisting us in raising funds. Click here or on the image for more details on these beautiful Nativities. We have a total of only 75 of these handmade Nativity sets on hand and we cannot get any more before Christmas. Please order soon for Christmas. There are also handmade crosses available. You can also help by donating directly for the Bethlehem Project using your credit card at our secure site or call 1-800-650-7664 during normal business hours. Contributions may also be sent to Religious Freedom Coalition , PO Box 77511, Washington, DC 20013
OLIVE OIL SOAP AVAILABLE ONCE AGAIN
For several years the Religious Freedom Coalition has offered 100% olive oil soap handmade by Christian families in Samaria. The men of these families are converts from Islam and have been accused of being "collaborators" with Israel. As a result they have death warrants against them and cannot return to their villages. We have great difficulty in getting soap out of Palestinian controlled areas and into Israel so we can ship it to our Virginia facility and for this reason we must often remove it from our Internet store. Please order a few bars of Peace Soap to help these persecuted Christians. The funds go to them and their families, not to us. Your church can also offer the soap for sale and send the proceeds to the Religious Freedom Coalition. The soap is available to individuals for just $3.95 per bar! To learn more about this handmade olive oil soap click here or on the image.
LIKE THE UPDATES? READ THE CHAIRMAN'S REPORTS - CLICK HERE
HELP GET THE TRUTH IN YOUR LIBRARY!
My good friend Janet Folger has a national daily radio show which I have appeared on many times. Her new book, The Criminalization of Christianity , is an absolute must read because it addresses the very issue of stripping God from public view in America. With a new court battle raging over the words "under God" in the Pledge to our flag this book needs to be read by all. The Criminalization of Christianity is probably NOT in your local library and it needs to be there. I have drastically reduced the price to urge you to buy it, read it and then DONATE IT to your local library. Buy a second copy and try to get it into your high school library as well. There are ways to fight back, and this is one of them! Click here or on image for more information. (Only a few remain at this discount price!)

OUR CHRISTIAN INTERNET STORES

We have two Internet stores: Find one of a kind items at our private online store and thousands of Christian books, CD's and DVD's at our affiliate store! Please help us with our various projects on Capitol Hill and in the Holy Land. Donate today!

Recommend the RFC update to someone! In 2005 we are praying to top the 100,000 subscribers mark and you can help. If this e-mail has been forwarded to you, please subscribe at http://www.rfcnet.org/subscribe.asp

William J. Murray, Chairman

Religious Freedom Coalition , PO Box 77511, Washington, DC 20013 - (202) 543-0300

Please address all comments and questions to support@rfcnet.org

TO SUBSCRIBE OR BE REMOVED CLICK HERE

This publication is a service of the Religious Freedom Coalition (RFC). Links to political and other sites are for informational purposes and do not constitute endorsement. No statement is intended to assist or defeat any candidate running for public office.

Religious Freedom Coalition * Copyright - 2005


- Week Ending November 1, 2002
- Week Ending October 25, 2002
- November 2002 Newsletter
- Week Ending November 8, 2002
- Week Ending October 18, 2002
- Week Ending November 15, 2002
- Week Ending November 22nd
- Week Ending November 29th
- Week Ending December 6, 2002
- Week Ending December 13, 2002
- Week Ending December 20th, 2002
- Week Ending December 27, 2002
- Week Ending January 17, 2003
- Week Ending January 10, 2003
- Week Ending January 24th
- Week Ending January 31st
- Week Ending February 7, 2003
- Week Ending February 14, 2003
- Week Ending February 21, 2003
- Week Ending February 28, 2003
- Week Ending March 7th
- Week Ending March 14, 2003
- Week Ending March 21, 2003
- Week Ending March 28, 2003
- Week Ending April 4, 2003
- Week Ending April 11, 2003
- Week Ending April 18, 2003
- Week Ending April 25, 2003
- Week Ending May 2, 2003
- Week Ending May 9, 2003
- Week Ending May 16, 2003
- Week Ending May 23, 2003
- Week Ending May 30, 2003 - Washington, D.C.
- Week Ending June 6, 2003 - Washington, D.C.
- Week Ending June 13, 2003
- Week Ending June 20, 2003
- Week Ending June 27, 2003
- Week Ending July 4, 2003
- Week Ending July 11, 2003
- Week Ending July 18, 2003
- Week Ending July 25, 2003
- Week Ending August 1, 2003
- Week Ending August 8, 2003
- Week Ending August 15, 2003
- Week Ending August 22, 2003
- Week Ending August 29, 2003
- Week Ending September 5, 2003
- Week Ending September 12, 2003
- Week Ending September 19, 2003
- Week Ending September 26, 2003
- WEEK ENDING OCTOBER 3, 2003
- Week Ending October 10, 2003
- Week Ending October 17, 2003
- Week Ending October 24, 2003
- Week Ending October 31, 2003
- Week Ending November 7, 2003
- November Newsletter
- Week Ending November 14, 2003
- Week Ending November 21, 2003
- Week Ending November 28, 2003
- Week Ending December 5, 2003
- Week Ending December 12, 2003
- Week Ending December 19, 2003
- Week Ending December 26, 2003
- Week Ending January 2, 2004
- Week Ending January 9, 2004
- Week Ending January 16, 2004
- Week Ending January 23, 2004
- Week Ending January 30, 2004
- Weekend Ending February 6, 2004
- Week Ending February 13, 2004
- Week Ending Feburary 20, 2004
- Week Ending February 27, 2004
- Week Ending March 5, 2004
- Week Ending March 12, 2004
- WEEK ENDING MARCH 19, 2004
- Week Ending March 26, 2004
- Week Ending April 2, 2004
- Week Ending April 9, 2004
- Week Ending April 16, 2004
- WEEK ENDING APRIL 23, 2004
- Week Ending April 30, 2004
- Week Ending May 7, 2004
- Week Ending May 14, 2004
- Week Ending May 21, 2004
- Week Ending May 28, 2004
- Week Ending June 4, 2004
- Week Ending June 11, 2004
- Week Ending June 18, 2004
- Week Ending June 25, 2004
- Week Ending July 2, 2004
- Week Ending July 9, 2004
- Week Ending July 16, 2004
- Week Ending July 23, 2004
- Week Ending July 30, 2004
- Week Ending August 6, 2004
- Week Ending August 13, 2004
- Week Ending August 20, 2004
- Week Ending September 3, 2004
- Week Ending September 10, 2004
- Week Ending September 17, 2004
- Week Ending September 24, 2004
- Week Ending October 1, 2004
- Week Ending October 8, 2004
- Week Ending October 15, 2004
- Week Ending October 22, 2004
- Week Ending October 29, 2004
- Week Ending November 5, 2004
- Chairman's Report for November 10, 2004
- Week Ending November 12, 2004
- Week Ending November 19, 2004
- Week Ending November 26, 2004
- Week Ending December 3, 2004
- Week Ending December 10, 2004
- Week Ending December 17, 2004
- Week Ending December 24, 2004
- Week Ending January 7, 2005
- Week Ending January 14, 2005
- Chairman's Report For January 12, 2005
- Week Ending January 21, 2005
- Week Ending January 26, 2005
- Week Ending February 4, 2005
- Week Ending February 11, 2005
- Week Ending February 18, 2005
- Chairman's Report for February 23, 2005
- Week Ending February 25, 2005
- Week Ending March 4, 2005
- Week Ending March 11, 2005
- Week Ending March 18, 2005
- Chairman's Report for March 16, 2005
- Week Ending March 25, 2005
- Week Ending April 1, 2005
- Week Ending April 8, 2005
- Week Ending April 15, 2005
- Week Ending April 22, 2005
- Chairman's Report For April 27, 2005
- Week Ending April 29, 2005
- Week Ending May 6, 2005
- Week Ending May 13, 2005
- Week Ending May 20, 2005
- SPECIAL MIDWEEK UPDATE
- WEEK ENDING MAY 27, 2005
- WEEK ENDING JUNE 3, 2005
- WEEK ENDING JUNE 10, 2005
- WEEK ENDING JUNE 17, 2005
- WEEK ENDING JUNE 24, 2005
- WEEK ENDING JULY 1, 2005
- Week Ending July 8, 2005
- Chairman's Report for June 29, 2005
- Chairman's Report for June 10, 2005
- Week Ending July 15, 2005
- Week Ending July 22, 2005
- Chairman's Report for July 20, 2005
- Week Ending July 29, 2005
- Week Ending August 5, 2005
- Chairman's Report For August 10, 2005
- Week Ending August 12, 2005
- Week Ending August 19, 2005
- Week Ending August 26, 2005
- Week Ending September 2, 2005
- Week Ending September 9, 2005
- Week Ending September 16, 2005
- Week Ending September 23, 2005
- Week Ending September 30, 2005
- WEEK ENDING OCTOBER 07, 2005
- Week Ending October 14, 2005
- Chairman's Report for September 21, 2005
- Week Ending October 21, 2005
- Chairman's Report for October 14, 2005
- Week Ending October 28, 2005
- Week Ending November 4, 2005
- Week Ending November 11, 2005
- Week Ending November 25, 2005
- Chairman's Report for November 23, 2005
- Week Ending December 2, 2005
- Week Ending December 9, 2005
- Chairman's Report for December 17, 2005
- Week Ending December 16, 2005 - Washington, DC
- Week Ending December 23, 2005
- Week Ending December 30, 2005
- Week Ending January 6. 2006
- Week Ending January 13, 2006
- Week Ending January 20, 2006
- Week Ending January 27, 2006
- Week Ending February 3, 2006
- Week Ending February 10, 2006
- Week Ending February 17, 2006 - Washington, DC
- Week Ending February 24, 2006 - Washington, DC
- Week Ending March 3, 2006 - Washington, DC
- Week Ending March 10, 2006 - From Washington, DC
- Week Ending March 17, 2006 - From Washington, DC
- Week Ending March 24, 2006 - From Washington, DC
- Week Ending March 31, 2006 - From Washington, DC
- Week Ending April 7, 2006 - From Washington, DC
- Week Ending April 14, 2006 - From Washington, DC
- Week Ending April 21, 2006 - From Washington, DC
- Week Ending April 28, 2006
- Week Ending May 5, 2006 - From Washington, DC
- Week Ending May 12, 2006 - From Washington, DC
- Week Ending May 19, 2006 - From Washington, DC
- Week Ending May 26, 2006
- Week Ending June 2, 2006 - From Washington, DC
- Week Ending June 9, 2006
- Week Ending June 16, 2006
- Week Ending June 24, 2006 - From Washington, DC
- Week Ending June 30, 2006 - From Washington, DC
- Week Ending July 7, 2006
- Week Ending July 14, 2006 - From Washington, DC
- Week Ending July 21, 2006 - From Washington, DC
- Week Ending July 28, 2006 - From Washington, DC
- Week Ending August 4, 2006 - From Washington, DC
- Week Ending August 11, 2006- From Washington D.C.
- Week Ending August 18, 2006 - From Washington, DC
- Week Ending August 25, 2006 - From Washington, DC
- Week Ending September 1, 2006 - Washington, DC
- Week Ending September 8, 2006 - Washington, DC
- Week Ending September 15, 2006 - Washington, DC
- Week Ending September 22, 2006 - Washington, DC
- Week Ending September 29, 2006 - Washington, DC
- Week Ending October 6, 2006 - Washington, DC
- Weeking Ending October 13, 2006
- Week Ending October 20, 2006 - Washington, DC
- Week Ending October 27, 2006
- Week Ending November 3, 2006 - Washington, DC
- Chairman's Report for November 8, 2006
- Week Ending November 10, 2006
- Week Ending November 17, 2006
- Week Ending November 24, 2006 - Washington, DC
- Chairman's Report for November 28, 2006
- Week Ending December 1, 2006
- Week Ending December 15, 2006 - Washington, DC
- Week Ending December 8, 2006 - Washington, DC
- Week Ending December 22, 2006
- Week Ending December 28, 2006 - Washington, DC
- Week Ending January 5, 2006 - Washington, DC
- Week Ending January 12, 2007 - Washington, DC
- Week Ending January 19, 2007
- Week Ending January 26, 2007 - Washington, DC
- Week Ending February 2, 2007
- Week Ending February 9, 2007
- Week Ending February, 16, 2007 - Washington, DC
- Week Ending February 23, 2007 - Washington, DC
- Week Ending March 2, 2007 - Washington, DC
- Week Ending March 9, 2007 - Washington, DC
- Week Ending March 16, 2007 - Washington, DC
- Week Ending March 23, 2007- Washington, DC
- Week Ending March 30, 2007 - Washington, DC
- Week Ending April 6, 2007 - Washington, DC
- Week Ending April 13, 2007
- Week Ending April 20, 2007 - Washington, DC
- Week Ending April 27, 2007 - Washington, DC
-