Week Ending April 1, 2005
Religious Freedom Coalition
April 1, 2005 1:03PM EST
LEGISLATIVE UPDATE - WEEK ENDING APRIL 1, 2005
HOUSE AND SENATE IN RECESS
CONGRESS
TERRI IS GONE
The battle has ended and the Culture of Death has won a battle in the courts of America. George Selos, the attorney who successfully argued on behalf of Terri's husband to have her feeding tube removed, now travels the nation charging $15,000 per speech to promote the "right to die." The doctor hired by Michael Schiavo, Dr. Ronald Cranford, refers to himself as "Dr. Humane Death" and was one of the authors of Intended Death: The Ethics of Assisted Suicide and Euthanasia. While many prayed for Terri's recovery there were those on the darker side that wanted to use her case to promote euthanasia. The same people who promote euthanasia are normally those supporting abortion on demand and the cloning of human life to harvest parts. Many believe this case was about Terri and her individual condition but it was not. Those who advocate Euthanasia will now use this case to promote death for others groups such as the chronically ill.The divide in our nation has never been deeper on the issue of life. Our nation needs prayer as never before.
INTERNATIONAL
CHINA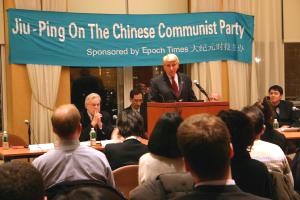 On Tuesday March 29th I participated in a forum on the Chinese Communist Party at the Press Club in New York City that was attended by more than 100 people including members of the media. The forum centered on the Jiuping, or Nine Commentaries, which have been circulating throughout China and have caused the resignation of more than 500,000 members of the Chinese Communist Party. Please understand this: the Chinese Communist Party is actually a fascist organization and is no more communist than the Republican Party. This group of fascists in China abandoned communism decades ago and have used the free enterprise system to enhance their military power and to continue to strangle the freedoms of the Chinese people. To read my statement at the New York Press Club click here.
IRAN
Yesterday, March 31, 2005, it was disclosed in a report to President George W. Bush that our intelligence agencies have no idea who has weapons of mass destruction (WMD) or if they have the ability to strike with them against America soil. (read article here) For many weeks I have been working with Jerry Corsi, the author of Unfit For Command, and Iranian resistance leaders he knows, to bring the Iranian nuclear threat to the attention of Congress. Corsi has even written a new book, Atomic Iran, about the subject. I wrote one of the forwards of Atomic Iran. Jerry's book exposes how the core deficit of religious freedom in Iran has led to tyranny. The tyrannical mullahs now have nuclear capacity which they are willing to use to spread their intolerant brand of enforced religious beliefs. Corsi gives vivid details of the nuclear disaster that could result inside the borders of the United States. I urge you to obtain a copy of Atomic Iran which is available at our Internet store.
WEST BANK
Within a few days a Religious Freedom Coalition delegation leaves on a mission trip to Samaria (the West Bank). Our original goal was to raise some $100,000 for Christian schools, organizations and families living in Palestinian Authority controlled areas. We are praying to hit the $30,000 mark or about 1/3 of our original goal. I have been working with ministries in the Holy Land for more than two decades and I have always found it hard to raise funds for ministry work there. The RFC is not a charity; it is a religious organization and as such we can and do discriminate. In Israel and the West Bank we help only Christian institutions and families. Contributions to our West Bank (Samaria) projects can be made using our online secure server. Our mailing address is at the bottom of the page. Please give credit card donations online at: http://www.rfcnet.org/donate.html.
PRICE REDUCED FOR OLIVE OIL SOAP!
As part of our ongoing support of Christian Palestinians we have been making available the handmade olive oil soap from Samaria for about $5.00 a bar for several years. Part of the cost was the shipment by air from Israel. We have now been able to arrange transportation of a large quantity by ship and this has allowed us to reduce the price and still send the same amount of money to Christian Palestinian families. The handmade olive oil soap is now just $3.95 per bar! To learn more about this handmade olive oil soap click here.

PLEASE TELL SOMEONE ABOUT THESE UPDATES

You are invited to forward copies of this Legislative Update to your friends. Please tell them it is issued weekly free of charge and that we do not share our e-mail lists with any other organizations. In 2005 we are praying to top the 100,000 subscribers mark and you can help. If this e-mail has been forwarded to you, please subscribe at http://www.rfcnet.org/subscribe.asp .

William J. Murray, Chairman

Religious Freedom Coalition, P.O. Box 77511, Washington, DC 20013. Phone: (202) 543-0300

Please address all comments and questions to support

TO SUBSCRIBE OR BE REMOVED CLICK HERE

For fast removal from our lists reply to this message with only the word REMOVE in the subject line.

This publication is a service of the Religious Freedom Coalition (RFC). Links to political and other sites are for informational purposes and do not constitute endorsement. No statement is intended to assist or defeat any candidate running for public office.

Religious Freedom Coalition * Copyright - 2005


- Week Ending November 1, 2002
- Week Ending October 25, 2002
- Week Ending November 8, 2002
- Week Ending October 18, 2002
- Week Ending November 15, 2002
- Week Ending November 22nd
- Week Ending November 29th
- April 2002 Newsletter
- Week Ending December 6, 2002
- Week Ending December 13, 2002
- Week Ending December 20th, 2002
- Week Ending December 27, 2002
- Week Ending January 17, 2003
- Week Ending January 10, 2003
- Week Ending January 24th
- Week Ending January 31st
- Week Ending February 7, 2003
- Week Ending February 14, 2003
- Week Ending February 21, 2003
- Week Ending February 28, 2003
- Week Ending March 7th
- Week Ending March 14, 2003
- Week Ending March 21, 2003
- Week Ending March 28, 2003
- Week Ending April 4, 2003
- April, 2003 Newsletter
- Week Ending April 11, 2003
- Week Ending April 18, 2003
- Week Ending April 25, 2003
- Week Ending May 2, 2003
- Week Ending May 9, 2003
- Week Ending May 16, 2003
- Week Ending May 23, 2003
- Week Ending May 30, 2003 - Washington, D.C.
- Week Ending June 6, 2003 - Washington, D.C.
- Week Ending June 13, 2003
- Week Ending June 20, 2003
- Week Ending June 27, 2003
- Week Ending July 4, 2003
- Week Ending July 11, 2003
- Week Ending July 18, 2003
- Week Ending July 25, 2003
- Week Ending August 1, 2003
- Week Ending August 8, 2003
- Week Ending August 15, 2003
- Week Ending August 22, 2003
- Week Ending August 29, 2003
- Week Ending September 5, 2003
- Week Ending September 12, 2003
- Week Ending September 19, 2003
- Week Ending September 26, 2003
- WEEK ENDING OCTOBER 3, 2003
- Week Ending October 10, 2003
- Week Ending October 17, 2003
- Week Ending October 24, 2003
- Week Ending October 31, 2003
- Week Ending November 7, 2003
- Week Ending November 14, 2003
- Week Ending November 21, 2003
- Week Ending November 28, 2003
- Week Ending December 5, 2003
- Week Ending December 12, 2003
- Week Ending December 19, 2003
- Week Ending December 26, 2003
- Week Ending January 2, 2004
- Week Ending January 9, 2004
- Week Ending January 16, 2004
- Week Ending January 23, 2004
- Week Ending January 30, 2004
- Weekend Ending February 6, 2004
- Week Ending February 13, 2004
- Week Ending Feburary 20, 2004
- Week Ending February 27, 2004
- Week Ending March 5, 2004
- Week Ending March 12, 2004
- WEEK ENDING MARCH 19, 2004
- Week Ending March 26, 2004
- Week Ending April 2, 2004
- Week Ending April 9, 2004
- Week Ending April 16, 2004
- WEEK ENDING APRIL 23, 2004
- Week Ending April 30, 2004
- Week Ending May 7, 2004
- Religious Freedom Quarterly ... April - June 2004
- Week Ending May 14, 2004
- Week Ending May 21, 2004
- Week Ending May 28, 2004
- Week Ending June 4, 2004
- Week Ending June 11, 2004
- Week Ending June 18, 2004
- Week Ending June 25, 2004
- Week Ending July 2, 2004
- Week Ending July 9, 2004
- Week Ending July 16, 2004
- Week Ending July 23, 2004
- Week Ending July 30, 2004
- Week Ending August 6, 2004
- Week Ending August 13, 2004
- Week Ending August 20, 2004
- Week Ending September 3, 2004
- Week Ending September 10, 2004
- Week Ending September 17, 2004
- Week Ending September 24, 2004
- Week Ending October 1, 2004
- Week Ending October 8, 2004
- Week Ending October 15, 2004
- Week Ending October 22, 2004
- Week Ending October 29, 2004
- Week Ending November 5, 2004
- Week Ending November 12, 2004
- Week Ending November 19, 2004
- Week Ending November 26, 2004
- Week Ending December 3, 2004
- Week Ending December 10, 2004
- Week Ending December 17, 2004
- Week Ending December 24, 2004
- Week Ending January 7, 2005
- Week Ending January 14, 2005
- Chairman's Report For January 12, 2005
- Week Ending January 21, 2005
- Week Ending January 26, 2005
- Week Ending February 4, 2005
- Week Ending February 11, 2005
- Week Ending February 18, 2005
- Chairman's Report for February 23, 2005
- Week Ending February 25, 2005
- Week Ending March 4, 2005
- Week Ending March 11, 2005
- Week Ending March 18, 2005
- Chairman's Report for March 16, 2005
- Week Ending March 25, 2005
- Week Ending April 8, 2005
- Week Ending April 15, 2005
- Week Ending April 22, 2005
- Chairman's Report For April 27, 2005
- Week Ending April 29, 2005
- Week Ending May 6, 2005
- Week Ending May 13, 2005
- Week Ending May 20, 2005
- SPECIAL MIDWEEK UPDATE
- WEEK ENDING MAY 27, 2005
- WEEK ENDING JUNE 3, 2005
- WEEK ENDING JUNE 10, 2005
- WEEK ENDING JUNE 17, 2005
- WEEK ENDING JUNE 24, 2005
- WEEK ENDING JULY 1, 2005
- Week Ending July 8, 2005
- Chairman's Report for June 29, 2005
- Chairman's Report for June 10, 2005
- Week Ending July 15, 2005
- Week Ending July 22, 2005
- Chairman's Report for July 20, 2005
- Week Ending July 29, 2005
- Week Ending August 5, 2005
- Chairman's Report For August 10, 2005
- Week Ending August 12, 2005
- Week Ending August 19, 2005
- Week Ending August 26, 2005
- Week Ending September 2, 2005
- Week Ending September 9, 2005
- Week Ending September 16, 2005
- Week Ending September 23, 2005
- Week Ending September 30, 2005
- WEEK ENDING OCTOBER 07, 2005
- Week Ending October 14, 2005
- Chairman's Report for September 21, 2005
- Week Ending October 21, 2005
- Chairman's Report for October 14, 2005
- Week Ending October 28, 2005
- Week Ending November 4, 2005
- Week Ending November 11, 2005
- Week Ending November 18, 2005
- Week Ending November 25, 2005
- Chairman's Report for November 23, 2005
- Week Ending December 2, 2005
- Week Ending December 9, 2005
- Chairman's Report for December 17, 2005
- Week Ending December 16, 2005 - Washington, DC
- Week Ending December 23, 2005
- Week Ending December 30, 2005
- Week Ending January 6. 2006
- Week Ending January 13, 2006
- Week Ending January 20, 2006
- Week Ending January 27, 2006
- Week Ending February 3, 2006
- Week Ending February 10, 2006
- Week Ending February 17, 2006 - Washington, DC
- Week Ending February 24, 2006 - Washington, DC
- Week Ending March 3, 2006 - Washington, DC
- Week Ending March 10, 2006 - From Washington, DC
- Week Ending March 17, 2006 - From Washington, DC
- Week Ending March 24, 2006 - From Washington, DC
- Week Ending March 31, 2006 - From Washington, DC
- Week Ending April 7, 2006 - From Washington, DC
- Week Ending April 14, 2006 - From Washington, DC
- Week Ending April 21, 2006 - From Washington, DC
- Week Ending April 28, 2006
- Week Ending May 5, 2006 - From Washington, DC
- Week Ending May 12, 2006 - From Washington, DC
- Week Ending May 19, 2006 - From Washington, DC
- Week Ending May 26, 2006
- Week Ending June 2, 2006 - From Washington, DC
- Week Ending June 9, 2006
- Week Ending June 16, 2006
- Week Ending June 24, 2006 - From Washington, DC
- Week Ending June 30, 2006 - From Washington, DC
- Week Ending July 7, 2006
- Week Ending July 14, 2006 - From Washington, DC
- Week Ending July 21, 2006 - From Washington, DC
- Week Ending July 28, 2006 - From Washington, DC
- Week Ending August 4, 2006 - From Washington, DC
- Week Ending August 11, 2006- From Washington D.C.
- Week Ending August 18, 2006 - From Washington, DC
- Week Ending August 25, 2006 - From Washington, DC
- Week Ending September 1, 2006 - Washington, DC
- Week Ending September 8, 2006 - Washington, DC
- Week Ending September 15, 2006 - Washington, DC
- Week Ending September 22, 2006 - Washington, DC
- Week Ending September 29, 2006 - Washington, DC
- Week Ending October 6, 2006 - Washington, DC
- Weeking Ending October 13, 2006
- Week Ending October 20, 2006 - Washington, DC
- Week Ending October 27, 2006
- Week Ending November 3, 2006 - Washington, DC
- Week Ending November 10, 2006
- Week Ending November 17, 2006
- Week Ending November 24, 2006 - Washington, DC
- Week Ending December 1, 2006
- Week Ending December 15, 2006 - Washington, DC
- Week Ending December 8, 2006 - Washington, DC
- Week Ending December 22, 2006
- Week Ending December 28, 2006 - Washington, DC
- Week Ending January 5, 2006 - Washington, DC
- Week Ending January 12, 2007 - Washington, DC
- Week Ending January 19, 2007
- Week Ending January 26, 2007 - Washington, DC
- Week Ending February 2, 2007
- Week Ending February 9, 2007
- Week Ending February, 16, 2007 - Washington, DC
- Week Ending February 23, 2007 - Washington, DC
- Week Ending March 2, 2007 - Washington, DC
- Week Ending March 9, 2007 - Washington, DC
- Week Ending March 16, 2007 - Washington, DC
- Week Ending March 23, 2007- Washington, DC
- Week Ending March 30, 2007 - Washington, DC
- Week Ending April 6, 2007 - Washington, DC
- Week Ending April 13, 2007
- Week Ending April 20, 2007 - Washington, DC
- Week Ending April 27, 2007 - Washington, DC
- Week Ending May 18, 2007
- Week Ending May 11, 2007
-