Week Ending July 22, 2005
RFC
July 22, 2005 7:58PM EST
LEGISLATIVE UPDATE - WEEK ENDING JULY 22, 2005
HOUSE IN SESSION / SENATE IN SESSION
PRESIDENT AND CONGRESS
SUPREME COURT
President George W. Bush's nominee for the Supreme Court, Judge John G. Roberts is an honorable man, a man virtually no one can find fault with. He is an honors graduate of the Harvard School of Law and as a clerk in the Supreme Court actually had the responsibility to research and write decisions that were then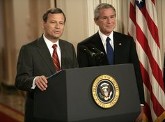 edited and signed by Chief Justice Rehnquist. Judge Roberts is a man who believes the duty of a judge is to interpret existing law, not legislate from the bench. Judge Roberts is such a solid pick for Supreme Court and so hard to find fault with, that the liberal media began attacking his wife, Judith, within a few days of his nomination. Both the Boston Globe and the Los Angeles Times have already run stories critical of Judith Roberts' association with Feminists for Life, a pro-life organization in Washington, DC. Others have attacked his church, even demanding to know the names of those who attend church with him. Then there is Senator Chuck Schumer, the New York attack dog of the Senate, who is now demanding that all private documents written by Roberts while he was an attorney for the White House be turned over to him. Senator Schumer made no such demand for private documents during the hearings for Justice Ginsberg, who was an attorney for and an officer of the ACLU.
THE SENATE AND THE COURT
Majority Leader Bill Frist (R-TN) is committed to running the nomination of Judge Roberts through the Senate in the same timely manner as were both nominations made by President Bill Clinton. The Ginsburg process lasted only 42 days and Frist sees no reason why Judge Roberts cannot be confirmed as early as September 3rd, and certainly no later than October 3rd, in time to take his seat on the Supreme Court for the beginning of its fall session.
HOW THE PROCESS WORKS IN THE SENATE
The FBI will do background checks on Judge Roberts for the next three weeks. All of his associates and even his old classmates from thirty years ago at Harvard will be interviewed. Even employees of the adoption agency where his two small children were recently adopted will be interviewed. His bank records and all of his investment transactions will be scrutinized as well. All this information will be handed over to the Judiciary Committee. Left-wing attack dog Senator Schumer will have access to all the material and we can only pray that his office does not distort the findings and then leak them to the press. The American Bar Association's review of Judge Roberts' credentials will also take about three weeks and it is assumed their findings will be excellent, as their reviews of him have been in the past.
There will be only four days of hearings in September according to my contacts in the office of Judiciary Committee Chairman Arlen Specter (R-PA). Chairman Specter is giving his full support of Judge Roberts and has told those close to him that the hearings will not last longer than those of previous Supreme Court nominees. Day one of the hearings will be consumed primarily with the opening statements of Senators. We can assume that Senator Chuck Schumer will spend his time attacking Roberts' wife and children. Toward the end of the day Judge Roberts may answer some verbal questions. All of day two will be questioning of Judge Roberts. On day three "outside groups" such as the Religious Freedom Coalition and the ACLU will be allowed to offer testimony. Day four is reserved for "mark-up." Mark up is the public debate between the Senators on the Judiciary committee as they produce a report on the nominee to send to the Senate floor. The nominee is sent to the floor regardless of the outcome of the vote of the Judiciary Committee. The Committee merely votes to "recommend" or "not recommend" the confirmation. Senator Frist has indicated that no more than two to three days will be permitted for floor debate. What can you do? It is extremely important that Senator Specter and his counterpart on the Judiciary Committee, Senator Leahy (D-VT) receive e-mail, faxes and letters. Because of security it can take months for a letter to reach a Senator in the postal service. (A friend of mine in Senator Frist's office just received a 2003 Christmas card last week.) I highly recommend a fax rather than an e-mail because of the paper trail, but an e-mail does count. What the White House wants to see is mountains of paper piled up in front of Senator Specter, showing public support for Judge Roberts.
Please keep this in mind: Six Supreme Court Justices have used "international law" in their decisions. (Click here for Court decisions using "international" law.) Judge Roberts will not do this. In your e-mail or fax you may want to point out that you want a Justice who will not impose the laws of France or Saudi Arabia on the American people.
MAJOR RFC ACTIVITIES THIS WEEK
FREEDOM IN CHINA

On Thursday of this week I spoke at a Falun Gong rally held on the south steps of the Capitol Building. This is perhaps the third or fourth year I have spoken at the group's rally which is always held in the middle of July. While I am not a supporter of the Falun Gong, I believe in freedom of religion and freedom of speech (with certain traditional exceptions). Neither freedom of religion or speech exists in China. During my remarks I pointed out that China is not a communist nation, but rather a National Socialist or fascist regime which uses the free enterprise system as a tool to finance itself. China is operated no differently than was Franco's Spain, Hitler's Germany or Huissein's Iraq. (Click here for my remarks on Chinese fascism)
WHITE HOUSE
Peggy Birchfield, Executive Director of the RFC, along with some other conservative leaders met with a high ranking White House official early in the week. Sensitive issues discussed included the Violence Against Women Act, Sex and Human Trafficking, Embryonic Stem Cell research, Cloning, adoption issues and the nomination of Judge John G. Roberts to the Supreme Court. Being fully informed of the White House positions on these issues assists the Religious Freedom Coalition in knowing areas of concern. Many meetings we attend with White House staff, Senators and congressmen are "off the record" which means we cannot publish actual details of the discussions.
NORTH KOREA
RFC staff also participated in the North Korea Freedom Day International Conference on Capitol Hill. The conference, entitled "Freedom for All Koreans," featured issues such as Human Trafficking of Korean women in China, Human Rights in North Korea, defector forums and an interfaith panel discussion of religious freedom. Among the speakers was Kang Chol Hwan, a North Korean defector who spent 10 years imprisoned in the gulag of Yodok, a brutal concentration camp. Distinguished author and journalist Nathan Sharansky also spoke at the event. A senior fellow at the Shalom Center in Jerusalem and currently Honorary Chairman for "One Jerusalem," Sharansky has written two books on the oppression in North Korea: The Case for Democracy: The Power of Freedom to Overcome Tyranny & Terror and Aquariums of Pyongyang. The books highlight the lack of basic human rights in North Korea. Under dictator Kim Jong II, North Koreans are starved, beaten, placed into forced labor camps and publicly executed. The Religious Freedom Coalition is urging full funding of the North Korean Human Rights Act of 2004 in the Senate Foreign Operations appropriations bill.
LEAVING FOR THE WEST BANK
In less than one week I will once again travel to Bethlehem. During the first week of August I will distribute thousands of dollars to families of school age children to help them pay tuition and other costs of attending Christian schools. In some instances 100% of tuition has already been provided by the schools, but the families have no funds for uniforms, school lunches or study materials. In other instances the families must pay a share of the tuition. With most Christian families unemployed, this is a great burden. The average grant per child will be about $300.00. For some families this will mean the difference between being able to send their children to Christian schools rather than sending them to public schools run by the Palestinian Authority. While in Bethlehem I will also be working to arrange for business ventures to help Christian families stay in the birthplace of Christ. Christians once numbered 85% of the population of Bethlehem, and they have now been reduced to less than 20%. Unless Christians in the West reach out and help the Christians in and around Bethlehem, the birthplace of Christ will become nothing more than a theme park operated by Muslim businessmen. YOU CAN STILL HELP THESE KIDS. Please help with a gift to our work in the Holy Land at this secure link or mail a gift to RFC Bethlehem Project, PO Box 77511, Washington, DC 20013. If your church or corporation would consider a grant please call Scott Parker at 202.543.0300.
OLIVE OIL SOAP AVAILABLE AT YOUR CHURCH?
For several years the Religious Freedom Coalition has offered 100% olive oil soap handmade by Christian families in Samaria. The men of these families are converts from Islam and have been accused of being "collaborators" with Israel. As a result they have death warrants against them and cannot return to their villages. Please order a few bars of soap to help these persecuted Christians. Your church can also offer the soap for sale and send the proceeds to the Religious Freedom Coalition. The soap is available to individuals for just $3.95 per bar! To learn more about this handmade olive oil soap click here or on the image.

PLEASE TELL SOMEONE ABOUT THESE UPDATES

Recommend the RFC update to someone! In 2005 we are praying to top the 100,000 subscribers mark and you can help. If this e-mail has been forwarded to you, please subscribe at http://www.rfcnet.org/subscribe.asp .

William J. Murray, Chairman

Religious Freedom Coalition, P.O. Box 77511, Washington, DC 20013. Phone: (202) 543-0300

Please address all comments and questions to support@rfcnet.org

This publication is a service of the Religious Freedom Coalition (RFC). Links to political and other sites are for informational purposes and do not constitute endorsement. No statement is intended to assist or defeat any candidate running for public office.

Religious Freedom Coalition * Copyright - 2005


- Week Ending November 1, 2002
- Week Ending October 25, 2002
- Week Ending November 8, 2002
- Week Ending October 18, 2002
- Week Ending November 15, 2002
- Week Ending November 22nd
- July 2002 Newsletter
- Week Ending November 29th
- Week Ending December 6, 2002
- Week Ending December 13, 2002
- Week Ending December 20th, 2002
- Week Ending December 27, 2002
- Week Ending January 17, 2003
- Week Ending January 10, 2003
- Week Ending January 24th
- Week Ending January 31st
- Week Ending February 7, 2003
- Week Ending February 14, 2003
- Week Ending February 21, 2003
- Week Ending February 28, 2003
- Week Ending March 7th
- Week Ending March 14, 2003
- Week Ending March 21, 2003
- Week Ending March 28, 2003
- Week Ending April 4, 2003
- Week Ending April 11, 2003
- Week Ending April 18, 2003
- Week Ending April 25, 2003
- Week Ending May 2, 2003
- Week Ending May 9, 2003
- Week Ending May 16, 2003
- Week Ending May 23, 2003
- Week Ending May 30, 2003 - Washington, D.C.
- Week Ending June 6, 2003 - Washington, D.C.
- Week Ending June 13, 2003
- Week Ending June 20, 2003
- Week Ending June 27, 2003
- Week Ending July 4, 2003
- Week Ending July 11, 2003
- July, 2003 Newsletter
- Week Ending July 18, 2003
- Week Ending July 25, 2003
- Week Ending August 1, 2003
- Week Ending August 8, 2003
- Week Ending August 15, 2003
- Week Ending August 22, 2003
- Week Ending August 29, 2003
- Week Ending September 5, 2003
- Week Ending September 12, 2003
- Week Ending September 19, 2003
- Week Ending September 26, 2003
- WEEK ENDING OCTOBER 3, 2003
- Week Ending October 10, 2003
- Week Ending October 17, 2003
- Week Ending October 24, 2003
- Week Ending October 31, 2003
- Week Ending November 7, 2003
- Week Ending November 14, 2003
- Week Ending November 21, 2003
- Week Ending November 28, 2003
- Week Ending December 5, 2003
- Week Ending December 12, 2003
- Week Ending December 19, 2003
- Week Ending December 26, 2003
- Week Ending January 2, 2004
- Week Ending January 9, 2004
- Week Ending January 16, 2004
- Week Ending January 23, 2004
- Week Ending January 30, 2004
- Weekend Ending February 6, 2004
- Week Ending February 13, 2004
- Week Ending Feburary 20, 2004
- Week Ending February 27, 2004
- Week Ending March 5, 2004
- Week Ending March 12, 2004
- WEEK ENDING MARCH 19, 2004
- Week Ending March 26, 2004
- Week Ending April 2, 2004
- Week Ending April 9, 2004
- Week Ending April 16, 2004
- WEEK ENDING APRIL 23, 2004
- Week Ending April 30, 2004
- Week Ending May 7, 2004
- Week Ending May 14, 2004
- Week Ending May 21, 2004
- Week Ending May 28, 2004
- Week Ending June 4, 2004
- Week Ending June 11, 2004
- Week Ending June 18, 2004
- Week Ending June 25, 2004
- Week Ending July 2, 2004
- Week Ending July 9, 2004
- Week Ending July 16, 2004
- Week Ending July 23, 2004
- Chairman's Report for July 28, 2004
- Chairman's Report for July 9, 2004
- Week Ending July 30, 2004
- Week Ending August 6, 2004
- Week Ending August 13, 2004
- Week Ending August 20, 2004
- Week Ending September 3, 2004
- Week Ending September 10, 2004
- Week Ending September 17, 2004
- Week Ending September 24, 2004
- Week Ending October 1, 2004
- Week Ending October 8, 2004
- Week Ending October 15, 2004
- Week Ending October 22, 2004
- Week Ending October 29, 2004
- Week Ending November 5, 2004
- Week Ending November 12, 2004
- Week Ending November 19, 2004
- Week Ending November 26, 2004
- Week Ending December 3, 2004
- Week Ending December 10, 2004
- Week Ending December 17, 2004
- Week Ending December 24, 2004
- Week Ending January 7, 2005
- Week Ending January 14, 2005
- Chairman's Report For January 12, 2005
- Week Ending January 21, 2005
- Week Ending January 26, 2005
- Week Ending February 4, 2005
- Week Ending February 11, 2005
- Week Ending February 18, 2005
- Chairman's Report for February 23, 2005
- Week Ending February 25, 2005
- Week Ending March 4, 2005
- Week Ending March 11, 2005
- Week Ending March 18, 2005
- Chairman's Report for March 16, 2005
- Week Ending March 25, 2005
- Week Ending April 1, 2005
- Week Ending April 8, 2005
- Week Ending April 15, 2005
- Week Ending April 22, 2005
- Chairman's Report For April 27, 2005
- Week Ending April 29, 2005
- Week Ending May 6, 2005
- Week Ending May 13, 2005
- Week Ending May 20, 2005
- SPECIAL MIDWEEK UPDATE
- WEEK ENDING MAY 27, 2005
- WEEK ENDING JUNE 3, 2005
- WEEK ENDING JUNE 10, 2005
- WEEK ENDING JUNE 17, 2005
- WEEK ENDING JUNE 24, 2005
- WEEK ENDING JULY 1, 2005
- Week Ending July 8, 2005
- Chairman's Report for June 29, 2005
- Chairman's Report for June 10, 2005
- Week Ending July 15, 2005
- Chairman's Report for July 20, 2005
- Week Ending July 29, 2005
- Week Ending August 5, 2005
- Chairman's Report For August 10, 2005
- Week Ending August 12, 2005
- Week Ending August 19, 2005
- Week Ending August 26, 2005
- Week Ending September 2, 2005
- Week Ending September 9, 2005
- Week Ending September 16, 2005
- Week Ending September 23, 2005
- Week Ending September 30, 2005
- WEEK ENDING OCTOBER 07, 2005
- Week Ending October 14, 2005
- Chairman's Report for September 21, 2005
- Week Ending October 21, 2005
- Chairman's Report for October 14, 2005
- Week Ending October 28, 2005
- Week Ending November 4, 2005
- Week Ending November 11, 2005
- Week Ending November 18, 2005
- Week Ending November 25, 2005
- Chairman's Report for November 23, 2005
- Week Ending December 2, 2005
- Week Ending December 9, 2005
- Chairman's Report for December 17, 2005
- Week Ending December 16, 2005 - Washington, DC
- Week Ending December 23, 2005
- Week Ending December 30, 2005
- Week Ending January 6. 2006
- Week Ending January 13, 2006
- Week Ending January 20, 2006
- Week Ending January 27, 2006
- Week Ending February 3, 2006
- Week Ending February 10, 2006
- Week Ending February 17, 2006 - Washington, DC
- Week Ending February 24, 2006 - Washington, DC
- Week Ending March 3, 2006 - Washington, DC
- Week Ending March 10, 2006 - From Washington, DC
- Week Ending March 17, 2006 - From Washington, DC
- Week Ending March 24, 2006 - From Washington, DC
- Week Ending March 31, 2006 - From Washington, DC
- Week Ending April 7, 2006 - From Washington, DC
- Week Ending April 14, 2006 - From Washington, DC
- Week Ending April 21, 2006 - From Washington, DC
- Week Ending April 28, 2006
- Week Ending May 5, 2006 - From Washington, DC
- Week Ending May 12, 2006 - From Washington, DC
- Week Ending May 19, 2006 - From Washington, DC
- Week Ending May 26, 2006
- Week Ending June 2, 2006 - From Washington, DC
- Week Ending June 9, 2006
- Week Ending June 16, 2006
- Week Ending June 24, 2006 - From Washington, DC
- Week Ending June 30, 2006 - From Washington, DC
- Week Ending July 7, 2006
- Week Ending July 14, 2006 - From Washington, DC
- Week Ending July 21, 2006 - From Washington, DC
- Week Ending July 28, 2006 - From Washington, DC
- Chairman's Report for July 12, 2006
- Week Ending August 4, 2006 - From Washington, DC
- Week Ending August 11, 2006- From Washington D.C.
- Week Ending August 18, 2006 - From Washington, DC
- Week Ending August 25, 2006 - From Washington, DC
- Week Ending September 1, 2006 - Washington, DC
- Week Ending September 8, 2006 - Washington, DC
- Week Ending September 15, 2006 - Washington, DC
- Week Ending September 22, 2006 - Washington, DC
- Week Ending September 29, 2006 - Washington, DC
- Week Ending October 6, 2006 - Washington, DC
- Weeking Ending October 13, 2006
- Week Ending October 20, 2006 - Washington, DC
- Week Ending October 27, 2006
- Week Ending November 3, 2006 - Washington, DC
- Week Ending November 10, 2006
- Week Ending November 17, 2006
- Week Ending November 24, 2006 - Washington, DC
- Week Ending December 1, 2006
- Week Ending December 15, 2006 - Washington, DC
- Week Ending December 8, 2006 - Washington, DC
- Week Ending December 22, 2006
- Week Ending December 28, 2006 - Washington, DC
- Week Ending January 5, 2006 - Washington, DC
- Week Ending January 12, 2007 - Washington, DC
- Week Ending January 19, 2007
- Week Ending January 26, 2007 - Washington, DC
- Week Ending February 2, 2007
- Week Ending February 9, 2007
- Week Ending February, 16, 2007 - Washington, DC
- Week Ending February 23, 2007 - Washington, DC
- Week Ending March 2, 2007 - Washington, DC
- Week Ending March 9, 2007 - Washington, DC
- Week Ending March 16, 2007 - Washington, DC
- Week Ending March 23, 2007- Washington, DC
- Week Ending March 30, 2007 - Washington, DC
- Week Ending April 6, 2007 - Washington, DC
- Week Ending April 13, 2007
- Week Ending April 20, 2007 - Washington, DC
- Week Ending April 27, 2007 - Washington, DC
-