Maps and Charts
"Area of Christian Concentration"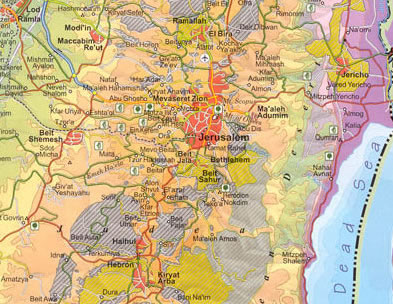 "Christian Demographics in East Jerusalem and the Palestinian Territories (1994)"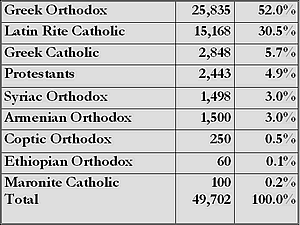 The Palestinian Christian population has drastically changed since 1994, when these statistics were compiled. Most importantly, the total Christian population in the Palestinian Territories is now only about 30,000. This is the minimal level for self-sustaining as a community. Although dated, this chart does present a valuable denominational layout. (Source: Dr. Bernard Sabella of Bethlehem University)
"Arab Population Growth in the
Palestinian Territories (1948-2000)"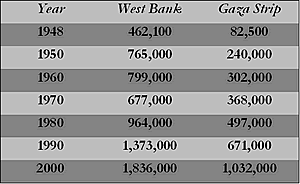 Emigration is a major reason why the Christian population is shrinking, but the Muslim birth rate is among the largest in the world. Christians, being better educated, tend to begin families later in life and have fewer children.
(Source: www.israelipalestinianprocon.org)
"Jerusalem Demographics (1910-2000)"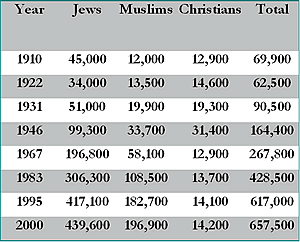 Percentages mean little when comparing the Christian population next to Jewish and Muslim demographics. Jews from all over the world claim the "right of return," while Muslims have very large families (and sometimes multiple wives). Christians are caught in the middle.
(Source: www.israelipalestinianprocon.org)
"Christian Demographics in Israel
(including East Jerusalem)"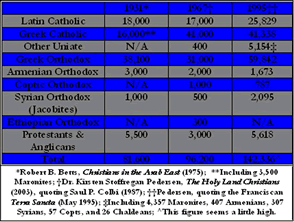 The 1931 Census lists 80,500 Christian Arabs out of 850,000 (10%). 2003 Israeli statistics list 116,000 Christians out of 1.3 million total Arabs. Note that an increasing number of Jewish immigrants (especially Russian and Ethiopian) are also Christians.