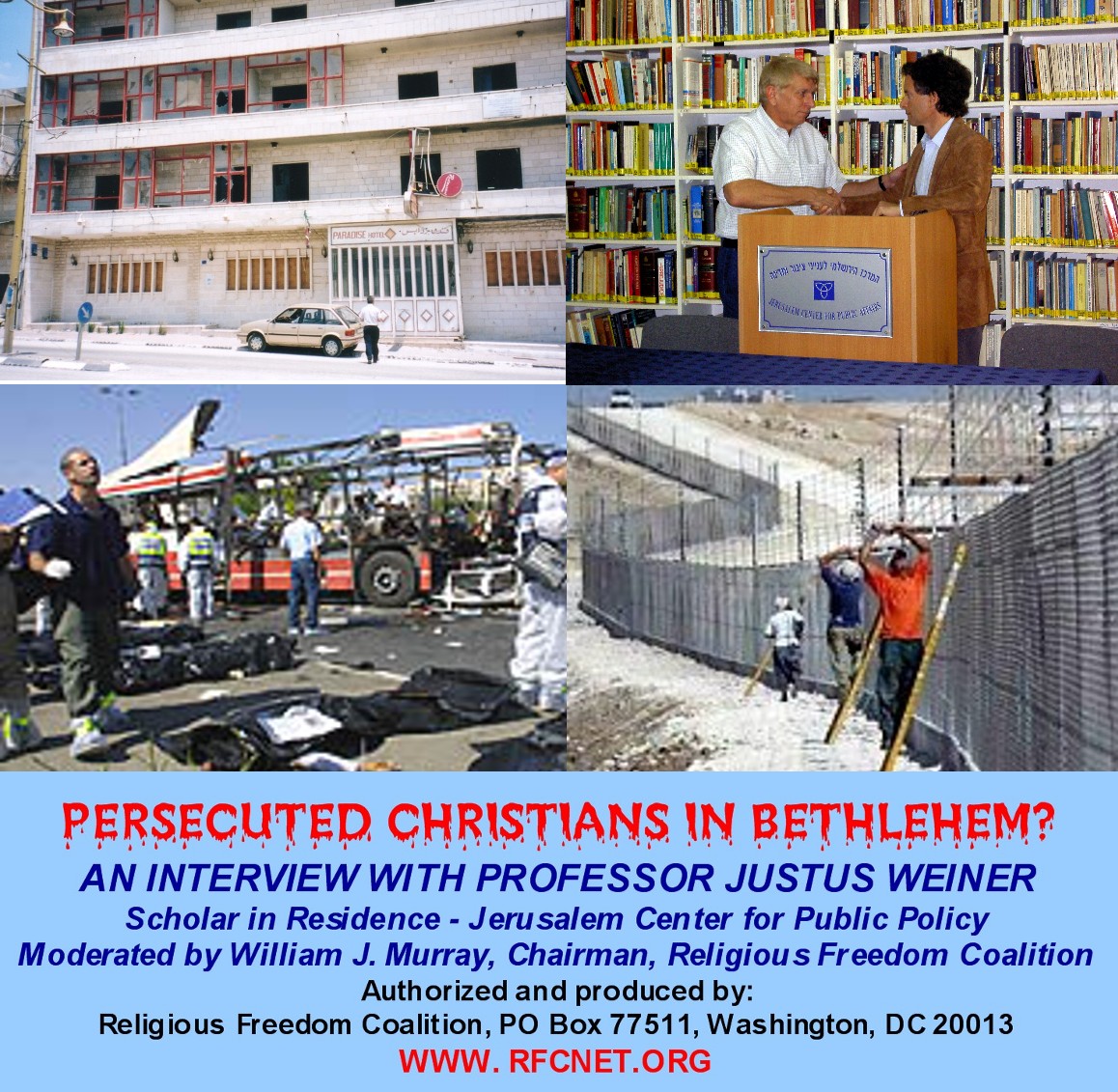 The Religious Freedom Coalition advocates religious freedom as a strategic goal of the United States of America. Religious freedom is the first liberty. Where there is no religious freedom there can be no freedom of assembly, press or speech.
Every nation and movement in the world which has fought to destroy democratic institutions, whether Communist, Nazi or Islamist has had as a common thread intolerance of religious belief.
In the birthplace of Jesus, the Holy city of Bethlehem, the ugly specter of religious oppression against Christians has been raised up by Islamists. Christian businessmen face extortion and Christian women are harassed and often raped.
Professor Justus Weiner, from his office in Jerusalem, has been investigating the persecution of Christians in Bethlehem and the surrounding area under Palestinian Authority rule for several years. His shocking conclusions have been published in numerous scholarly journals in Europe and the United States.
Professor Justus Weiner is a Scholar-in-Residence at the Jerusalem Center for Public Policy. Weiner is an international human rights lawyer and a member of the Israel and New York Bar Associations. His publications include Illegal Construction in Jerusalem (2003); "The Use of Palestinian Children in the Al-Aqsa Intifada" (Jerusalem Letter, 2000), and "'My Beautiful Old House' and Other Fabrications by Edward Said" (Commentary, 1999).
Professor Weiner was interviewed in April of 2005 by William J. Murray, the Chairman of the Religious Freedom Coalition on the subject of persecution of Christians in Bethlehem and surrounding areas.
Limit one FREE dvd per customer. Shipping charge applies.