LEGISLATIVE UPDATE - WEEK ENDING DECEMBER 23, 2005
HOUSE IN RECESS / SENATE IN RECESS
THE PRESIDENCY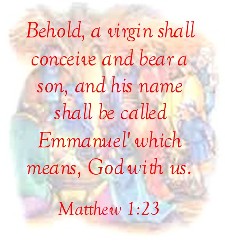 HE'S BACK
Since the last issue of this Legislative Update, the President has been very visible in the media. On Saturday the 17th he delivered his weekly radio address live from the White House and then took questions from reporters. On Sunday night he addressed the American people from the Oval Office and on Monday he held a lengthy press conference. President George W. Bush was obviously very invigorated and on point as he pushed the righteousness of the war in Iraq and the need for the reauthorization of the Patriot Act which is due to expire on the 31st of this month. Democrats have been caught off guard by the President's vigor after months of virtual silence to Democrat and media attacks on him. As a result of taking his argument to the American people, his poll numbers are beginning to climb. Last month the President was widely criticized for mailing a "Holiday card" rather than a Christmas card. On the 19th he made up for it by issuing a Christmas greeting from the White House that included Matthew 1:23 "Behold, a virgin shall conceive and bear a son, and his name shall be called Emmanuel' which means, God with us." Click here for the full text of the President's Christmas greeting.
THE SENATE
CORD BLOOD VOTE REVERSED
In last Friday's update I reported that Democrats in the Senate had blocked the Cord Blood Stem Cell Act of 2005. The bill was being blocked by extreme leftists in the Senate because it did not include funding to kill embryos for cloning research. In the update I requested that you contact your Senators to protest the blockage of this lifesaving legislation. After Senators were beleaguered by phone calls, faxes and e-mail's the left wingers were forced to retreat and the bill passed during a weekend session. Many social conservative organizations worked together to force the Senate to take action and get this important bill released by the Democrats. The President signed the bill using it Senate name, Stem Cell Therapeutic Research Act on the 20th!
GAMBLING TAX CREDIT REVERSED
During the same weekend session the Senate reversed itself and took the tax breaks for casinos and massage parlors out of the Katrina hurricane relief bill. The House had already passed a Katrina aid bill that did not provide funding or tax relief for gambling casinos or massage parlors. This is a major victory for social conservative organizations that went up against former Republican Party chairman Haley Barbour, who is now governor of Mississippi, and against a host of big K Street lobbying firms hired by the casinos. Thank you for contacting your senators!
BIDEN BLOCKS SEX TRAFFIC BAN
Senator Joe Biden (D-DE), who plans on running for President in 2008, successfully blocked the very popular End Demand for Sex Trafficking Act until the last minute the Senate was in session. The bill had passed the House unanimously with support of virtually every Democrat. The bill was intended to protect women and children forced into prostitution and sexual slavery. Because he receives so much money from the abortion industry, Biden attempted to tack on an amendment to force taxpayers to pay for the abortions of Katrina victims. After intense lobbying by the Religious Freedom Coalition and other groups fighting sexual trafficking, Biden was forced to back down! The bill was finally passed as the Trafficking Victims Reauthorization Act of 2005.
LONG MONTH FOR SENATE
Although the House adjourned last week Majority Leader Bill Frist has been forced to keep the Senate in session because of Democrat filibusters and amendments to critical appropriations bills. This week the Democrats tied up the Patriot Act and the Defense Appropriations to satisfy their far left donors such as George Soros. Frist vowed to keep the Senate in session as long as required to finish critical legislation, but Democrats seemed to think that stalling important legislation was their Christmas gift to their donors. In the end, the Democrats extended the Patriot Act for only six months. When it expires the CIA will no longer be allowed to inform the FBI if terrorists are about to enter the United States. To satisfy their donors, the Democrats are willing to risk a biological or nuclear attack on an American city. Among other bills stalled by the Democrats this week was the Support Our Scouts Act of 2005 that would allow the Boy Scouts to continue to meet on public property despite ACLU lawsuits. The Senate finally adjourned yesterday. Click here to read Senator Frist's official list of accomplishments for the year.
Please help us with our various projects on Capitol Hill and in the Holy Land. Donate today!
THE HOUSE
THE ATHEIST LAWSUIT AND THE PLEDGE
Please help us protect "under God" in the Pledge of Allegiance to the flag. Mail a completed petition today to support the Pledge Protection Act of 2005. Our petition is in response to atheist Michael Newdow, who sued to remove "under God" from the Pledge. The only way to stop the constant harassment lawsuits by Newdow, the ACLU and other God haters is for Congress to remove religious _expression lawsuits from judicial review-- just as Rep. Todd Akin is attempting to do with the proposed Pledge Protection Act. To view or print out copies of our petition click here.
THE COURTS
On Wednesday, December 21st, I appeared on National Public Radio (NPR) to discuss a US District Court decision that found the teaching of intelligent design in a Pennsylvania school unconstitutional. The host of the show was very cordial to those who made fun of the concept of intelligent design and agreed with a guest who said that such thought had no place in the schools. He was less friendly to me when I pointed out that judges should be interpreting law and not deciding on social issues, that what is taught in a local school should be up to the tax payers of the district, not to a federal judge. The far left has used the courts for 50 years to force their versions of education and history onto our kids. This is just one more reason for a viable Christian school system in the United States.
INTERNATIONAL
STATE DEPARTMENT AND TRAFFICKING IN PERSONS
On Wednesday, Executive Director Peggy Birchfield participated in a briefing on the rescue and rehabilitation of former child camel jockeys. Ambassador John Miller, the Director of the Office to Monitor and Combat Trafficking in Persons with his honored guest, Ansar Burney, chairman of the Ansar Burney Welfare Trust International. Mr. Burney is the 2005 Trafficking in Persons Report hero. Mr. Burney's efforts helped lead to the establishment of a shelter in United Arab Emirates for rescued child camel jockeys. Those at the briefing heard heart felt stories of these children who have been abused, tortured and deliberately starved to prevent weight gain. Some of the children are extremely young, as young as age two, when taken from their homes. Most of the children were denied education and malnourished to keep them lightweight to be used as camel jockeys. These children are often sexually and physically abused, sometimes to the point of death. There have been as many as 400 children rescued and sent back to their countries this past year. Efforts have been made to send these children back to their homeland but often the children are so young they do not know where they are from. The U.S. estimates that every year, some 600,000 to 800,000 men, women and children are trafficked across international borders. The majority are women and girls who end up trafficked for sexual exploitation. Millions more people are trafficked within their own country. Laws must be enforced and traffickers must be prosecuted. RFC continues to work with the U.S. State Department to increase awareness of the trafficking issue and the horrific violations of human rights caused by trafficking.
NOTHING FOR SALE
Nothing is advertised in our weekly legislative update this week, not even the handmade soap we sell to help Arab Christians in the Holy Land. As the year comes to a close the Religious Freedom Coalition needs to meet budget goals to help Christians who are oppressed and to further our legislative activity on Capitol Hill. Rather than buying a bar of soap or a tie to help us with our work, please consider a tax deductible gift. Tax deductible gifts can be given online or mailed to Religious Freedom Coalition, PO Box 77511, Washington, DC 20013. If you wish to contribute stocks or real property please contact me directly at 202.543.0300. Donate today!
William J. Murray, Chairman
Religious Freedom Coalition , PO Box 77511, Washington, DC 20013 - (202) 543-0300
Please address all comments and questions to support@rfcnet.org
TO SUBSCRIBE OR BE REMOVED CLICK HERE
This publication is a service of the Religious Freedom Coalition (RFC). Links to political and other sites are for informational purposes and do not constitute endorsement. No statement is intended to assist or defeat any candidate running for public office.
Religious Freedom Coalition * Copyright - 2005