LEGISLATIVE UPDATE - WEEK ENDING JUNE 16, 2006
HOUSE IN SESSION / SENATE IN SESSION
THE PRESIDENT
BROADCAST DECENCY
Religious Freedom Coalition's Executive Director, Peggy Birchfield participated in the Broadcast Decency Enforcement Act (S.193) bill-signing ceremony at the White House on Thursday morning. The new law will raise indecency fines ten fold to $325,000 per incident in hopes that television and radio will change for the better under the new law. "In recent years broadcast programming has too often pushed the bounds of decency," Bush said at the White House bill-signing ceremony. "Language is becoming coarser during the times when it's more likely children will be watching television. It's a bad trend, a bad sign." This is the fourth bill signing or other event attended by RFC staff at the White House this year.
ON A ROLL
President George W. Bush has seen his poll numbers rise over the last month as the negative factors of gas prices, immigration and the Iraq war seem to be moving to the back of the minds of Americans. Most have accepted the price of gas at around $3.00 realizing it is less than half of that paid in Europe. Immigration legislation has been placed on the back burner as Congress simply refuses to deal with it, and there have been great successes in Iraq including the killing of the murderous outlaw and slayer of innocent women and children, Abu Musab al-Zarqawi. Peggy Birchfield said that when she shook hands with President Bush on Thursday at the signing of the Broadcast Decency Enforcement Act he was in high spirits and seemed refreshed from his trip to Iraq.
THE SENATE
PLEDGE PROTECTION ON TV AND RADIO
On Monday, I appeared on the Daystar TV Network's Celebration which is broadcast nationally (and worldwide) urging people to take action on the Pledge Protection Act by calling their congressmen and Senators. During the program an old clip of Red Skelton explaining the real meaning of the Pledge was played and a group of kids from Trinity Christian Academy from Addison, Texas recited the Pledge. It was a great 20 minute segment on the one hour show and I hope many of you were able to watch. That same day I appeared on Point of View radio with Carmen Pate and Kirby Anderson. The program is aired on more than 400 radio stations around the country. I spent over one hour of the two hour program on the Pledge Protection Act and then the remaining hour on other issues. Our office has heard from many congressmen and Senators whose constituents have called them about the Pledge Protection Act. To listen to the actual Point of View program click here. (MP3 file may take a short time to download.)
PLEDGE PROTECTION RALLY AND NEWS CONFERENCE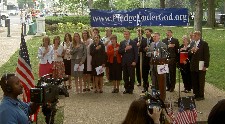 On Wednesday the Religious Freedom Coalition organized a large rally and news conference in the Upper Senate Park across the street from the Capitol Building. Both the original sponsors of the Pledge Protection Act, Senator Jon Kyl (R-AZ) in the Senate, and Congressman Todd Akin (R-MO) in the House, spoke at the event. Just before our event was one held by Senator Ted Kennedy in which he denounced an anti-flag burning law that is endorsed by veterans. Kennedy's office had placed two American flags behind the Senator. We placed our flag in front and to the right of the podium and the very first thing we did in our press conference was to have Senator Kyl lead us in the Pledge of Allegiance. (About 20 members of the press attending our rally stood and saluted the flag and said the Pledge with us.) Congressman Akin wore one of our "Under God" ties that has the Pledge printed on it. Senator Sam Brownback (R-KS), a co-sponsor of the bill, also spoke as did Congressman Trent Franks (R-AZ), who is House co-sponsor. Besides myself, the RFC had also invited speakers from other groups supporting the Pledge Protection Act, including Lanier Swann of Concerned Women for America and Jessica Echard of Eagle Forum. The news conference generated numerous stories on radio, Internet, printed press and TV outlets. Some of the links to stories are located at: Presser 1 Presser 2 Presser 3 Presser 4 and there is an actual video of the event.
RELIGIOUS FREEDOM DAY ON CAPITOL HILL
Religious Freedom Coalition's staff will be participating in Religious Freedom Day to be held on Capitol Hill next Tuesday, June 20, 2006. The event will take place in the Dirksen Senate Building, Room G-50 from 9:00 am - 1:00 pm, and if you are in Washington, DC you may attend. Scheduled speakers include myself, the US Ambassador to the United Nations, John R. Bolton, Senator Norm Coleman (R-MN) , Senator Sam Brownback (R-KS), House Majority Whip Roy Blunt and Congressman Trent Franks. I will be speaking and moderating Panel II discussing "Emerging Issues: Anti-Conversion & Blasphemy Laws". RFC will distribute material on the Bethlehem Project and White Papers from our mission trips to Kosovo, Ariel and Brussels. The Religious Freedom Day is sponsored by Senator Rick Santorum (R-PA) and the Religious Freedom Working Group on Capitol Hill to bring greater awareness to occurrences of persecution and oppression because of religious beliefs.
THE HOUSE
PLEDGE PROTECTION ACT VOTE DELAYED
The vote on the Pledge Protection Act which we were promised on Flag Day, June 14th, did not occur. This was not a fault of the Leadership but rather a problem in the House Judiciary Committee. On Wednesday, June 7th, the "markup" began on Congressman Todd Akin's Pledge Protection Act (HR 2389) in the Judiciary Committee chaired by Congressman James Sensenbrenner (R-WI) was not completed. We have now been informed by the Judiciary Committee staff that the bill should be reported out before the July 4th recess and that a vote can be expected immediately thereafter. The vote in the House should be completed and the bill passed before July 4th.
THE COURTS
NEWDOW LOST ONE
Atheist Michael Newdow has been attacking the religious heritage of our nation in more ways than one and in more than one court. Besides his second run at removing "under God" from the Pledge he also filed a lawsuit to remove "In God We Trust" from our currency. In a strange turn of events a court in California actually ruled against him. Judge Frank Damrell of the U.S. District Court for the Eastern District of California, held that "In God We Trust" is secular in nature and use, and its appearance on coins and currency does not show government coercion on behalf of monotheism. Newdow has vowed to appeal. Unfortunately that appeal will be to the "Nutty Ninth" as it is referred to on Capitol Hill. The 9th Circuit Court of Appeals may very well agree with Newdow and the issue of "In God We Trust" on your money may well head to the Supreme Court. (Click here for story)
INTERNATIONAL
ISRAEL
On Friday, June 9th the Fourth Annual Christian Israel Solidarity event was held at the Embassy of Israel in Washington, DC. Although I was a part of the Host Committee for the event I could not attend because I was traveling in Texas and Oklahoma. Members of the Host committee included Gary Bauer, Pat Boone, Richard Land, Janet Parshall, Pastor Ted Haggard, Pastor John Hagee and others. Our Executive Director, Peggy Birchfield represented our organization this year. The event featured three key note speakers including Gary Bauer, Pastor Ted Haggard and Pastor John Hagee. In a private meeting prior to the main event the Host committee met with Israeli Ambassador Daniel Ayalon and his wife Anne. Because I was not present our executive director, Peggy Birchfield, attended the private meeting. All present expressed their support for Israel and thanked the Ambassador and his wife for their work with the Christian community in the United States.
YOUR HELP NEEDED
One of our older computers has died and we urgently need a new XP box. We do not need a monitor, just a good box that runs XP Professional. (XP Home and Media editions will not run on our network. A new unit would cost in the area of $600 to $650. If you can arrange a larger gift or grant to the Religious Freedom Coalition please call Peggy Birchfield or myself at 202.543.0300. Smaller donations are also needed now. Please help with our various projects on Capitol Hill and in the Holy Land. Please make your donation today ! Click here to give a gift or send your tax deductible donation to the address below.
Recommend the RFC Update to someone! In 2006 we are praying to top the 100,000 subscribers mark and you can help. If this e-mail has been forwarded to you, please subscribe at http://www.rfcnet.org/subscribe.asp
William J Murray, Chairman
Religious Freedom Coalition , PO Box 77511, Washington, DC 20013 - (202) 543-0300
Please address all comments and questions to support@rfcnet.org
To make a contribution to the work of the Religious Freedom Coalition please click here .
TO SUBSCRIBE OR BE REMOVED CLICK HERE
This publication is a service of the Religious Freedom Coalition (RFC). Links to political and other sites are for informational purposes and do not constitute endorsement. No statement is intended to assist or defeat any candidate running for public office.
Religious Freedom Coalition * Copyright - 2006