LEGISLATIVE UPDATE - WEEK ENDING JUNE 2, 2006
HOUSE IN RECESS / SENATE IN RECESS (Will return June 5, 2006)
THE SENATE
RFC PRESS CONFERENCE ON CAPITOL HILL
We now have 14 Senators to co-sponsor Senator Kyl's Pledge Protection Act to protect "under God" in the Pledge of Allegiance. While this is a good start, we need more if we are going to get a vote in the Senate. On Flag Day, June 14th, the Religious Freedom Coalition has organized a press conference and rally in Upper Senate Park next to the Russell Senate Office Building. Senator Kyl, Senator Brownback and others will be present to speak on behalf of the Pledge Protection Act. As of now the event is scheduled for 12:30 PM to 1:30 PM. If you are in or near Washington, DC on Wednesday, June 14th please feel free to come to the press conference.
THE HOUSE
HOUSE NEARS VOTE ON THE PLEDGE
It is now almost certain that a vote will be held on the House version of the Pledge Protection Act on June 14th. The House bill (HR-2389) was authored by Congressman Todd Akin (R-MO). A version of the bill passed in the previous Congress by a vote of 247 to 173 but no Senate action was taken and it died. It is extremely important that the Pledge Protection Act once again receives a wide victory in the House before moving to the Senate. Please contact your congressman by phone, mail or congressional Internet site on or before June 13th asking him his position on this important legislation to protect "under God" in the Pledge. (Click here to contact your congressman.)
RELIGIOUS FREEDOM COALITION
PLEDGE PROTECTION - MEDIA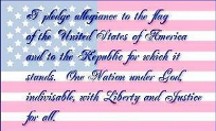 In the past few days I appeared on two major radio shows to promote the Pledge Protection Act. On Take A Stand with Adam McManus I requested that listeners in 39 Texas counties call their congressman and remind them to vote for the Pledge Protection Act. The next day I appeared on Janet Folger's Faith 2 Action which airs in 12 states and on Satellite. Congressman Ernest Istook , who is a co-sponsor of the Pledge Protection Act, appeared with me. Again, we are asking as many people as possible to contact their congressman before the vote on Flag Day, June 14th, 2006.
We at the Religious Freedom Coalition are not backing off our push for a vote. On June 12th, just two days before Flag Day I will appear live on the national TV program Celebration promoting the Pledge Protection Act. Celebration is the flagship program of the Daystar cable network which broadcasts Christian TV shows. To learn how to see Daystar in your area you can check the Internet at http://ww2.daystar.com. On that same day I will be on Point of View radio show which is live on over 400 Christian and conservative radio stations throughout the United States. I will also be on numerous other individual radio and TV shows promoting the defense of "under God" in the Pledge.
Have you signed the Pledge Protection Act petition? Click here for information. Click here for a "One Nation Under God" bumper sticker.
HELP TODAY
We are near victory. Please help promote the Pledge Protection Act, Click here to contribute funds today.
KEEP OTHERS INFORMED
Recommend the RFC Update to someone! In 2006 we are praying to top the 100,000 subscribers mark and you can help. If this e-mail has been forwarded to you, please subscribe at http://www.rfcnet.org/subscribe.asp
William J Murray, Chairman
Religious Freedom Coalition , PO Box 77511, Washington, DC 20013 - (202) 543-0300
Please address all comments and questions to support@rfcnet.org
To make a contribution to the work of the Religious Freedom Coalition please click here .
TO SUBSCRIBE OR BE REMOVED CLICK HERE
This publication is a service of the Religious Freedom Coalition (RFC). Links to political and other sites are for informational purposes and do not constitute endorsement. No statement is intended to assist or defeat any candidate running for public office.
Religious Freedom Coalition * Copyright - 2006