LEGISLATIVE UPDATE - WEEK ENDING MAY 5, 2006
HOUSE IN SESSION / SENATE IN SESSION
THE SENATE
BILL O'REILLY WINS!
For years the Religious Freedom Coalition and other conservative groups have been trying to pass The Children's Safety Act to protect children from sex predators by creating a national sex offender registry. Each time the bill moved toward a vote in the House or Senate social liberals (both Republican and Democrat) attempted to add "hate crimes" legislation to it. The "hate crimes" legislation would have destroyed the bill to protect children because it gives special rights to some of the very people who are likely to commit crimes against children. In many cases men who molest young boys would not be investigated because police would fear being accused of a "hate crime." The bill finally passed the House but was blocked by a filibuster threat in the Senate by Senator Ted Kennedy (D-MA) because he wanted to "expand" the bill to protect homosexuals and transgenders from public criticism. Since the Bible condemns homosexual behavior, such legislation would open the door to prosecuting pastors, media commentators, or anyone who dared to publicly endorse the biblical teaching. Kennedy was successful in blocking the bill until Bill O'Reilly of Fox News and John Walsh of America's Most Wanted teamed up together to have literally hundreds of thousands of calls go to Kennedy's office. O'Reilly has the number one rated cable TV show, and Walsh's show, America's Most Wanted, is watched by millions of people. On Thursday, May 4th Senate Majority Leader Bill Frist took credit for the passage of the bill which would create a national sex offender registry accessible on the Internet and searchable by zip code; however, it was really the efforts of Bill O'Reilly and John Walsh who forced the liberal icon, Ted Kennedy, to back down and remove his hold on the bill. (Click here for AMW story)
SENATOR BROWNBACK PUSHES FOR BROADCAST DECENCY
The House has already passed a Broadcast Decency Act by 389 to 38 that would drastically increase the fines for those who broadcast indecent, obscene and profane speech over the public airways from 6 a.m. to 10 p.m. But like many other bills in the past that would protect children from sexually explicit material, it is stuck in the Senate. Senator Brownback is calling for an immediate vote on S-193. If you have an interest in this legislation please contact your Senator.
PLEDGE PROTECTION ACT
On Tuesday, May 2nd, at a meeting convened by Senator Sam Brownback of Kansas a presentation was made to the staff of some key Senators as well as several "outside" groups or NGO's promoting Senator Kyl's version of the Pledge Protection Act. Many of those at the meeting were enthusiastic and expressed a willingness to contact Senators to obtain their support for a vote on the Pledge Protection Act this year. This comes at a time when thousands of signed petitions are being delivered to Senators by the Religious Freedom Coalition in favor of protecting "under God" in the Pledge of Allegiance. Thousands more of the petitions are being mailed directly to Senators. Click here to view the petition.
RELIGIOUS FREEDOM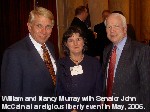 While I disagree with many of the positions held by Senator John McCain , I respect his office and will work with him on issues of common ground. Senator McCain does indeed believe that religious freedom is the "first liberty" as do I. He and I agree that the philosophy of John Locke - that liberty is a divine gift of God, not government- was a driving force in the establishment of this nation. The Senator also holds that establishing religious freedom in the world is a moral issue that has strategic importance to our nation. The Senator expressed these views at a dinner my wife Nancy and I attended that was hosted by Liberty Magazine in the Senate Caucus Room in the Russell Senate Office Building yesterday.
THE HOUSE
FREE SPEECH BAN PASSED
Democrats and Republicans teamed up to further curtail the free speech rights of citizens during elections by passing the Lobbying Accountability and Transparency Act of 2006. Forbes Magazine said the bill was like, "...banning printing presses because your opponents use them to publish brochures to criticize you." The Rocky Mountain News called it "noxious legislation." The goal of the bill is to further restrict groups not associated with a candidate from participating in an election. The trend, started by Senator John McCain and Russell Feingold, is toward forbidding anyone during an election other than the candidates from advertising or making public comments. If a group is pro-life or pro-abortion, pro-homosexual marriage or against it, their rights to make statements about incumbents or new candidates are going to be restricted. This is an infringement on the basic rights of Americans to participate in the political system and all I can say is shame, shame, shame. (Click here for more information.) (Click here for coalition letter.)
INTERNATIONAL
ISRAEL TO DIVIDE JERUSALEM
"Those same neighborhoods will, in my assessment, be central to the makeup of the Palestinian capital … al-Quds." These are not the words of a Hamas official describing Jerusalem, but the words of a Jewish official who is describing the newly formed Israeli government plans to divide Jerusalem and hand a large portion of it over to the Palestinian Authority, now led by Hamas, an internationally recognized terrorist organization. Otniel Schneller is the architect of the plan to give most of East Jerusalem to the Palestinians while keeping the Old City and most Holy sites. The "holy basin" including some Arab neighborhoods would fall inside a new separation barrier, but have a "special understanding," meaning that Hamas would have some say in how it is governed. Despite the implications of this news, it has had a slow start in the media on Thursday with neither the Jerusalem Post nor Haaretz posting it at their Internet sites. (Click here for FOX News version)
NOTE: More than 500 Qassam rockets and at least one Katyusha missile have been launched towards Israel in the past seven months from the Gaza Strip. The Israel Defense Force (IDF) has warned that it may have to retake part of Gaza to stop the missile attacks. Gaza was abandoned by Israel because its leader wanted to stop violence, and now there is even more terror. Israeli territory next to Gaza is relatively empty and there have been few deaths and injuries. Imagine 500 Qassam rockets coming from a section of Jerusalem controlled by Hamas into heavily populated Israeli areas. The new government's planned hand over of part of Jerusalem is biblically wrong and it is strategic suicide.
WORLD CONGRESS OF FAMILIES
Today our Executive Director, Peggy Birchfield, is in Warsaw, Poland participating in a planning conference for the World Congress of Families to be held in May, 2007. A full report on Peggy's trip will be available in next week's update. More information on the planned pro-family, pro-life World Congress can be found at http://worldcongress.org/.
KOSOVO
In 2004 I visited Serbia and Kosovo and wrote a White Paper on the condition of Christians in what once was their homeland. Kosovo is now an Islamic area occupied by NATO and overseen by the United Nations. The current "international" plan is to hand over the governance of Kosovo to the Islamists which will, of course, force the remaining Christians to leave. A pro-Christian Kosovo organization has launched a new Internet site about the situation there which can be viewed at www.savekosovo.org
RELIGIOUS FREEDOM COALITION
PLEASE HELP
We need more staff to get more done on Capitol Hill. One more full time staffer is needed to work the Senate side of the Hill on the Pledge Protection Act. We really need a businessman or foundation to step forward and help generously. If you can arrange a large gift or grant to the Religious Freedom Coalition please call Peggy Birchfield or myself at 202.543.0300. Smaller donations are also needed now. Please help with our various projects on Capitol Hill and in the Holy Land. Please make your donation today ! Click here to give a gift or send your tax deductible donation to the address below.
Recommend the RFC Update to someone! In 2006 we are praying to top the 100,000 subscribers mark and you can help. If this e-mail has been forwarded to you, please subscribe at http://www.rfcnet.org/subscribe.asp
William J Murray, Chairman
Religious Freedom Coalition , PO Box 77511, Washington, DC 20013 - (202) 543-0300
Please address all comments and questions to support@rfcnet.org
To make a contribution to the work of the Religious Freedom Coalition please click here .
TO SUBSCRIBE OR BE REMOVED CLICK HERE
This publication is a service of the Religious Freedom Coalition (RFC). Links to political and other sites are for informational purposes and do not constitute endorsement. No statement is intended to assist or defeat any candidate running for public office.
Religious Freedom Coalition * Copyright - 2006