To print: Click here or Select File and then Print from your browser's menu

--------------------------------------------------------------------------
This article was printed from http://www.rfcnet.org
--------------------------------------------------------------------------

Week Ending March 17, 2006 - From Washington, DC
Religious Freedom Coalition
March 18, 2006 4:51AM EST
---
LEGISLATIVE UPDATE - WEEK ENDING MARCH 17, 2006
HOUSE IN SESSION / SENATE IN SESSION (In recess next week)
THE PRESIDENT
FINALLY THE FCC COMES THROUGH
After decades of doing virtually nothing, the U.S. Federal Communications Commission under President George W. Bush upheld the $550,000 fine against CBS for the Janet Jackson "wardrobe malfunction" during the Super Bowl in 2004. The commission cited more than 50 programs for instances of indecency from 2002 to 2005. CBS was one of the hardest hit after an episode of "Without A Trace" aired a very graphic teenage orgy scene last September. Over $3 million in fines was levied against the parent company of CBS called Viacom, Inc., one of the highest penalties ever. The scene did not leave much to the imagination and then having the scene portrayed by children was even more unsettling. Finally the FCC has done something to clean up television. Previously Michael Powell, former FCC chairman who was uncomfortable with the idea of indecency enforcement, did not take action to clean up the air ways. Now Kevin Martin, present FCC chairman has taken a different approach by accepting responsibility. The House passed a bill in 2005 that raises the fines for indecency; however, similar bills have stalled in the Senate.
THE SENATE
CONSTITUTION RESTORATION ACT

Peggy Birchfield, Executive Director of the Religious Freedom Coalition met with Senator Richard Shelby(R-AL) and with other NGOs on Thursday to discuss the progress of the Constitution Restoration Act (S520). The bill, which currently has 10 co-sponsors, would constrain federal courts under Article III of the Constitution with regards to public acknowledgement of God. Senators Shelby, Sam Brownback (R-KS ) and Lindsay Graham (R-SC) are the original co-sponsors of S520. In December 2005 a Fox News poll was published which revealed that the American people are overwhelmingly in support of what is contained in the bill: 59% of Americans think Christianity is under attack; 93% want "in God we Trust" to remain on our currency and coinage; 90% are for keeping "one nation under God" in the Pledge of Allegiance; 76% say public display of the Ten Commandments should be legal. We should recognize our Christian heritage. The U.S. Senate voted once on this issue back in 1964--since 1994 the Senate has not voted on this issue at all. How long will it take for the ACLU to find a federal District judge in Washington D.C. to target? A similar bill offered by Congressman Robert Aderholt (R-AL) and Mike Pence (R-IN) currently has 46 co-sponsors. Congressman Aderholt's bill would restrict federal court jurisdiction in matters of the public display of the Ten Commandments, "under God" in the Pledge of Allegiance, "In God We Trust" on our currency. RFC continues to offer our pledge and ten commandment ties in support of the issue.
THE HOUSE
BEFORE YOU ARRIVED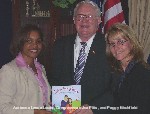 The Religious Freedom Coalition arranged numerous meetings with congressmen, Senators and various organizations for first time children's author, Adrienne Lance Lucas, a self publisher who has released her first book, "Before You Arrived." This heartwarming narrative with spiritual connections gives in-depth and comprehensive insight into the minds and hearts of soon-to-be parents. Children can now see how they were loved before they were born. RFC has worked on such issues as Partial Birth Abortion in 2003, Unborn Victims of Violence Act 2004 and currently the Unborn Child Pain Awareness Act (H.R.356) introduced by Congressman Chris Smith (R-NJ) and the Senate bill (S51) introduced by Senator Sam Brownback. Adults and teenagers are being educated on the pro-life issue, now this gives a chance for the young at heart to be made aware of life before birth. Adrienne's new book takes on a new approach and will serve to educate the younger students. Peggy Birchfield, Executive Director for RFC, met with Congressman Joe Pitts (R-PA), Trent Franks (R-AZ), Senator Johnny Isakson (R-GA) and others urging them to use this tool as a source when addressing the pro-life issue. The idea was warmly welcome and the overwhelming interest was to use this in moving legislation to protect the unborn. Education is essential in the fight of fetal pain awareness. You can purchase the book at "Before You Arrived" and encourage school educators to include the book in their libraries or reading list.
LOBBY "REFORM"
The House Rules Committee began discussing the ethics and lobbying reform package on Wednesday. Section 105 of the "Lobbying Transparency and Accountability Act of 2005 " (S. 2128/H.R. 4575), written by Sen. John McCain (R-AZ.) and Rep. Chris Shays (R-CT), restricts grassroots lobbying efforts and will hamper our work with citizens like you to petition Congress. Specifically, Section 105 requires "grassroots lobbying firms" to report to Congress within 20 days of agreeing to provide grassroots lobbying services aimed at having citizens contact their elected members of Congress. The provision ensures that all private companies, such as printers, advertising agencies, or others that we might retain to help communicate with people like you would be subject to onerous reporting requirements. Since these activities must be reported when they are arranged--even before communications to the public actually occur--they would effectively provide our opposition on any given issue with detailed information about the scope of these grassroots efforts. The reform package lacks a critical component which is an effective enforcement method, the Abramoff scandal happened because of a lack of enforcement, not a lack of rules. New rules without this enforcement would be meaningless. (Please note that the lobbying "reform" provisions proposed above by Senator McCain would make this practice illegal.) To give Senator McCain your opinion on this issue click here.
INTERNATIONAL
ARIEL, SAMARIA
On Thursday night my wife and I attended a fund raising dinner at the Aventura Turnberry Jewish Center for Ariel, Samaria. Ariel is a "settlement" of some 20,000 inhabitants, plus the College of Judea and Samaria which has about 10,000 students. Last year the Religious Freedom Coalition invited its longtime mayor, Ron Nachman, to Washington, DC. During that time we held numerous meetings with congressmen and Senators pressing for Ariel to be recognized as a part of Israel. Currently the State Department will not even arrange travel for congressmen or Senators to Ariel. Just this week Israel's acting Prime Minister, Ehud Olmert, in defiance of our State Department promised that Ariel would be "forever" a part of Israel. (Click here for Ariel story)
As part of our participation in the fund raising dinner the Religious Freedom Coalition placed a full page advertisement in the dinner program. The ad explained the mission of the Religious Freedom Coalition in the "West Bank" including support of Christian schools in Bethlehem and evangelistic work in Palestinian areas around Ariel. Mayor Ron Nachman has been supportive of our ministry to Palestinians. Prior to the dinner I received a private briefing from Lt. General Moshe Ya'alon, the former Chief of Staff of the Israel Defense Force (IDF). General Ya'alon believes the unilateral pull out of Israel from Lebanon and the Gaza Strip empowered terror groups such as Hamas and is the primary reason Hamas won the Palestinian elections. He told me that while Israel is strong militarily, its civilian society is tired of the fight and ready to surrender for peace. Unfortunately, the only peace that Hamas will accept is the death of every single Jew. The General shares my belief that we look at Islam as in a mirror seeing the "religion" as we would see our own, when in reality it is a socio-political movement for world domination. He does not believe that the West, including America and Israel, has a real understanding of the war that we face with Islam. My conversation with him reminded me that Israel is a free and open society and many Christians serve in the IDF. On the other hand Christians are being repressed in Palestinian controlled areas such as Bethlehem. (See www.thebethlehemproject.org)
CHRISTIANS IN PERIL
One of the most important aspects of the Israeli-Palestinian conflict that has been overlooked is the plight of Christians in the Holy Land. Christians in the Palestinian territories have dropped from 15 percent of the Arab population in 1950 to just 2 percent today. This Christian exodus is a result of many factors, including the fighting between Israelis and Palestinians, the related decline of the economy, but perhaps most significantly, the religious persecution these Christians encounter from their Muslim neighbors.
English-speaking French journalist Pierre Rehov addresses this alarming trend in his new film, The Holy Land: Christians in Peril. The film is a documentary containing interviews with Christians as well as exclusive footage showing how dangerous their situation is under Islamic rule. The VHS is available for just $4.95 and the DVD for just $5.00 more! Order your copy of Holy Land: Christians In Peril today. (VHS 4.95 DVD $9.95) This is a March only inventory reduction! Click here for our Internet store.
PLEASE HELP
Please help with our various projects on Capitol Hill and in the Holy Land. Please make your donation today!
Recommend the RFC update to someone! In 2006 we are praying to top the 100,000 subscribers mark and you can help. If this e-mail has been forwarded to you, please subscribe at http://www.rfcnet.org/subscribe.asp
William J. Murray, Chairman
Religious Freedom Coalition , PO Box 77511, Washington, DC 20013 - (202) 543-0300
Please address all comments and questions to support@rfcnet.org
To make a contribution to the work of the Religious Freedom Coalition please click here.
TO SUBSCRIBE OR BE REMOVED CLICK HERE
This publication is a service of the Religious Freedom Coalition (RFC). Links to political and other sites are for informational purposes and do not constitute endorsement. No statement is intended to assist or defeat any candidate running for public office.
Religious Freedom Coalition * Copyright - 2006
---
Religious Freedom Coalition
P.O. Box 77511
Washington, DC 20013

General Correspondence: support@rfcnet.org
Special Events: events@rfcnet.org
DC Advocacy Office: (202) 543-0300
Administration: (202) 742-8990