LEGISLATIVE UPDATE - WEEK ENDING NOVEMBER 4, 2005
HOUSE IN SESSION / SENATE IN SESSION
THE PRESIDENT
THE COURT AND ALITO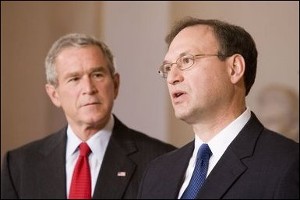 Judge Samuel A. Alito is highly qualified to sit on the Supreme Court as an Associate Justice. Although he has been endorsed by numerous groups because of his ideological positions, the Religious Freedom Coalition has endorsed him because of his judicial philosophy. Judge Alito is an originalist who believes that the Constitution is not a living, changing document as do judicial activists. He believes that elected legislative bodies should make laws and not appointed judges. AGAIN: the RFC has endorsed Samuel Alito because of his philosophy of judicial process, not his ideology even though that ideology in most cases is very conservative. Why do I emphasize this? Because as a Supreme Court Justice he could rule that legislation we support is unconstitutional, if it is written in a manner that actually violates the strict interpretation of the Constitution. Do we want him anyway? The answer is yes. In the long run we are far better off with someone with a conservative judicial philosophy than with a conservative ideology. On the other hand the liberals want someone on the Court such as Justice Ginsburg who votes on her ideology and not according to judicial process. Regardless of how flagrantly the Constitution is violated, Ginsburg will always vote her liberal feminist, pro-abortion, anti-family ideology. We do not want a Conservative who will toss the Constitution in the trash in the same manner, to champion our ideology. Most cases the Court will review have little to do with social issues, and having a man who thinks process rather than ideology will help to steer the Court in the right direction.
RACISM OK - IF YOU ARE A LIBERAL
One anti-gun group, The Brady Campaign, has referred to Juge Alito as "Machine Gun Sammy," an obvious reference to his Italian heritage and the Mafia. The Democrat National Committee headed by Howard Dean actually sent out a piece on Alito alleging he was soft on the Mafia, yet another reference to his Italian background. During meetings this past week I actually heard a Democrat Senator justify the use of racial terms against any conservatives because they have "betrayed" their heritage. What does this mean? Are all Italians supposed to be liberal because they are Italians? Why does Italy have one of the only conservative governments in Europe then? In Maryland the Lieutenant Governor is a black Republican who has had Oreo cookies tossed at him by protesters -- the implied insult being "you're black on the outside, but white on the inside." Lieutenant Governor Steele, who is running for Senate in Maryland in 2006, has been the continued target of racial slurs from Democratic organizations including the NAACP. In recent remarks several Democratic leaders in Maryland actually justified using racial remarks against Steele. (Click here for article)
9th CIRCUIT RULES THAT PARENTS HAVE NO RIGHTS
We need Judge Samuel Alito on the Supreme Court as fast as we can get him there. This week the infamous 9th Circuit Court ruled that, " ...parents have no due process or privacy right to override the determinations of public schools." At issue was a California school district's questionnaires to seven-years-olds asking them how often they think about sex and how many times they touch themselves. (Click here for WND story) During the John Roberts nomination fight Senator Sam Brownback (R-KS) once said to me, "It is time for the Court to go back to being a court and not a legislature." This case exemplifies the need for the courts to judge individual cases and not make law. What would the authors of our Constitution say if they were to hear that a court could deny the right of any citizen to "due process?" The court in essence stated that parents do not even have a right to file a lawsuit on behalf of what they believe is right for their children.
THE CONGRESS
SAVE ANIMALS - KILL PEOPLE
Senator James Inhofe (R-OK) is a true friend of social conservatives, and although he does not sit on or chair committees that deal with legislation dealing directly with our issues, he offers his support as best he can. When we had a rally with Hispanic pastors in Washington, DC during the Robertis confirmation, Senator Inhofe not only appeared at the rally, but addressed the pastors as well. As Chairman of the Committee on Environment and Public Works he does have to deal with a number of environmental and animal rights "activists" whom I choose to call nutcakes. One of these nutcakes, Dr. Jerry Vlasic, called for the murder of medical researchers. He said that the murder of just "five or ten" human beings could save "millions" of animal lives. He also said that a human life and an animal life are "morally equivalent." A link with his quotes has been furnished by a columnist ... Click here to hear this nutcake calling for murder. What is missing on the left is God. Left-wing nutcakes make up their beliefs based on nothing more than their "feelings" and the "wisdom" of their own internal compass. In other words the ideology of the left is usually what the mob they are running with at the time thinks is right or wrong. The result is predictable: Pol Pot in Cambodia, Hitler in Germany, Stalin in Russia.
SENATOR INHOFE AND THE NAE
At their Internet site the NAE states: "The mission of the National Association of Evangelicals is to extend the kingdom of God through a fellowship of member denominations, churches, organizations, and individuals, demonstrating the unity of the body of Christ by standing for biblical truth, speaking with a representative voice, and serving the evangelical community through united action, cooperative ministry, and strategic planning." Why then has the NAE begun a well planned and executed attack on one of the most godly men in the Senate, Senator James Inhofe (R-OK)? It seems that the NAE has found a new god in global warming and Senator Inhofe who is the Chairman of the Committee on Environment and Public Works stands in the way. Examine the NAE Internet site and it calls Ronald Reagan a "great friend" yet its legislative office on Capitol Hill works for some very liberal causes. There seems to be a disconnect between the grassroots of the NAE and its management in Washington, DC.
FETAL PAIN
The Unborn Child Pain Awareness Act has moved into the House Judiciary Committee. In the United Kingdom and most of Europe, an abortion cannot be performed past 24 weeks of the pregnancy unless the unborn child is given a pain killer or unless feticide has first been performed. In the UK the baby is killed by injection prior to being sprayed with salt solution or dismembered. In the United States abortionists regularly dismember children well past this 24 week mark with no anesthesia despite proven scientific data that the child feels excruciating pain. The Unborn Child Pain Awareness Act of 2005 has been introduced by Congressman Chris Smith in the House and Senator Sam Brownback in the Senate. These companion bills would not require the use of pain killing drugs on an advanced fetus, but only require that the mother be told of the possibility of pain and be requested permission to use such a drug. Please contact members of the House Judiciary Committee and express your opinions on this bill!
INTERNATIONAL
IRAN RECALLS AMBASSADORS
The new president of Iran, who last week called for the destruction of Israel, has this week fired 3 of his Ambassadors and recalled 18 others. The fired Ambassadors were Iran's envoys to Britain, France and Germany. President Mahmoud Ahmadinejad took the action because of their "meek reaction" to the worldwide condemnation of his speech calling for violence against Israel. At about the same time $1 million dollars from Iran was distributed to the families of suicide bombers by the new Palestinian President Mahmoud Abbas. (Click here for bomber story)
WORLD WAR III
When Adolph Hitler sent money and military equipment to Spain to help the Spanish dictator Franco take control of that nation, no one thought it was the beginning of World War II. The Axis powers that emerged to fight democracy were as far flung as Italy and Japan. The enemies of freedom are flocking together yet again, but this time the center of the storm is not in Europe. The seeds of the storm have been sown throughout the world by secularist governments such as those of France. Europe, led by France, saw the destruction of Christianity as a means to make government in the image of God. But, the decline of Christianity was replaced in France by the rise of violent Islamic doctrine brought in by massive immigration. Now France must deal with 6 million Muslims it imported from North Africa to make their nation "diverse." French "diversity" is now going up in smoke as the Muslims riot for the eighth straight day. Riots have spread out of Paris into 20 more towns. Marseilles, France is for the most part Muslim so if the riots spread there, the French could actually be looking at civil war. I have Intelligence sources who tell me that Islamic nations are moving money and arms into France, and the rocks tossed a police are being replaced by guns. A British newspaper has actually used the dreaded words "civil war." (Click here for London times story)
THE JIHAD IS WW III
During the first several days of the riots in Paris the mainstream media refused to use the words Muslim, Islamic or Islam in reference to the rioters. They were referred to by the New York Times and the Washington Post as "North African immigrants." All of North Africa is of course Islamic. MEANWHILE: the Jihad continued in India with three bombs exploding this past week in crowded market places just before a Hindu holiday. Allah must have been pleased by the acts of his servants because most of those killed were women and children. Since my last update issued on October 28th, Muslims have murdered innocent civilians in Afghanistan, Pakistan, India, Thailand, Algeria, Iraq, Indonesia, Nigeria, Israel and Russia. In one attack in India 62 were killed and 155 maimed. In Bukit Bambu, Indonesia, Muslims beheaded three teenage Christian girls on their way to school. Islam - the religion of peace . Don't believe me? Just ask Prince Charles who has stated that Islam is morally equivalent to Christianity. He promises that when he becomes King of England, he wants to be known as the "Defender of the Faiths" rather than "Defender of the Faith." While here he lectured President Bush for being too harsh with Muslims after the Jihad attack against us on 9-11. (Click here for Telegraph story)
RFC HOSTS JEWISH SETTLEMENT MAYOR
Ron Nachman is the mayor of Ariel, the largest Jewish settlement in Samaria, and he will be the guest of the Religious Freedom Coalition in Washington, DC the week of November 14, 2005. Ariel has a population of more than 20,000, plus some 10,000 students at the University of Judea and Samaria which is also located there. (Click here for recent report on RFC missions to Ariel.) Ron Nachman is a friend of the evangelical community in Israel and has allowed us to operate freely from Ariel in our outreach and missions to the Arab community. The evangelical Christian community has been a benefactor to the city of Ariel and there is a strong belief that Samaria can never be separated from Israel. The mayor is an expert on terrorism, the "separation wall" and the Palestinian Authority, having served in the Israeli parliament. Numerous events have been arranged for Mayor Nachman including private meetings with Senators and congressmen. Some public events are planned including a large reception on Thursday evening, November 17, 2005. Details of events will be posted at our Internet site. If you are interested in attending the Thursday evening reception, contact us at events@rfcnet.org
Please help us with our various projects on Capitol Hill and in the Holy Land. Donate today!
BETHLEHEM IS NOT IN ISRAEL!
THE FACTS: under the Oslo Peace Accords, the agreement forced down the throat of Israel by then President Bill Clinton, the first city to be handed over to Yassar Arafat was Bethlehem. Christians immediately began to flee and now they number less than 20%. During my time in Bethlehem I never saw a Christian woman on the street. Every woman wears a Muslim veil or scarf and it is now unsafe for a Christian woman to be on the street without a male escort. My full
report on current conditions in Bethlehem and our projects there is now complete and available online ( Click here to read ) There are several photos in the report showing some of the children who were helped to afford Christian school tuition and other expenses. Although school has already begun, we can still get more funds to Christian children for school supplies, books, uniforms etc. You can help with an outright gift or you can help by purchasing one of the Jerusalem stone Nativity sets made by Christian families in Bethlehem. These Nativity sets were made for the purpose of assisting us in raising funds. Click here or on the image for more details on these beautiful Nativities. We have a total of only 75 of these handmade Nativity sets on hand and we cannot get any more before Christmas. Please order soon for Christmas. There are also handmade crosses available. You can also help by donating directly for the Bethlehem Project using your credit card at our secure site or call 1-800-650-7664 during normal business hours. Contributions may also be sent to Religious Freedom Coalition , PO Box 77511, Washington, DC 20013
OLIVE OIL SOAP AVAILABLE ONCE AGAIN
For several years the Religious Freedom Coalition has offered 100% olive oil soap handmade by Christian families in Samaria. The men of these families are converts from Islam and have been accused of being "collaborators" with Israel. As a result they have death warrants against them and cannot return to their villages. We have great difficulty in getting soap out of Palestinian controlled areas and into Israel so we can ship it to our Virginia facility and for this reason we must often remove it from our Internet store. Please order a few bars of Peace Soap to help these persecuted Christians. The funds go to them and their families, not to us. Your church can also offer the soap for sale and send the proceeds to the Religious Freedom Coalition. The soap is available to individuals for just $3.95 per bar! To learn more about this handmade olive oil soap click here or on the image.
LIKE THE UPDATES? READ THE CHAIRMAN'S REPORTS - CLICK HERE
OUR CHRISTIAN INTERNET STORES
We have two Internet stores: Find one of a kind items at our private online store and thousands of Christian books, CD's and DVD's at our affiliate store!
Recommend the RFC update to someone! In 2005 we are praying to top the 100,000 subscribers mark and you can help. If this e-mail has been forwarded to you, please subscribe at http://www.rfcnet.org/subscribe.asp
William J. Murray, Chairman
Religious Freedom Coalition , PO Box 77511, Washington, DC 20013 - (202) 543-0300
Please address all comments and questions to support@rfcnet.org
TO SUBSCRIBE OR BE REMOVED CLICK HERE
This publication is a service of the Religious Freedom Coalition (RFC). Links to political and other sites are for informational purposes and do not constitute endorsement. No statement is intended to assist or defeat any candidate running for public office.
Religious Freedom Coalition * Copyright - 2005