To print: Click here or Select File and then Print from your browser's menu

--------------------------------------------------------------------------
This article was printed from http://www.rfcnet.org
--------------------------------------------------------------------------

PLEDGE DECLARED UNCONSTITUTIONAL!
Religious Freedom Coalition
September 14, 2005 2:48PM EST
---
PLEDGE UNCONSTITUTIONAL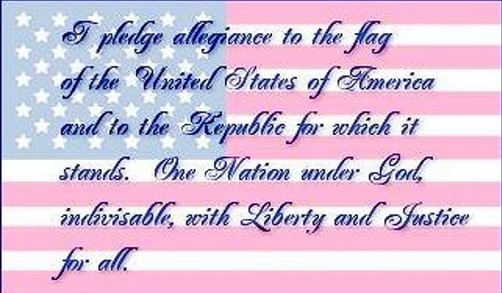 U.S. District Court Judge Lawrence Karlton (Carter appointee) has declared the Pledge of Allegiance to be unconstitutional. He declared that the words "under God" violate a child's right to be "free from coercive requirement to affirm God." The "right" does not appear in our Constitution or in any law passed by Congress. This is a new "right" out of the mind of a judge who is out of his mind.
The Judge has stated that he would issue a restraining order against all schools in his area of jurisdiction in and around Sacramento, California. In 2002 a previous lawsuit to ban the Pledge by atheist Michael Newdow won in the 9th Circuit Court, but the Supreme Court took the easy way out and found against him because he "lacked standing." He refiled the case with other parents and this is the result. The case will now be appealed to the full 9th Circuit which by its very character will probably agree with Judge Karlton. The 9th Circuit court is so out of sync with the rest of America that a majority of their decisions that are appealed are reversed.
The Religious Freedom Coalition has been at the forefront of protecting the religious traditions and the rights of Christians for decades and will once again rise to the occasion. From our offices just a few blocks from the Capitol Building we will call on congressmen and Senators to immediately pass the Pledge Protection Act (HR-2389) which already has over 180 co-sponsors. In addition, we will continue to work with Congressman Ernest Istook in his bid to pass a comprehensive Religious Freedom Amendment to the Constitution.
William J. Murray, Chairman
Religious Freedom Action Coalition
Associated Links:
Pledge Protection Act Press Release
Religious Freedom Coalition , PO Box 77511, Washington, DC 20013 - (202) 543-0300
PLEASE FORWARD THIS E-MAIL TO OTHERS!
Please address all comments and questions to support@rfcnet.org
TO SUBSCRIBE OR BE REMOVED CLICK HERE
This publication is a service of the Religious Freedom Coalition (RFC). Links to political and other sites are for informational purposes and do not constitute endorsement. No statement is intended to assist or defeat any candidate running for public office.
Religious Freedom Coalition * Copyright - 2005
---
Religious Freedom Coalition
P.O. Box 77511
Washington, DC 20013

General Correspondence: support@rfcnet.org
Special Events: events@rfcnet.org
DC Advocacy Office: (202) 543-0300
Administration: (202) 742-8990