LEGISLATIVE UPDATE - WEEK ENDING AUGUST 26, 2005
HOUSE IN RECESS / SENATE IN RECESS
THE PRESIDENT AND CONGRESS
THE ROBERTS NOMINATION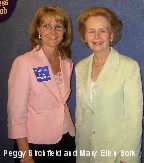 Peggy Birchfield, Executive Director for RFC, participated in a "Women for Roberts" Press Conference in the Lisagor Room at the National Press Club on Wednesday. Some of America's best known conservative women came together to stand in support of the nomination of Judge John G. Roberts . Statements were directed towards Senator Diane Feinstein and other extreme left Senators, encouraging them to give the courtesy to Judge Roberts of an up or down vote. The press conference came the same day that Senator Feinstein claimed to " represent 145 million American women ." This seemed odd to those female leaders present, in that there are not 145 million mature women in America. Is she counting babies that are unborn and about to be aborted? Also: most married women are conservatives who support the Roberts nomination!
Participants in the press conference were women of influence in Washington including Mary Ellen Bork, a writer and lecturer and the wife of Judge Robert Bork. Bork, of course, is the former federal appeals court judge who was nominated for the Supreme Court during Reagan's administration and defeated. "We feel the Constitution will be safe in his hands" stated Mrs. Bork about Judge John G. Roberts." It is critical to have men and women on the Supreme Court who will honor God and the Constitution. The Religious Freedom Coalition feels that the President has nominated an extremely qualified judicial candidate.
PEOPLE FOR THE AMERICAN WAY?
At the same time the Women for Roberts news conference was being held, the left wing group People for the American Way gave their views to the press as well. Their presentation was simplistic at best and their claim was that Judge Roberts is "extreme." What is extreme? Looking at court documents, one finds that People for the American Way opposes: pornography filters on public library computers; regulation of hard-core Internet pornography; restrictions on simulated child pornography; school choice; and voluntary prayer in public places. On the other hand, People for the American Way supports: deleting "under God" from the Pledge of Allegiance; redefinition of traditional marriage; voting rights for felons; forcing the Boy Scouts to permit openly gay scoutmasters; partial birth abortion; judicially imposed tax hikes; removing the Ten Commandments from public settings; racial quotas in college admissions. The real extremists in Washington, DC are those who promote the bizarre beliefs of People for the American Way.
RELIGIOUS FREEDOM ACTION COALITION
On September 6th when the Roberts confirmation hearings start, the street demonstrations will start as well. When you see the demonstrators on the TV news, most will be wearing either pink or green T-shirts. The pink of course belongs to the left .... our T-shirts are green and boldly state support for the Roberts confirmation. Every time you see a green T-shirt on the TV news worn by someone supporting the Roberts nomination, you will know that shirt was designed and furnished by the Religious Freedom Action Coalition (RFAC)! Even the water bottles passed out to pro-Roberts demonstrators will be furnished by the RFAC. The water bottles have specially printed labels that say "ROBERTS YES!" As a non-profit organization the Religious Freedom Coalition cannot work directly with political leaders to assist the nomination of Judge John G. Roberts; however, the Religious Freedom Action Coalition (RFAC) can, because as a 501c4 organization it has a different tax status. Because of this the RFAC is one of the key groups with offices in Washington, DC that is working to confirm John Roberts.
RFAC executive director, Peggy Birchfield, is on the core planning committee coordinating all conservative groups to raise the noise level for Roberts. She will be a leader at the demonstrations. As part of the RFAC I have been placed on the "Alpha Team" for media contacts. Special text messages will be sent to my cell phone from inside the Senate hearings so I can make comments to reporters that will be stationed at various locations. This is the first Supreme Court nomination by President George W. Bush, and the pro-abortion and pro-homosexual lobbies are desperate to stop Roberts from being confirmed.
INTERNATIONAL
ISRAEL AND THE "DISENGAGEMENT"
RFC's Scott Parker was present this week at the monthly briefing of the Christian Grassroots Network hosted by the Israeli Embassy . Interreligious Affairs Minister Moshe Fox bade farewell after a five year assignment to Washington, DC. Replacing him is Minister-Counselor Martin Peled-Flax, who is also a Rabbi (Conservative branch) and was actually born in the USA. The focus of the briefing was the Disengagement of all the Israeli settlements from Gaza and four from the West Bank. Minister Peled-Flax noted that the Disengagement had gone more smoothly than anticipated (in fact, it is over, having taken only one week of the projected five). The settlers came to terms, and the violent few were actually not even residents of the settlements. He spoke on the role of imminent domain, in which a democratically elected government has the right to seize private property in the cause of the greater good (but not to give it to other private companies, as our Supreme Court has authorized). He stated that the central reason for the Disengagement was to reduce friction with the Palestinians and to reduce the massive cost of sustaining these settlements to the Israeli government, in both money and lives. There were about 8,500 Jewish settlers in Gaza – requiring 8,500 Israeli soldiers to defend them. That one-to-one ratio apparently was "neither sustainable nor viable." But he was firm: "Gaza will not be this black hole in which Hamas can do what it wishes." Israel will not allow Gaza to become "Hamasistan," he insisted, and will retaliate if fired upon. Many "Christian Zionists" in the United States have said the Disengagement is a crime against the Word of God and that Israel will be punished for it. God in his time will determine the wisdom of the actions of the Israeli government.
A MUST READ BOOK ON ISLAM
Last week I featured Robert Spencer's new book Politically Incorrect Guide to Islam. This week the Washington Times did a page 2 feature interview with Robert Spencer about his new book. ( Click here for interview) This is a great, must read book on Islam and the Crusades. It is very clear and to the point on the differences between Islam, Christianity and democracy. Robert Spencer refutes popular myths and reveals facts that you won't be taught in school and will never hear on the evening news. He supplies a revealing list of "Books You Must Not Read" (as far as the PC left is concerned), and takes you on a fast-paced politically incorrect tour of Islamic teaching and Crusades history that will give you all the information you need to understand the true nature of the global conflict America faces today. Politically Incorrect Guide to Islam, which retails for $19.95 is available for just $15.74 at our Christian bookstore . We make a small commission if you buy the book from us rather than at a discount retailer. ( Click here for our store) NOTE: Unlike big discount retailers, our Christian bookstore does not sell porn!
BETHLEHEM IS NOT IN ISRAEL!
THE FACTS: under the Oslo Peace Accords, the agreement forced down the throat of Israel by then President Bill Clinton, the first city to be handed over to Yassar Arafat was Bethlehem. Christians immediately began to flee and now they number less than 20%. During my time in Bethlehem I never saw a Christian
woman on the street. Every woman wears a Muslim veil or scarf and it is now unsafe for a Christian woman to be on the street without a male escort. My full report on current conditions in Bethlehem and out projects there is now complete and available online ( Click here to read ) There are several photos in the report showing some of the children who were helped to afford Christian school tuition and other expenses. School begins soon and we can still get more funds to Christian children for school supplies, books, uniforms etc. You can help with an outright gift or you can help by purchasing one of the Jerusalem stone Nativity sets made by Christian families in Bethlehem. These Nativity sets were made for the purpose of assisting us in raising funds. Click here or on the image for more details on these beautiful Nativities. You can also donate directly using your credit card at our secure site or call 1-800-650-7664 during normal business hours. Gifts may also be sent to Religious Freedom Coalition , PO Box 77511, Washington, DC 20013
AND FINALLY ... We have reduced the price of some of our custom made Ten Commandment ties for men. These 100% silk ties were made exclusively for distribution by the Religious Freedom Coalition. The red and blue ties are now just $17.95 and the tan tie has been further reduced to just $12.95. Order yours today at our Internet store .
PLEASE TELL SOMEONE ABOUT THESE UPDATES
Recommend the RFC update to someone! In 2005 we are praying to top the 100,000 subscribers mark and you can help. If this e-mail has been forwarded to you, please subscribe at http://www.rfcnet.org/subscribe.asp
William J. Murray, Chairman
Religious Freedom Coalition , PO Box 77511, Washington, DC 20013 - (202) 543-0300
Please address all comments and questions to support@rfcnet.org
This publication is a service of the Religious Freedom Coalition (RFC). Links to political and other sites are for informational purposes and do not constitute endorsement. No statement is intended to assist or defeat any candidate running for public office.
Religious Freedom Coalition * Copyright - 2005