LEGISLATIVE UPDATE - WEEK ENDING JULY 1, 2005
HOUSE AND SENATE IN RECESS UNTIL JULY 11, 2005
THE COURT AND THE PRESIDENT
SANDRA DAY O'CONNOR RESIGNS
For weeks the rumors in Washington have pointed to Sandra Day O'Connor as the first Supreme Court Justice to resign during the Bush presidency for several reasons. First, O'Connor had not hired a full complement of clerks for the next term. Second, her husband is in extremely poor health and they had recently moved most of their furnishings to Arizona. (Yes, someone actually watches houses for moving vans.) At 75 years old she is one of the youngest of the judges. She has been a swing vote, sometimes voting with conservatives and sometimes against. While she was against this year's decision that allows government to steal private property from one citizen and give it to another, she voted against the Ten Commandments display in Kentucky. Because the battle to replace her will be long and hard, she stated in her resignation that she would stay on the bench until her replacement is confirmed. Meanwhile ailing Chief Justice Rehnquist, who is in his 80's, will probably resign at the end of the August recess. The rumor is that Rehnquist was delaying his retirement as a favor to President George W. Bush. Rehnquist did not want to have his replacement "swing from the media tree" during the August recess when no Senate action could be taken.
THE TEN COMMANDMENTS, THE COURT AND THE RFC
Religious Freedom Coalition's Peggy Birchfield and other staff were present on Monday, June 27, 2005 in Washington, DC, when hundreds of demonstrators gathered in front of the Supreme Court awaiting rulings of the Supreme Court regarding Ten Commandments displays on public property. Sidewalks were full of supporters surrounding a replica of the Ten Commandments with a Bible on an easel. Also there were protesters with signs reading "Keep State & Church Separate." On the steps of the Supreme Court, Peggy Birchfield and other staff members of the Religious Freedom Coalition participated in various press conferences along with Mathew Staver of the Liberty Counsel, the attorney who argued the Kentucky case before the Court. The High Court split its decisions on the two Ten Commandments rulings, stirring confusion among all those present. The court decided to allow the 40 year old Ten Commandments statue to remain at the Texas Capitol Courthouse yet ruled against the Kentucky Ten Commandments display. The swing vote in both cases was Justice Breyer who voted for the Texas display and against the one in Kentucky. Click here for full story.
CONGRESS
RELIGIOUS FREEDOM AMENDMENT

On the steps of the Supreme Court Thursday morning, Congressman Ernest Istook along with myself representing the Religious Freedom Coalition, introduced a constitutional amendment whose purpose is to roll back Supreme Court abuses. Congressman Istook said that the Religious Freedom Amendment "will preserve the original balance of the First Amendment, protecting religious expression by Americans while preventing the establishment of any official religion." The Amendment was introduced this week after the Supreme Court issued two convoluted rulings on the Ten Commandments. In a Texas case the Court said the Ten Commandments could be displayed and in a Kentucky case said they could not. The core of the Supreme Court decision rested on intent. In essence the Court ruled that if the builders intended the Ten Commandments monuments to be meaningless they can be kept, but if they are intended to have meaning they must be removed. Unlike other constitutional amendments previously introduced which concern only the pledge or the Ten Commandments, the RFA is much broader in protecting the traditions and religious heritage of our nation. The Amendment has more than 100 co-sponsors. Has your congressman co-sponsored the RFA? Click here for list of sponsors. Click here to contact your congressman. Click here to read more and view photos.
DO FAMILIES DISPLAY THE TEN COMMANDMENTS?

During Thursday's news conference on the steps of the Supreme Court I wore a bright red Ten Commandments tie . At one point in the press conference I lifted the tie off my shirt and asked those present, "When will the Court forbid me to wear this tie with the Ten Commandments printed on it because I am standing on government property?" This was a real question. The Court is following "international law" and instinct, not the Constitution of our nation. Already in several cases the Court has referred to "international law." In France a farmer was ordered to take a cross off his property because it was visible from the road. Is this the "international law" the court will follow in the future? To counter the movement toward secularism in the courts and in the culture we must display the symbols of our faith. This is why I have a Ten Commandments plaque displayed in my office and why I wear Ten Commandments and other "religious" ties to events, even those at the White House. Ten Commandments ties and Ten Commandments plaques made of Jerusalem stone are available from the Religious Freedom Coalition Internet store.
SENATOR TED KENNEDY
Senator Ted Kennedy (D-MA) is the only member of the Senate who has not visited our troops in either Afghanistan or Iraq. Enough said.
INTERNATIONAL
IRAN
What a sham! American newspapers were ablaze with the story that a "hard liner" had won over the "moderate" in the Iranian presidential elections. Is this a joke? Both of these men were approved by the ruling Mullahs to run for office. There was no true "moderate" or "reformer" on the ballot. The winner was apparently one of the men who held American embassy personnel hostage for more than a year during the Jimmy Carter Administration. It was Carter who helped the Mullahs take over Iran from the Western-leaning Shaw who had liberalized the nation and given rights to women. Carter saw the Shaw as "repressive" and withdrew American support from him, causing the collapse of his government and the installation of the current terrorist regime. Click here for Washington Times story.
SAMARIA AND BETHLEHEM
I will be in Samaria and Bethlehem during the first week of August. This will be my second trip to the Middle East this year. My primary objective will be to arrange the infrastructure for giving scholarships to deserving Christian youth to attend Christian schools in Bethlehem. I will also be working to arrange for business ventures in Bethlehem to help Christian families stay in the birthplace of Christ. Christians once numbered 85% of the population of Bethlehem and they have now been reduced to less than 20%. Unless Christians in the West reach out and help the Christians in and around Bethlehem, the birthplace of Christ will become nothing more than a theme park operated by Muslim businessmen. Your support is needed for our work in Bethlehem. Please help with a gift to our work in the Holy Land at this secure link.
OLIVE OIL SOAP AVAILABLE AT YOUR CHURCH?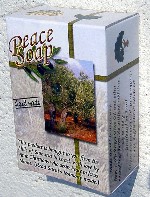 Can your church help families in the Holy Land by selling handmade olive oil soap? For several years the Religious Freedom Coalition has offered 100% olive oil soap handmade by Christian families in Samaria. The men of these families are converts from Islam and have been accused of being "collaborators" with Israel. As a result they have death warrants against them and cannot return to their villages. Your church can offer the soap for sale and send the proceeds to the Religious Freedom Coalition. Please call Scott Parker in our office at 202-540-0300. The soap is still available to individuals for just $3.95 per bar! To learn more about this handmade olive oil soap click here or on the image.
NEW TECHNOLOGY GIVES OUR SUPPORTERS UNLIMITED CALLS TO U.S. AND CANADA
We are participating in a new innovative fundraising program that focuses on providing cost-saving opportunities to our supporters, while raising additional financial resources to support our organization. One product this program offers is Digital Phone Service for only $22.05 per month ( your total cost). With this service you will receive local phone, unlimited calls to U.S. and Canada, voice mail and ALL the features available with standard phone service plus many unique features.
In addition to providing you with better phone service at a lower cost, our organization will receive a contribution equal to 5% or more of your monthly bill from the service coordinator. For more information on this, and other products and services that will provide savings to you and funds for our organization, please visit our fundraising web site at www.SupportRFC.org
HELP NEEDED
We really need help this month with funding for our projects both on Capitol Hill and internationally. Please consider at least a small gift to the Religious Freedom Coalition this week. A secure donation link is located at: http://www.rfcnet.org/donate.html
PLEASE TELL SOMEONE ABOUT THESE UPDATES
You are invited to forward copies of this Legislative Update to your friends. Please tell them it is issued weekly free of charge and that we do not share our e-mail lists with any other organizations. In 2005 we are praying to top the 100,000 subscribers mark and you can help. If this e-mail has been forwarded to you, please subscribe at http://www.rfcnet.org/subscribe.asp .
William J. Murray, Chairman
Religious Freedom Coalition, P.O. Box 77511, Washington, DC 20013. Phone: (202) 543-0300
Please address all comments and questions to support
TO SUBSCRIBE OR BE REMOVED CLICK HERE
For fast removal from our lists reply to this message with only the word REMOVE in the subject line.
This publication is a service of the Religious Freedom Coalition (RFC). Links to political and other sites are for informational purposes and do not constitute endorsement. No statement is intended to assist or defeat any candidate running for public office.
Religious Freedom Coalition * Copyright - 2005