LEGISLATIVE UPDATE - WEEK ENDING NOVEMBER 19, 2004
HOUSE AND SENATE IN SESSION
THE SENATE AND THE JUDGES
WE WON - SORT OF
Immediately after the overwhelming victory of President George W. Bush liberal Republican Senator Arlen Specter issued a warning to him that "extreme" judicial nominees would not be able to pass the Senate. When Specter, who is pro-abortion, used the term "extreme" he of course meant any judge who did not support Roe v Wade, the Supreme Court decision that has caused the murder of millions of unborn children. Worse, Specter was in line to take over the all powerful Senate Judiciary Committee which is the first hurtle of the President's judicial nominees. Under Senate rules the current pro-life chairman, Orrin Hatch (R-UT) must step down and because of seniority Specter would take over the chair. His statements to Pennsylvania newspapers against pro-life judges sent off alarm bells everywhere in the pro-life community. The Religious Freedom Coalition and many other social conservative organizations began an immediate lobbying campaign against Specter taking the chairmanship. The RFC set up a special anti-Specter petition at www.specterpetition.com to send e-mail's and faxes to Senate Majority Leader Bill Frist asking him to block Specter from obtaining the all powerful chairmanship.
Let me be honest: I didn't think we could really stop Specter from getting the chairmanship of the Judiciary Committee. The Senate is a club of 100 very powerful individuals which operates on tradition. Blocking Specter would have set all Senate tradition upside down. However, I believed that if we put enough pressure on the Republican Leadership they could and would force Senator Arlen Specter to sign an agreement, or at least a public statement, that he would not block a vote on any judge appointed by George W. Bush. Further I wanted a statement from him that he would not block a vote on the Marriage Amendment since he is pro-gay agenda. We got that as well.
As I expected we could not block Specter from the chairmanship, but we were able to force him to sign a written statement. In the statement he said he would not "...use a litmus test to deny confirmation to pro-life judges." Many on our side will call this a loss. On the other hand, I face reality ... There was never a chance that the Senate would bring one of their own down. The fact is that we got more out of this with our campaign than I thought we would. The down side is that Senator Specter will be hiring the huge staff of the Judiciary Committee and they will more than likely all be liberal "Republicans" who are pro-abortion and pro-gay agenda.
Both the House and the Senate will recess at the end of today and probably not return until January. Before leaving, the two bodies passed an "Omnibus Bill" to fund all areas of government not previously covered by a specific spending bill. Former Senator Tom Daschle who had led the Democrat minority in the Senate had blocked virtually all of the appropriations bills passed by the House to fund the operation of government. His obstructionism of funding bills and of judicial appointments made by George W. Bush led to his defeat at the hands of Congressman John Thune. John Thune will be sworn in at a ceremony in January at which I hope to be present.
CONGRESS
Before recessing for the year the Congress approved a massive Omnibus Bill on Saturday. The Republican Study Committee has prepared a report in PDF format that details the expentitures. For information click here.
THE RFC - A BUSY WEEK
IRAN
Jerome Corsi, the co-author of Unfit For Command, has turned his writing skills from John Kerry and Vietnam to the Iranian nuclear situation. On Tuesday I met with Mr. Corsi and two Iranian dissidents from the Alliance for Democracy in Iran. Bahman Batamnghelidj, the chairman of that group explained to me privately the group's new plan to bring freedom, including religious freedom to Iran. He promises that should the Mullahs of Iran be overthrown that there will be religious freedom for all, including Christians and Jews. I arranged for Corsi and the two Iranian dissidents to give a presentation to the Senate Religious Liberties Working Group headed by Senator Santorum (R-PA) where they had tremendous impact.
MOROCCO
Also on Tuesday I met privately with the Ambassador of Morocco concerning the continued secularization of that nation under young King Mohammed VI . Included in our discussion were arrangements for future trips of Christian leaders to Morocco. Morocco has become a model for secular leaning Islamic nations. Instead of spreading the intolerance and hatred of the Saudi Arabian version of Islam, the Kingdom of Morocco desires to be a model for other secular Islamic countries.
CNN
On Wednesday morning I was at CNN's Washington, DC bureau early to be interviewed by Tom Forman on church involvement in the 2004 election of President George W. Bush. This interview was part of the prime time news broadcast on CNN on Thursday night. So far in 2004, Religious Freedom Coalition spokesmen have appeared on CNN or CNN International six times, and on the FOX News channel four times. In addition either Peggy Birchfield or myself have appeared on over one hundred (100) radio programs, many of which were broadcast nationally. RFC staff have also appeared on news programs in Belgium, Germany, Israel, Serbia and the United Kingdom and that does not include the Voice of America which is broadcast worldwide. We are getting the message of America's social conservatives--the "culture" voters--out to the world.
THE BUSH TEAM
At noon on Wednesday I was present for a luncheon meeting with conservative leaders which featured Ken Mehlman, the manager of the Bush/Cheney 2004 Campaign. It was Ken Mehlman who created the operation to actually put Karl Rove's plan to the test and win the election for George W. Bush. Ken Mehlman has been selected by the President to lead the Republican National Committee for the next four years. During the lunch Ken Mehlman promised that the RNC would be driven by conservative ideology as long as he was chairman. He promised even more grass roots work and an effort like that of 2002 to increase the size of the Republican majority in the House and Senate.
PERSECUTED CHURCH IN CHINA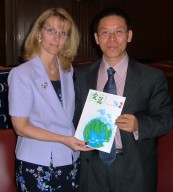 Peggy Birchfield participated in a press conference Thursday at the Dirksen Senate Building where Bob Fu, President of the China Aid Association released a Chinese Communist Party secret document titled "Notice on Further Strengthening Marxist Atheism Research, Propaganda and Education." Senator Sam Brownback (R-KS) of the Senate Foreign Relations Committee expressed his concerns about the continued religious persecution in China. "This is not where China as a state should be. China is denying religious freedom to their people. The U.S. has a wonderful relationship with China and will be putting forth efforts in 2005 to assist persecuted Christians in China," Brownback said.
The secret document was obtained from a high ranking Communist Party official within the Chinese government who is not happy with the party's policy toward religious groups in China. This document shows why hundreds of pastors and priests have been arrested and why reporters are imprisoned.
Bob Fu was a house church leader in Beijing when he and his wife were both imprisoned for two months in 1996 for their accused "illegal religious activities." Bob Fu testified before the Congressional-Executive Commission on China on the lack of religious freedom in China on Friday.
VALUES ACTION TEAM
RFC staff also attended various coalition meetings this week in support of traditional values. Some of those meetings were strategy meetings on activities for the next congressional session which cannot be discussed at this time. We here at RFC can assure every reader that the pressure will continue during the 107th Congress to define marriage as between one man and one woman and we will continue to fight against the destruction of the traditional family.
CHRISTMAS AT RFC
THE WEST BANK AND CHRISTMAS
Each year the Religious Freedom Coalition offers an expanded selection of items at our Internet store, many of them related to our work. This week we are highlighting the handmade olive oil complexion soap made by Christian families on the West Bank who have no other source of income. The men have been separated from their families because of death warrants issued against them by the Palestinian Authority. Because of our work in the Holy Land, and also with the defense of the public display of the Ten Commandments in the United States, we are offering the Ten Commandments etched in Jerusalem stone. We also have Christmas ornaments and inspirational ties for men. There are also DVD copies of George W. Bush, Faith in the White House still available. Proceeds from sales at our Internet store assists us in our work both in the United States and internationally. AND: we still have a few Thanksgiving ties for men that we can mail Monday morning if we receive your order this weekend. Our store is located at www.rfcstore.com.
William J. Murray, Chairman
Religious Freedom Coalition, P.O. Box 77511, Washington, DC 20013. Phone: (202) 543-0300
It is now possible to donate to specific projects of the RFC, both domestic and International. Please plan now for your year end tax deductible donation. To make a contribution to our work click here .
Please address all comments and questions to support
TO SUBSCRIBE OR BE REMOVED CLICK HERE
This publication is a service of the Religious Freedom Coalition (RFC) and does not necessarily reflect its views. It is neither an attempt to aid nor hinder the passage of any specific legislation nor an attempt to assist or defeat any candidate running for public office.
Religious Freedom Coalition * Copyright - 2004