To print: Click here or Select File and then Print from your browser's menu

--------------------------------------------------------------------------
This article was printed from http://www.rfcnet.org
--------------------------------------------------------------------------

Week Ending November 12, 2004
RFC
November 12, 2004 5:58PM EST
---
LEGISLATIVE UPDATE - WEEK ENDING NOVEMBER 12, 2004
HOUSE AND SENATE IN RECESS UNTIL NOVEMBER 16TH
THE PRESIDENCY
THE NUMBERS ARE NOT WRONG
It is now apparent that the victory of President George W. Bush was strong and broad and driven by what the media now refers to as "values voters." According to pollster George Barna, born again believers supported the President by a margin of 62% to 38% whereas those who were not born again believers supported Kerry 59% to 39%. Most importantly, born again believers really did vote. Although born again believers represent only 38% of the population, they represented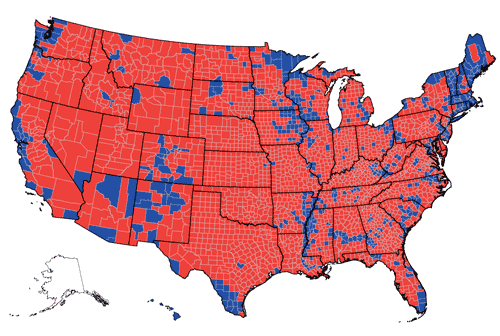 53% of those who voted on November 2nd. Only 7% of the population can be defined as evangelical but they represented 11% of all voters and they cast their votes for President Bush by a margin of 85% to 15%. Catholics were split, with the President receiving just over 50% of their vote; however, this was an increase for President Bush from 2000 when he received just 44% of the Catholic vote. Among born again black voters, the President increased from 7% in 2000 to 13% this year. Overall Bush received 45% of the Hispanic vote; however, he received 56% of the votes of born-again Hispanics. Among adults whose faith was "active", (those who attend church services weekly), the President won 67% of their votes. NOW COMES THE SPIN: in the November 8th issue of the Wall Street Journal the first major op-ed appeared stating that "values" had nothing to do with the election. The author, James Q. Wilson, states as his "proof" that values had nothing to do with the election the fact that "nearly" 50% of Catholics and two-thirds of Jews voted for Kerry. Mr. White fails to point out that over 50% of the Jews in the United States are secularists who do not practice the Jewish faith and that "Catholic by birth" was used to get the 50% figure, not practicing Catholics. He claims, as do all the economic conservatives in the Republican Party, that the election was about the economy and security. Rubbish. Just taking a look at the election map at left depicts by county the power of the "values voters." President Bush even won most counties in New York and California, because most counties in the United States are rural and are made of God-fearing, church going folks.
THE ATTORNEY GENERAL
Attorney General John Ashcroft was my friend and a good friend of social conservatives. In the four years he has served President George W. Bush as Attorney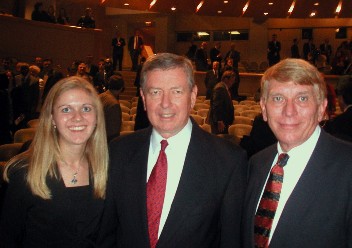 General, he has been faithful to his President and faithful to his faith. John Ashcroft, to my knowledge, was the first ever Attorney General who was also ordained. On the national security side he used the Patriot Act to defend our nation to the point of being criticized by not only the ACLU but by conservatives and libertarians as well. In the 60 days before the election he arrested and confined more than 700 people he deemed a threat to our democratic process. Attorney General Ashcroft also vigorously defended in court the social conservative legislation passed by Congress including the Partial Birth Abortion Ban. There is no doubt that Attorney General John Ashcroft was pro-life. The photo at left of myself, my daughter Katie, and Attorney General John Ashcroft was taken at the signing by Presidnet Geroge W. Bush of the Partial Birth Abortion Ban. I was concerned about the departure of John Ashcroft until I learned that President Bush nominated White House Counsel Alberto Gonzales, a son of migrant workers, to fill the vacancy. To my understanding Judge Gonzales is just as conservative as John Ashcroft. He must be the right man, because the ACLU and other left-wing groups immediately attacked him. I will watch and report on this all important post.
FAITH OF THE PRESIDENT A BIG SELLER
OK, I was wrong! I honestly believed that once the election was over the demand for copies of George W. Bush: Faith in the White House would fall. The
exact opposite has happened; however, the places we are shipping to are different. Before the election there was great demand for the video in "battleground" states and the South. Now we are shipping most of the videos to California and New York, states won by John Kerry. As a result we are still offering George W. Bush: Faith in the White House in both DVD and VHS. The documentary investigates the faith of the President and how that faith has affected him in the high office of the Presidency. The commentator of the documentary is nationally known Christian radio talk show host Janet Parshall. The 72 minute documentary is available for just $12.95 in either format. For more information click on image or click here.
THE CONGRESS
MARRIAGE
The Democrats just don't get it. Leaders of that party just don't understand that voters rejected social liberalism, gay marriage and the destruction of the family in this year's election. Instead of looking at the positions they hold, they blame the American people by saying they are just "not ready" for gay marriage. (Those were Democrat Minority Leader Nancy Pelosi's exact words.) She and other Democrats such as Ted Kennedy vow to make the American people "ready" for same-sex marriage. The loud sound you hear is people of reasonable minds that are still in the Democratic Party running away from Ms. Pelosi. Our culture and our way of life are the key issues not only in this election, but will be in the next election as well. Just before the election Dr. James Dobson wrote an excellent book on the homosexual agenda and the need for Christians to step forward and protect our traditional institution of marriage titled Marriage Under Fire: Why We Must Win This War. This year Christians heard the call and voted in mass to protect marriage.
BIG PROBLEM IN SENATE
As I mentioned last week Republican Senator Arlen Specter (R-PA) announced at a press conference that he, as the new chairman of the Judiciary Committee, would not allow any of President Bush's Supreme Court nominees who were pro-life to receive confirmation. Later he denied that he meant what he said. Then it was revealed that just prior to this last election he had told two newspapers he would block "extremist" judges appointed by President George W. Bush in order to obtain endorsements from those newspapers. He now denies that he made those comments to the editorial boards of the newspapers involved. I am only sure of one thing: this man should NOT be confirmed as chairman of the Judiciary Committee. Help stop Specter from gaining the chairmanship of the Judiciary Committee by signing an online petition to Senate Majority Leader Bill Frist. (See Petition )
INTERNATIONAL
ARAFAT IS STILL DEAD
On Wednesday night the death of terrorist Yassar Arafat was announced by Palestinian "leaders." Actually Arafat has been brain dead for almost two weeks and the French military hospital where he was being treated at the expense of French taxpayers kept the information secret while these "leaders" figured out how to get their hands on the more than $1 billion Arafat had stolen from his people and had hidden in banks around the world. As his coffin was loaded onto n flight from Paris French generals stood at attention and saluted him. Arafat's legacy is death and destruction. He directed the murders of innocent people for decades and he led his people into devastating unwinnable wars that profited him personally. While much of the West Bank went without garbage collection or traffic lights, Arafat maintained numerous mansions. As Arafat burns in Hell his people reap the sorrow of his "leadership." The Religious Freedom Coalition has produced a series of video documentaries on the situation in the West Bank and the repression of Christians there at the hands of Yassar Arafat's gang of thugs. For information please click here.
THANKSGIVING
Our Internet store has received a new shipment of men's Fall and Thanksgiving ties. These 100% pure silk ties show you care about the significance of a day of Thanksgiving. Every man should have a few seasonal ties, such as those for Easter, Christmas, and July 4th. The Fall and Thanksgiving ties our organization makes available to help finance our work are worn by me to Capitol Hill and the White House. I would not try to sell you something I would not wear myself. All Thanksgiving ties are reduced to a clearance price of just $12.95 each! Click here or on image. We also have two brand new fall ties for men that have been reduced to $12.95. Seasonal ties click here.
BUSINESSMEN
INFORMATION SYSTEMS
A businessman in California recently contributed $1,000 to help us upgrade our information systems. Those funds will be used to purchase one new XP machine for our office needs. We will still have three computers on our in-house network that are so old they cannot be upgraded past Windows98. Our TIE phone system is now more than a decade old and replacement parts can no longer be obtained. Contributions to the Religious Freedom Coalition are tax-deductible to your business. As the year comes to a close please consider a contribution to the Religious Freedom Coalition to upgrade our information systems. Your contribution can be made by check, credit card, in the form of equipment or common stock. Gifts can be made online or by mailing a check. Please call our office concerning gifts of equipment or common stock.
William J. Murray, Chairman
Religious Freedom Coalition , P.O. Box 77511, Washington, DC 20013 Phone: (202) 543-0300
It is now possible to donate to specific projects of the RFC, both domestic and International. To make a contribution to our work click here .
Please address all comments and questions to support
TO SUBSCRIBE OR BE REMOVED CLICK HERE
This publication is a service of the Religious Freedom Coalition (RFC) and does not necessarily reflect its views.
Religious Freedom Coalition * Copyright - 2004
---
Religious Freedom Coalition
P.O. Box 77511
Washington, DC 20013

General Correspondence: support@rfcnet.org
Special Events: events@rfcnet.org
DC Advocacy Office: (202) 543-0300
Administration: (202) 742-8990